An evening to celebrate 'Samskrtam the language of culture' through cultural programmes and an inspiring talk on "Sanskriti and Universal Culture" was organised by Samskriti Bharati UK, along with Nehru Centre and High Commission of India on 1 May.
I was honoured to be able to host the programme.
The esteemed guests were Mr. Nandkumar G – Head of Communications, Samskriti Bharati UK, Mattur Nandkumar -Bhavan, Executive Director, Brij Kumar Guhare – Nehru Centre Deputy Director, Tejendra Sharma – Writer, MBE and Vandana.
Surekha Chopla (Hindi Committee Director), Shikha Varshne – Writer, Sureshji, Chandrakantji and Anuradha welcomed the guests and Pikni, Lucy, Nitya, Antaresh and Tadas started the cultural performances with their beautifully sung Maha-mantra Kirtan.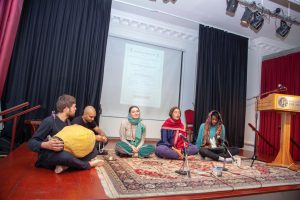 Shravan, Saurayah, Varshini, Sarnag presented the Humsha-dhwani rag Shiva Aawahan written by Muthuswamy Dikshitas and the composition written by Shyama Shastri, praising the Mata Parvati, the Mother of the Universe.
Nandkumar explained the importance of Sanskrit in Bhartiya culture. He said- yehtha Jalam vina jeevanum nasti tatha sanskritum vina sanskriti nasti. In Sanskrit this means: "Just as there is no life without water, there is no culture without Sanskrit."
Mattur Nandkumar explained how Sanskrit can be spoken in daily life. Guhare emphasised the importance of programmes like these for the younger generation to feel inspired to be associated with Sanskrit.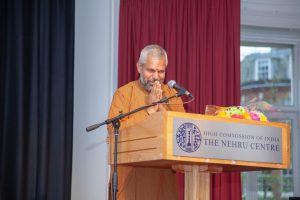 Tejendra expressed his views on the uplifting Hindi and Sanskrit. Through a simple Sanskrit discourse, Vandana was able to share her thoughts.
The program concluded with the introduction of the Sanskrit song Suras Subodha, by Archita and Arya. Chandrakant thanked the participants and scholars that made up the brilliant audience, and made the program successful and meaningful.
The evening was a testimony of how we can uphold our culture, even when we are away from Bharat, India. It is important for children growing outside India to stay connected to their roots, understand their culture and language.
I felt that sharing an auditorium with so many scholars of Sanskrit and Indian culture, was a once in a lifetime opportunity. Their knowledge and contributions in spreading awareness and training the next generation of scholars, has been priceless. This event would not have been possible without the invaluable cooperation, guidance and blessings of all.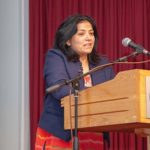 Indu is a Hindi and Sanskrit teacher at the SOAS University and in Bhavan, London. She works closely with the team of academia, scholars and students at Sanskrit Bharati, UK