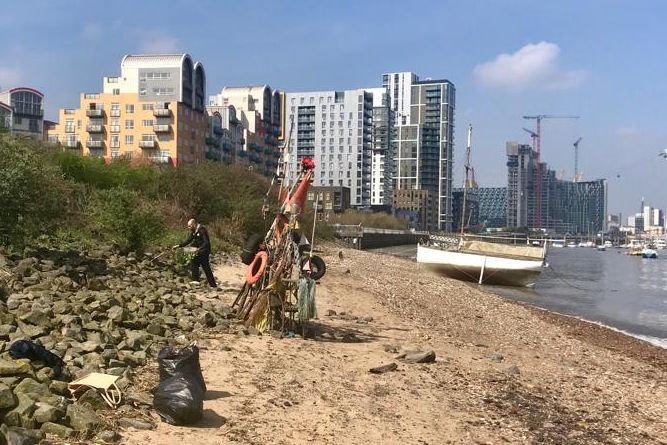 The Thames has a long and murky history. It wasn't just the main thoroughfare to move products and raw materials all along its length, but it was also used to dump industrial waste, among other things. In 1957, the Natural History Museum declared that the river was biologically dead.
However, over the years there have been many improvements, such as the upgrading of London's sewage system which began in the late 1960s. Then there have been crusades against letting pesticides and fertilisers from washing into rivers, not just the Thames. Eventually the river became breathable again.
Sadly, this doesn't mean that everything is fixed. Although a Royal Holloway study in 2015 showed 125 species of fish living in the Thames, it also found that up to 75 percent of some types of fish have plastic fibres in their digestive systems. This only goes to show how much more work is needed until the river is truly clean and safe for animals (or indeed people, given how sick David Walliams got in his sponsored swim along the Thames for Sport Relief back in 2011).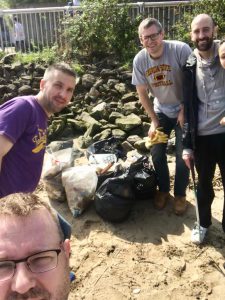 A local group in North Greenwich are taking matters into their own hands by having "plastic picks" along the banks of the Thames in their neighbourhood, in a bid to keep plastics from choking the wildlife. The initiative is the brainchild of Norman Gillard, who was galvanised into action after seeing the shocking image of a dolphin that was found starved to death due to a plastic ring being stuck around his mouth.
"I think watching David Attenborough's show The Blue Planet made me realise the impact that plastic was having on the environment and sea life," says Norman. "Since then I've done a plastic pick along by Greenwich Millenium Village (GMV) around two dozen times. I've had plenty of support from different neighbours and my partner, come rain or shine."
So what sort of difference can a small group make? "On most outings we will usually do two big bags per person, particularly after a high tide when the beach is absolutely streaming with plastic bottles. I've recently seen many car tyres as well as a moped that had been discarded in the river along Olympian Way," says Norman.
The group has also received help from the local Ecology Park which has given support and advice about how to shore up the river bank with rocks, as well as lending equipment like litter pickers and gloves. The types of articles that the group removes have included: shoes, car tyres, plastic bags, cigarette ends, shopping trolleys, motorbike, bins, plastic basins, newspapers, and lots of plastic bottles.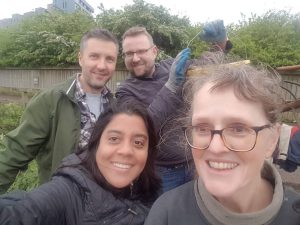 It's not just the power of the people to clean their own neighbourhood that inspires, but also the way that social media can help bring volunteers together. Norman initially used the GMV Facebook page to announce the plastic picks.
From this, one of the first volunteers, Smita Sarkar, set up a WhatsApp group in order to organise and co-ordinate the sessions, as well as continuing to use Facebook to engage those who were interested.
"There are many residential complexes around the Thames and a lot of rubbish is thrown into the river without too much thought," she explains. "People think throwing a beer bottle or an empty packet of crisps into the Thames is not such a big deal, that it won't make a difference. This is the mindset that we need to change. We need to break people's bad habits."
The success so far has given everyone more encouragement to take things even further. "We'll be calling out for volunteers soon. We expect more volunteers because the weather is getting nicer again", says Smita. "We also plan to tie up with voluntary groups who do similar work to familiarise our volunteers with the potential hazards and the safety measures they should use, and go about doing this in a logical and sustainable manner."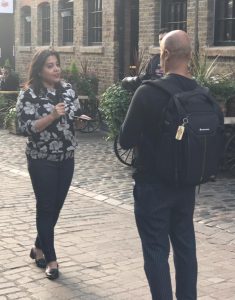 Monday 3rd June saw Smita taking the message of the initiative to the "Celebrating World Environment Day" held by the Inspiring Indian Women Group in Camden, London. In the cool evening air she spoke to the tourists, and others gathered there, as part of a line-up of speakers who wanted to share their insights and ideas.
With World Environment Day coming up on June 5th, there's no better time for the group to be reaching out and aiming to expand, not only for people to help clean the banks of the Thames but also to spread the message about not littering. The dangers of plastic are clear and it's heartening to see local activism is helping to tackle the problem.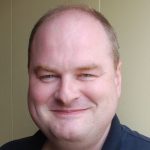 Jonathan has a varied history, having written for publications such as Asian Woman but also technical magazines such as Networking+. He also has a background in IT so he's been instrumental in the technical side of getting Global Indian Stories launched. As co-founder, he also keeps writing, sub-editing, and handling the social media.