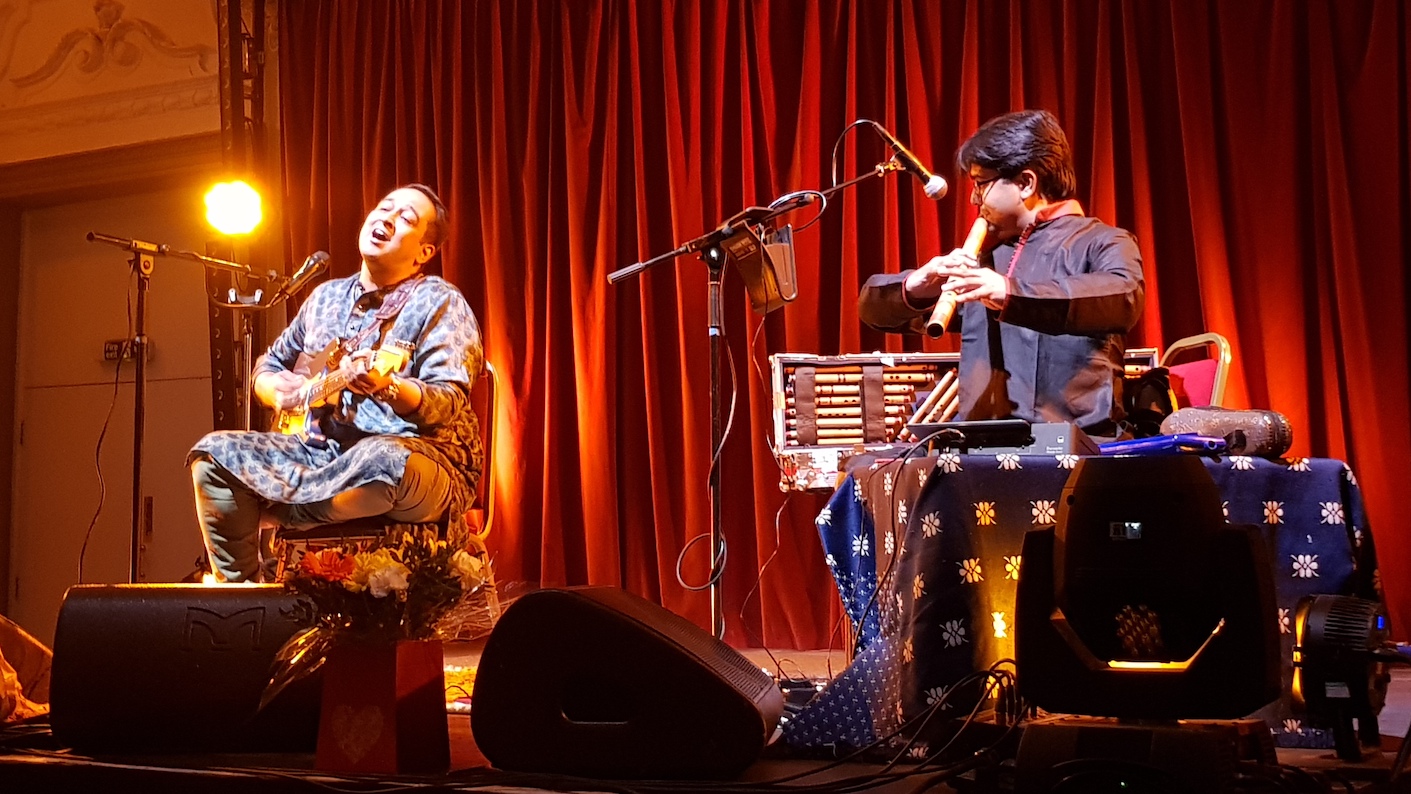 "See the world through the eyes of the Master"
— HH Sri Sri Ravi Shankar
The Indian devotional music tradition is centuries old and one of the most versatile, varied, and broad music formats that has been passed down through generations across all provinces of India. One artist, Vikram Hazra has, for nearly three decades now, experimented and succeeded in threading together this diverse music from different parts of India to spread the message of love and peace globally. He has meshed Indian music with western instruments like the electric guitar, drums, and flute to create a genre of music that cuts across language barriers to resonate with the soul.
On a recent tour in London and Manchester, Vikram, who has performed in over 50 countries, introduced his music to audiences in the UK. This was his first UK performance in over a decade and he played at the Bush Hall in London on 1 June and at the iconic Band on the Wall in Manchester on 2 June. He was accompanied on this tour by the flautist Soumyajyoti Ghosh. The duo set the stage on fire, providing the perfect musical range with the electric guitar, flute, and vocals to make it an exceptional, memorable concert. Vikram is a Mumbai-based musician, composer, writer and social activist with over twenty solo albums to his credit. His genre is unique because it seamlessly melds Indian spiritual poetry with elements of rock and jazz.
Vikram spoke to www.globalindianstories.org about his vision, how he designs his music to bring it to a universal level, bridging language and cultural barriers. "It's really difficult to get an electric guitar and a bamboo flute to talk to each other, even in terms of amplification, since they occupy such unique sonic spaces, says Vikram. A lot of improvisation, research, modification of instruments, practice, and trial and error goes into creating the music that Vikram showcases.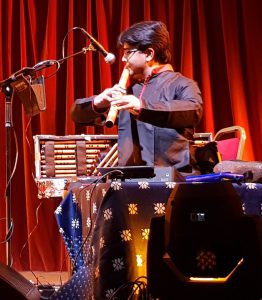 "Soumya has modified his style of playing to my kind of music — he plays a lot of classical, film and commercial music as well, and usually has about five or six studio appointments a day in India. When we are playing together, his music is totally customised to suit my style.
"It's not easy and rather disturbing if the music does not blend well. We had to go so minute to even understand the frequency of each others' notes, so that it wouldn't clash on stage. But after years of practise it's become instinctive. For example, if i'm playing in a particular register on the guitar, then he'll play on a completely different register and we are weaving around each other. So even though it's just the two of us, it fills up a lot of sonic space.
"However, this is not something that we would take credit for, this is how the great musicians who inspire us always work. And this is very evident in some styles of music in the West where they learn to give space to fellow musicians. For example, with a string quartet or chamber music orchestra, each instrument will each have its own clearly defined sonic space. Yes they play together, but it sounds more broad. But this was something which was rarely done in Indian devotional music earlier. You should see Soumya's flute box, it has about 45-50 flutes — and this is what he calls his 'small, portable box'," chuckles Vikram.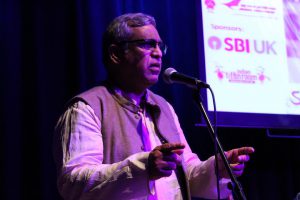 This particular tour of London and Manchester was organised by the SAJDA Festival of South Asian Performing Arts, curated by Vikram's long-term journalist friend from the Times of India Mumbai, Rahul Laud. I sat back and enjoyed the concert in London at Bush Hall in Shepherd's Bush where a packed house of around 400 people witnessed his wide-ranging music, and the way he presented it made it universal indeed. At one stage he mixed Eric Clapton with Indian devotional music, then seamlessly segueing into classical Indian music or some old Bollywood music. The entire range was mesmerising, groovy, and exceptionally varied.
He quipped that with the range of languages on display it was unlikely that most people in the audience would understand more than a couple of them, regardless of whether they were from India or elsewhere. While Vikram showcased his music in the UK and India for a majority Indian audience, his next concert in Tokyo would have an audience of around 90 per cent Japanese fans, despite the difference in language. This goes to show the universal appeal of his music.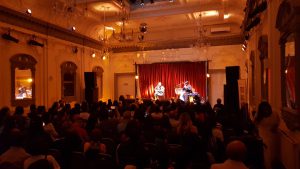 I watched the concert with a British friend who still enjoyed the show, even though it was only the playful chats which Vikram had with the audience to explain his music that were in English.
During a backstage chat, he explained how even during his UK tour the demographics change substantially. That pattern continues in other countries. "In San Francisco we had so many Americans who are Kirtan aficionados, while the Boston audience was 60% American and appreciated that the jazz or western elements were played up a little more — whereas in New Jersey the crowd was 90% Gujarati! So we have a huge repertoire of music. When I step on stage I am choosing from a set of approximately 50 performance pieces, of which we would have time to play only around 10-12 songs."
He said he prefers small audiences, like the one at Bush Hall, where you can literally be conversing with the audience throughout the show. "And during one song I might share a few lines of another folk song to draw parallels. I like the shows to be interactive, that's something I really enjoy. So it's not a formal concert atmosphere," said Vikram.
He certainly put thought into choosing music which could resonate with the audience, so that they would join in with the singing and clapping.
Cultural Director of Art of Living
Vikram started his career as a journalist in Mumbai, with stints with Society magazine and the Times of India. He was 22 when he started as a columnist who reviewed western music, something he considers really lucky to have bagged at that age. He met Sri Sri Ravi Shankar shortly after publishing an article on the health benefits of Sudarshan Kriya, and soon gave up everything to live in the Art of Living's ashram in Bangalore. This is where his music tastes changed to include Indian devotional music, having previously only been a fan of Western music.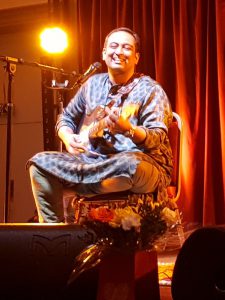 "I had never heard bhajans before — I don't think anyone wakes up in the morning and envisions a career as a bhajan singer," confesses Vikram. "When Gurudev (Sri Sri Ravi Shankar) came to know about my musical inclinations he suggested I sing bhajans and devotional music. I was surprised, since I could only play the guitar and no Indian instruments. He simply said to me 'do it your own way, create your own'. Gurudev's guidance actually paved the way for my career. I started to mix the styles, Western and Indian and this 'soundscape' began to take shape in my mind.
"By the time I got married 12 years later, I had already released ten albums and had toured the world with my music. I think I've been really lucky with the breaks I've enjoyed as a musician. Guruji never encouraged me to become a monk or renunciate because he knew that music was going to be my path. It happened rather seamlessly, it wasn't a big turning point or epiphany, it just felt like it was meant to be."
Vikram spent several years in the villages of north eastern India doing community development projects, including building primary schools, sanitation and health care initiatives. During this time, he was influenced by regional music, folklore and ethnic traditions, and he grabbed the opportunity to learn age old traditional music from grassroots musicians both young and old. His music has taken Indian devotional music to a universal, global platform, by reaching out to a wider and new audience who will respond to the jazz/rock musical elements.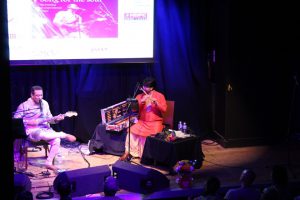 Vikram continues to tour the world with his genre of music, and feels fortunate that he has enjoyed substantial commercial success as well, with several of his songs being bestsellers, available on digital platforms such as iTunes, Spotify etc. He dedicates all his spare time to doing pro bono work for the Art of Living foundation, supporting various peace initiatives, social causes and conflict resolution interventions inspired by Sri Sri Ravi Shankar. What makes it better is that he's spreading the word of peace through his music, not limited by Indian instruments. He's dedicated to expanding that spectrum – music from different languages around India, preserving some of the dying languages, music, and traditions. If you get the chance to catch him play then do so, you'll not have heard anything quite like it before.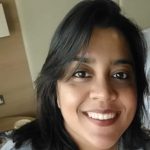 Smita is a multi-cultural freelance journalist, writer, and filmmaker based out of the US, London, Hong Kong, and India. Global Indian Stories is her brain-child. Created to chronicle diaspora stories written by Indians of all age groups, from different walks of life across the globe, Smita makes sure that the platform remains inclusive and positive.