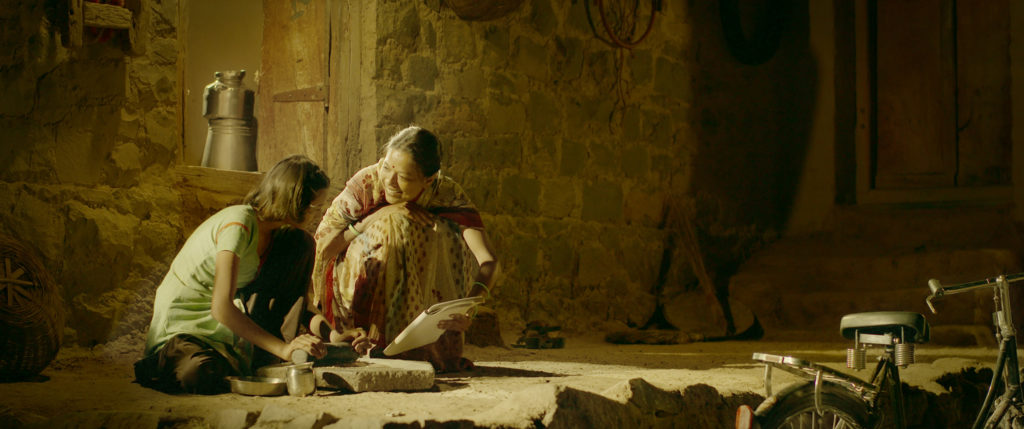 The London Indian Film Festival (LIFF) this year has a 21-minute short film in Marathi, the only one to be covered in two sections of the festival, including the famed Satyajit Ray Short Film Competition. What's interesting is that the Director, Rohan Kandwale has had no formal education in filmmaking.
The film, U Ushacha, will be also be shown in the Too Desi Too Queer strand, a new section added this year – showcasing a series of short films from 8 minutes to 27 minutes in length. The film has also been selected in the highly regarded Satyajit Ray Short Film Competition which provides a rare chance to see the works of talented, emerging filmmakers, who are exploring themes of South Asian Experience.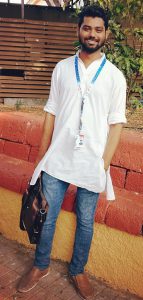 U Ushacha is a film about a young farm labourer and single mother, played by acclaimed theatre artist Kiran Khoje; who finds herself drawn to a local female primary school teacher in ways she never thought possible and soon this passion grows. In a remote village of Maharashtra, where people are not even aware of the labels of sexuality, Usha, embraces her same-sex attraction and begins to explore it without any guilt.
Rohan feels that one of the reasons Usha is receiving love from the audience is because the taboo associated with LGBT and sex is absent in the film.
"Normalisation of LGBTQ characters and stories is very important to reach to a wider audience. And that is what I tried to do in my film U Ushacha," says Rohan.
"When I decided that I will make one more LGBTQ film, I was clear that this time it has to be with women. In India we have very very few films on lesbian theme, and whatever small number of films that exists, they all have the city the as backdrop. That is where I found my second reason to make this film that unfolds in rural India. An illiterate single mother who works as a farm labourer gets attracted to a female teacher of a local primary school," says Rohan.
"Writing a film is easy, but execution is the difficult part. And for a filmmaker like me who has no formal training in films, it was a big step to go and shoot a film in a remote village."
Producer Neeraj and Hindu mythology writer Devdutt Pattanaik came forward to support the project from it's inception of this film project.
"We would like the film to be seen by as many people in the world. The idea is to help global viewers dispel Indian LGBT stereotypes," said Neeraj. "Rohan approached me with multiple stories but the story of Usha made an impact.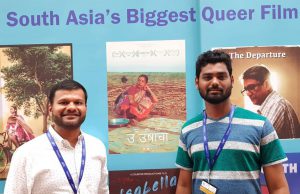 "While most queer films in India focus on urban stories with privileged individuals, this one offered a layered story of an underprivileged farm hand trying to gain control of her life in her own small way. The character of Usha stayed with me for weeks after reading the script and I was very clear this would be the project we would work on," confirmed Neeraj.
"We had a cast and crew screening in February 2019. The residents of the village Sawargaon Ghule, where we shot the film, came to Mumbai to attend the screening. After film was over, the Sarpanch (head of the village) requested me to bring the film to the village. He said, 'We will book a theatre, which is a few kilometers away from our village, and we will get the whole village there to watch the film.' I believe that is the real acceptance of LGBT stories and community in today's India," suggested the Director.
"Rohan has a rare talent to write and bring unusual nuanced layered stories to life. Would love to see what he will be up to next…" said Neeraj. And so will we, but for now, it's eyes on LIFF for the screenings.
There are two ways that you can catch U Ushacha:
SATYAJIT RAY SHORT FILM COMPETITION 2019
June 21, 2019
Genesis Cinema – 8:30pm
Buy tickets
June 23, 2019
Phoenix East Finchley – 4.00pm
Buy tickets
June 26, 2019
SOAS, Khalil Lecture Theatre – 6:45pm
Buy tickets
TOO DESI TOO QUEER
June 28, 2019
University of Westminster – 6:00 pm
Buy tickets
---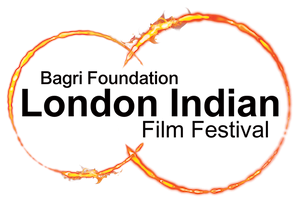 The Bagri Foundation London Film Festival celebrates a decade of bringing the best new South Asian films to the UK, with 5 cities, 25 venues and 25 specially curated films. It starts on 20th June 2019 in London continues until 8th July 2019, at cinemas across the UK. For more on the festival, please visit: http://londonindianfilmfestival.co.uk/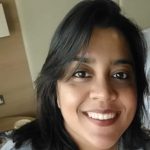 Smita is a multi-cultural freelance journalist, writer, and filmmaker based out of the US, London, Hong Kong, and India. Global Indian Stories is her brain-child. Created to chronicle diaspora stories written by Indians of all age groups, from different walks of life across the globe, Smita makes sure that the platform remains inclusive and positive.