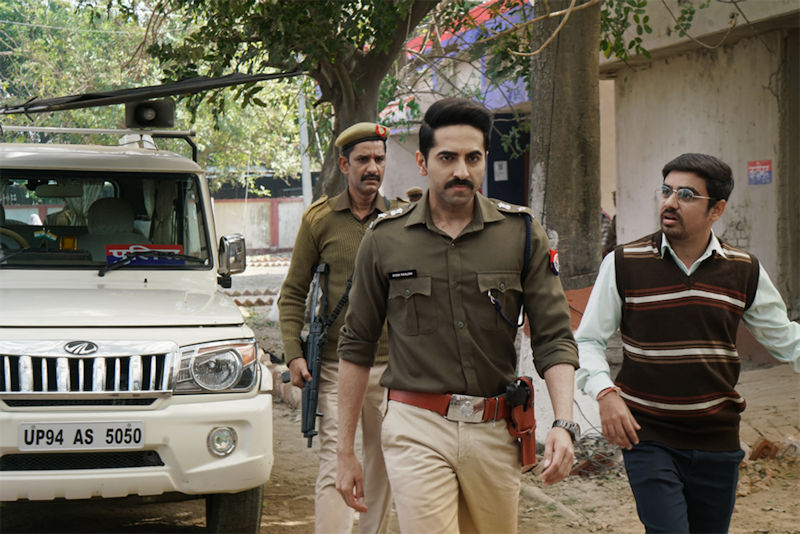 Another year and another strong opening film from the London Indian Film Festival (LIFF). The aim for LIFF is always to show the kinds of films that tend to be lost in the endless  stream of Bollywood releases.  These are films to make you think,  raise awareness of causes, and open your eyes to places, people, and events that are sometimes forgotten about.
Article 15 is a movie that highlights how rural areas can lag far behind cities when it comes to progress, in particular with regards to equality. The piece of legislation known as Article 15 in the Indian constitution prohibits discrimination on ground of religion, race, caste, sex, or place of birth. The film focuses on how caste discrimination is still a big problem and it does this within a story framework of a crime thriller. This is a wise choice that should make it much more accessible to worldwide audiences.
Ayushmann Khurrana stars as a police officer sent out to a rural Indian town where he discovers things are far from the civilised world he's used to. Ayan with his urban and international background is at odds with the posting and he arrives just after three girls go missing. Initially he is met with a total blanket of resistance because the girls of are Dalit origin, the untouchable caste, and therefore deemed almost worthless.
It's soon apparent that the people in power in the area will do anything to cover up the truth and Ayan is warned off on multiple occasions. However, his determination, fuelled by conversations that he has with his partner keep him on the track to discovering the truth and punishing those responsible.
The film is based upon not one single story but taking inspiration from a slew of similar brutal stories where discrimination has led to horrific crimes. If you look at any review or coverage online it isn't long before you see that Article 15 has gang rape and murder, but I want to assure you that the film is sensitive and restrained about this. It isn't graphic with its violence and doesn't glorify or revel in the nasty aspects. This has been handled expertly by Anubhav Sinha, the director and co-writer of Article 15.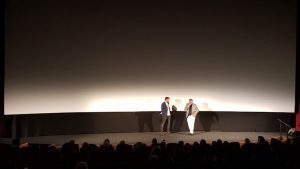 The movie is stylishly shot and there is a sense of tension and desperation throughout, until we finally have a satisfying conclusion. The music is also good, particularly the choice of "Blowing in the Wind" by Bob Dylan which contains the highly appropriate lyric: "How many times can a man turn his head and pretend that he just doesn't see?".
There is also a great hip-hop track called "Shuru Karein Kya" performed by Slow Cheeta, Dee MC, Kaam Bhaari, and Spit Fire which plays over the end credits – with a video that stars Ayushmann Khurrana as Ayan, looking moodily at the camera. You might think that would feel out of place, but actually it brings a nice up-tempo end to the film which has some scenes that can be quite upsetting, such as when the first murder is discovered.
All of the ensemble of characters are believable and Khurrana acquits himself well, in a role that the director admits he didn't see as being right for him. "When I wrote the movie I wanted this to be a follow-up to Mulk, but I couldn't think of an actor," Sinha admitted. However, Khurrana was after an intense role and he kept pursuing. As the director puts it, "I didn't cast him. He cast himself". Ultimately the movie relies on, and succeeds, because of the commitment and likeability of Khurrana, who makes us care as much about the missing Dalit girls and the unjustness of the society in which he finds himself as Ayan clearly does.
Article 15 opens worldwide today (28 June 2019) and I heartily recommend catching it if you can. It's definitely not a popcorn movie, but it tackles an important and disturbing issue in a watchable way. Even if you aren't into causes then it's still an accessible crime thriller worthy of your time.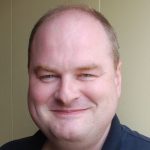 Jonathan has a varied history, having written for publications such as Asian Woman but also technical magazines such as Networking+. He also has a background in IT so he's been instrumental in the technical side of getting Global Indian Stories launched. As co-founder, he also keeps writing, sub-editing, and handling the social media.