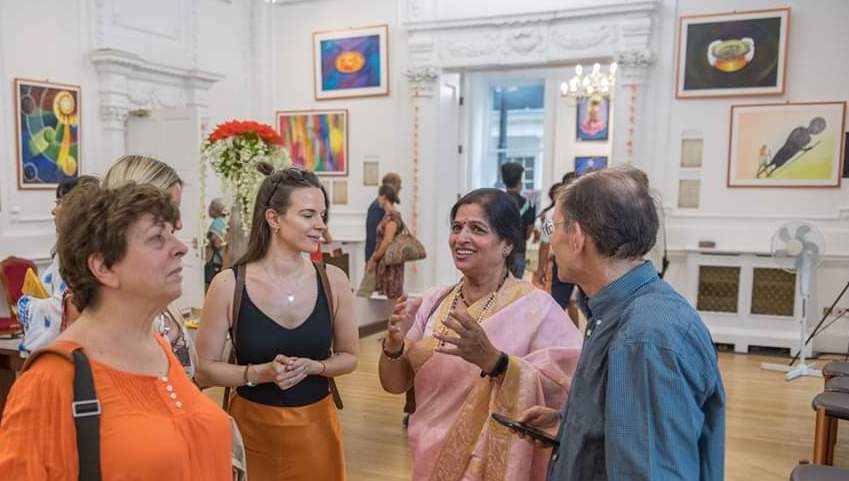 The end of July saw London basking in sun, but also basking in the creative talents of Sushma Johari Madan. An exhibition called "Ancient Belief or Science" was held at the Nehru Centre in London, UK which gave the public a chance to see paintings which embodied and exemplified the ancient beliefs, stories, traditions, and myths of India.
Each work of art was based on a particular story and aims to keep traditions alive. Sushma received her inspiration from her grandchildren and their numerous questions about traditional stories and the meaning behind them. The challenge for her artistic skills was to find a way to connect the ancient stories to modern lives, to show how each belief can give us a valuable lesson which we can apply to enhance our own lives.
Sushma exhibiting her talents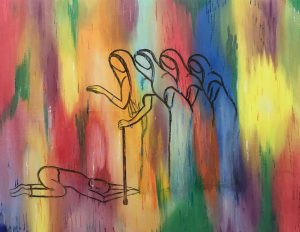 The collection of works filled every wall in the gallery, bringing variety and colour over the whole collection. To give a flavour of the work, one piece entitled "Seven Days" extolls the story of a sage who teaches some teenage boys that life is very short so they should use their time wisely. Another, called "Shravan Kumar – Think Twice", reminds us to consider our actions carefully so that we don't regret the consequences later. "Hopes & Blessings", a personal favourite of mine, depicts a story that is traditionally read at the Indian festival of Karwachauth, and highlights the importance of hopes and blessings, that when all is lost, it is hope that sees us through.
On the evening of 25 July, there was an evening event where Sushma gave a talk about her work and also participated in a Q&A to sate the intellectual appetite of the inquisitive crowd who had come to hear her. Speaking to globalindianstories.org, Sushma said, "it really was like a dream. I feel truly blessed to get the love and appreciation from so many people. I am honoured that everyone liked my art and the stories and this has really motivated me to keep going and make more paintings."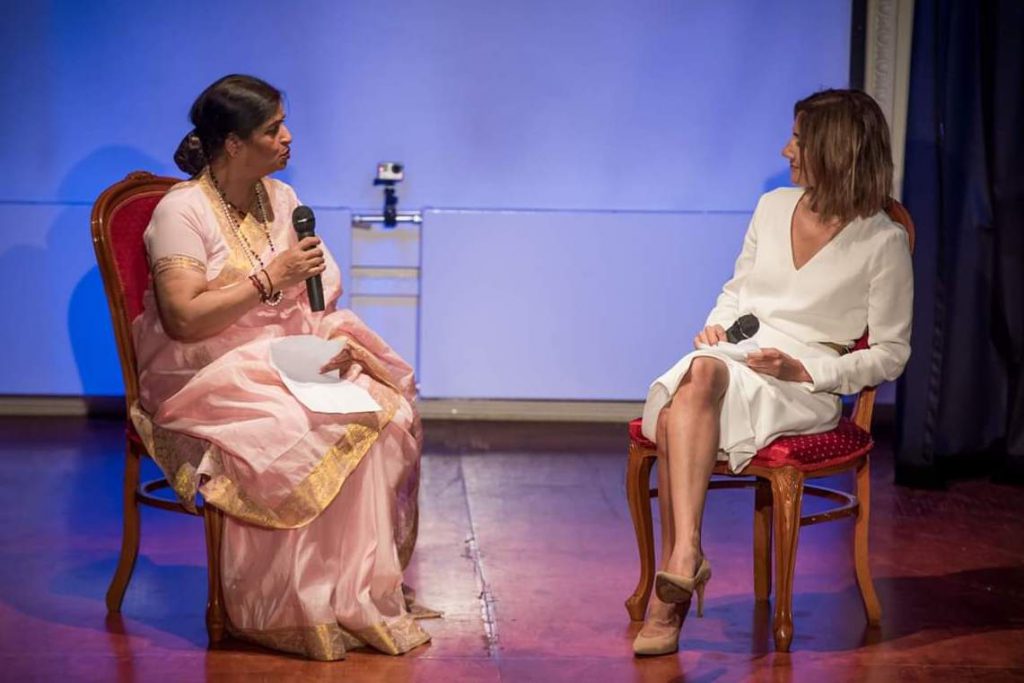 An evening of cultural entertainment
As well as the talk, there was cultural entertainment in the form of dance. The evening began with Kathak dancing from Asmitha Tawade, who looked resplendent in gold and red. There was also more dance in the classical form of Kathak from ANKH Dance, where two ladies were a vision in blue as they performed for the eager crowd.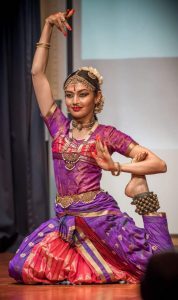 A third segment saw Suhani Dhanki Mody passionately interpreting a story with her spell-binding performance. In order to help the audience, Suhani gave a brief overview of the story, in which a King wishes to learn iconography so he can make an image of his favourite deity, before she began. This meant that even those not familiar with the narrative she was interpreting could share and enjoy her dance.
After the talk, Q&A, and cultural entertainment, the eager audience proceeded downstairs to be treated to a delicious selection of canapés served in eco-friendly tableware, provided by Patiala Xpress, and a chance to soak up the exhibition.
A blessed event
Rimjhim Sud, one of Sushma's daughters and a co-owner of Gold Rain Events which organised the exhibition and evening occasion, told globalindianstories.org, "it is hard to describe in words the feeling when you can successfully share the talent of the person you have admired from childhood with the whole world. We grew up seeing mum create art with even smaller things in life like, our school project works, cooking and stitching, and to see her passion displayed for the world to see and admire is beyond words."
The master-planner, Sona Madan, spoke exclusively to globalindianstories.org, "this event was my dream project and I have a lot of people to thank in making this dream come true so beautifully. When we first set on this project, step one was to find an appropriate venue and nothing could have done it more justice then the prestigious Nehru Centre. I really want to thank Mr Guhare (Deputy Director of Nehru Centre) for his support and direction.
"We wanted to have dance performances not just for entertainment but so that we could use the art of dance to showcase the essence of the beautiful paintings and the spiritual messages they contained. We were fortunate to have Suhani, Asmitha, and the ANKH group who joined hands with us and created magic on stage."
Photos of the event are courtesy and copyright of Vineet Johri.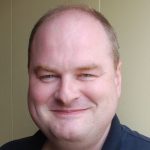 Jonathan has a varied history, having written for publications such as Asian Woman but also technical magazines such as Networking+. He also has a background in IT so he's been instrumental in the technical side of getting Global Indian Stories launched. As co-founder, he also keeps writing, sub-editing, and handling the social media.