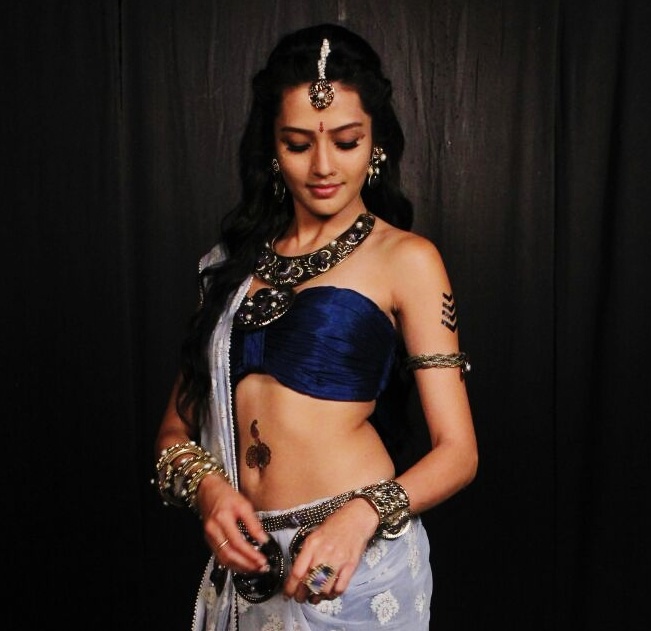 She is a Gold medalist in her Masters in Bharatnatyam dance, an actor, and a lawyer. Suhani Dhanki Mody, an established silver-screen actress, has recently relocated to London after her marriage and plans to concentrate on her career as a Bharatnatyam Danseuse. A lawyer from the well-known Government Law College at the University of Mumbai, the multi-talented Suhani has been a household name for her roles in leading Indian television series like Mahabharata, Adhuri Kahani Hamari, Piyaa Albela, and most recently in a lead role as Laachi in Porus, on Sony TV, India. 
I met the multi-talented young Suhani at the Nehru Centre at the end of July, where I sat mesmerised by her performance and her confident narration about her dance piece. My first reactions to her stage presence and performance was that London was privileged to have her as an artist in the cultural circuits with her sheer brilliance, along with the dedication and precision reflected in her performance. 
Suhani is already getting noticed for her work and the multi-talented artist will soon need no introduction, but I grabbed the opportunity to get to know her a little better. 
Rigorously training under Guru Dr Sandhya Purecha, a prestigious Sangeet Natak Akademi Awardee, an eminent exponent of Indian art and culture, especially the Thanjavur tradition of Bharatnatyam, Suhani has explored other folk and traditional dance forms like kathak and Latin ballroom dancing. Suhani feels that it was the dance form that chose her, instead of her choosing to learn Bharatnatyam. 
"To be honest, I cannot recall the exact point when I decided to be a full-time dancer. I know that my mother always hoped to see me as one, and my Guruji is the sculptor of that vision. I am still a work-in-progress," says Suhani. 
She is an established actor and a qualified lawyer, but has chosen to take on the path of an Indian traditional danseuse. It is not an easy path to tread as it requires intense commitment, dedication, discipline and above all, there are financial constraints for conducting performances, frustrations arise from the lack of opportunities, and it can become challenging to stay motivated and practice.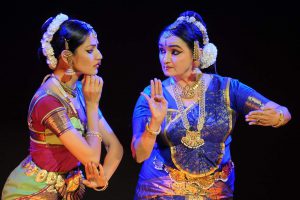 "I would believe that there is a greater force propelling the fact that I dance and I have the opportunity to pursue it as a profession seamlessly. The thought of giving up just never arises and I owe this to my Guruji Dr. Sandhya Purecha. I have been inspired by her steadfast focus and devotion to this world of dance and somehow, with her blessings and guidance, there has always been a path, a solution or a resolution."
No artist can sustain without a formidable support system and Suhani's family is her strength. "My mother initially took me to ballet class when I was 4. After about two weeks, I decided that this wasn't for me. She then enrolled me in a Bharatanatyam class and it has been 23 years now since my first tryst with the dance form! My family has always been very supportive of all the choices that I have made, be it studying law, not pursuing law, treading towards dance, acting, modelling, all of it unquestioningly and unhesitatingly. Over the years, they have put in effort to understand my craft and appreciate it. I have also been fortunate to have a mentor in Bhavna Shah who constantly motivates me and facilitates every ancillary aspect in my dance career."
Suhani has had a rather prolific acting career as well, and her acting happened because of dance. "It was serendipity that I was assisting my Guruji at a meeting she had with a Production House in Mumbai. The Casting Director spotted me and auditioned me for the part of Madri in Mahabharat on Star Plus. And that's how I got my first TV show. After that, I was fortunate to get offers but it was a battle of priorities. It was always dance over everything else and I couldn't see myself dedicating every day to acting and losing time from dance. So I made my acting choices carefully, to ensure that I could find a sound balance."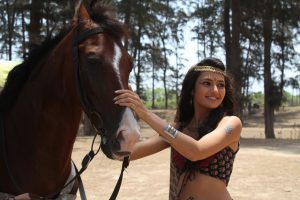 "After my most recent show, Porus, I have fallen in love with acting more than ever. I am keen on exploring and experiencing acting in London as well. I have been watching plays here and each time I am left speechless. Theatre in London is phenomenal – the intensity of the performances, the powerful stage presence, minimalistic yet impactful stage and light design. It really inspires me to hone my skills and work harder," she says.
AWARDS & TITLES For Acting – • Nominated for the Best Actress in a Leading Role by Telly Awards • 'Newsmaker Achiever's Award for Best Television Actress' by NBC • 'Ghoghari Mahila Mandal Federation Felicitation' For Bharatanatyam – • 'Girnar Nritya Ratna Samman' • 'Nalanda Nritya Nipuna' Award • '58th Gopi Krishna National Award' • 'Girnar Nritya Ratna' Award • 'Lasya Mohini' Title • 'National Nritya Shiromani' Award • 'Nritya Vilasini' Award • 'Sandipani Sangeet Ratna Samman' • 'Sant Sarvadnya Dasopant Nrutya Ratna' Award 
Marriage brings her to London, but moving here would have been her first choice anyway, having lived in Mumbai all her life. "London is wonderful! Overwhelming at times but it teaches you a completely different way of life. It challenges you, disciplines you and makes you persuasive. I think it is a matter of great fortune and ease for me that veteran exponents and senior artists have put in tremendous efforts in bringing recognition to South Asian dance forms in the UK dance diaspora.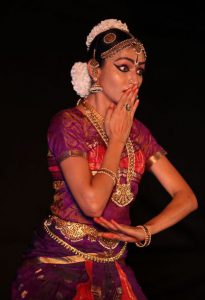 "Suhani is confident about her future. "My Grandma (Nani), who is with me in spirit now, and my Guruji have been my guiding force and inspirations."
What mantra does she live by?
"Delicious Ambiguity – my favourite two words. I love to savour the unpredictability of life and simply do your bit passionately and with sincerity. Things will fall into place, if not, this too shall pass." 
Some words of wisdom from the guru for your students of dance…
My Guruji always says, 'just practice… practice even if the mind wanders, or the heart flounders but let the anga practice for there is no substitute to practice and no greater joy than in the fruits of practice'.
 Suhani has compered over 30 dance festivals and cultural shows and prepared a research project on 'Rasa from Raja Bhoja's Sanskrit treatise Shringara Prakash' and 'The Relation between South-Asian Dance Styles' as part of the MA Dance dissertation. She has also had articles and reviews published in the dance quarterly journal Nartanam under the title 'Special Reporter' for classical dance festivals in Mumbai.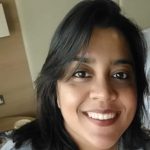 Smita is a multi-cultural freelance journalist, writer, and filmmaker based out of the US, London, Hong Kong, and India. Global Indian Stories is her brain-child. Created to chronicle diaspora stories written by Indians of all age groups, from different walks of life across the globe, Smita makes sure that the platform remains inclusive and positive.