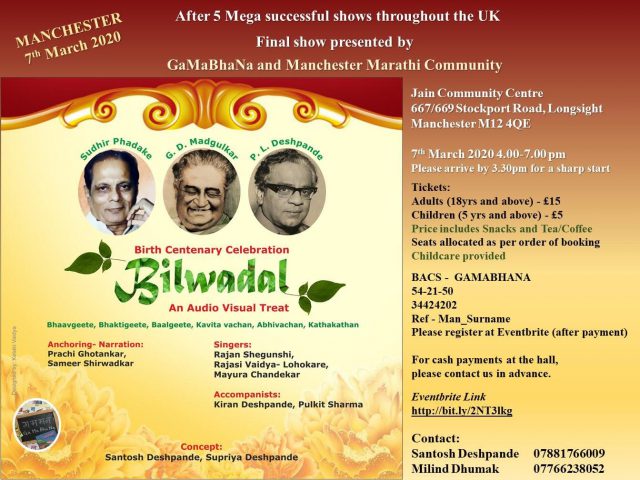 Indians in the UK like like couple Santosh and Supriya Deshpande, Founder of a socio cultural organisation GaMaBhaNaare are passionately engaged in promoting India's rich cultural diversity and heritage. Their aim is to promote the Marathi language among British Indian and showcase the literary richness of Marathi through various performing arts.
Santosh and Supriya and GaMaBhaNa along with lovers of Marathi language poetry and music have come together to present a unique audio visual, live concert – Bilvadal – based on works and life of the three legends of Maharashtra: P L Deshpande – a beloved versatile personality who was an author, writer, poet, music director, G D Madgulkar – legendary poet and lyricist, Sudheer Phadke – a great singer, composer and musician.
"Coincidentally it's the birth centenary year of these three literary and musical giants that attracted us," says the Deshpande couple. "The contribution of these legends is huge and it has touched the hearts and soul of different generations thus to present them together was important and pleasant for Ga ma  Bha na," said Deshpandes.
On the 7 March at the Jain Samaj Community Centre hall in Manchester, Bilvadal will be presented following the success of shows in London, Croydon, Milton Keynes, Coventry, Leicester. Leading Indian artistes of the show are all residents of UK.  Rajan Shegunshi is known to the UK community. He has performed with famous Bollywood celebrities such as Vishal & Rekha Bharadwaj. Rajan is a trained vocalist in Hindustani music and a passionate admirer of variety of musical genres.
He has been actively contributing in the music community to support cultural initiatives to promote Indian music. He has appeared on famous TV show "Meri Awaz Suno" on Star Plus. Another talented vocalists Rajasi Vaidya-Lohokare who has over 7 years of training in Hindustani Classical music from Pt Meghnath Kolhapure, trained in semi classical vocals by her Guru and mother Smt Madhuri Vaidya (Sangeet Visharad) who has participated in India's famous music reality show Indian Idol (season 3) and performed in several live professional shows in India will enthral the audience. Rajasi also performs in Marathi, Hindi and Kannada songs.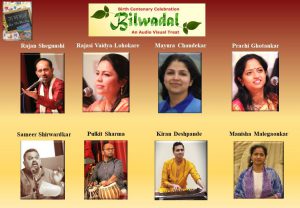 Mayura Chandekar a renowned architect and professional interior designer and also a trained singer from Bharat Gayan Samaj –Pune, India will engage the audience with her mellifluous voice.
Dr. Kiran Deshpande who will accompany on keyboards learnt music from age 9 at Warana Baal-Vadya Vrinda from various gurus including Ram Kadam. He plays various musical instruments – Flute, Mandolin, Jal-Tarang, Harmonium and Keyboard. Kiran has performed several shows as part of Warana Children's Orchestra in India and in South Africa. He has performed on keyboard alongside Shri Shridarji Phadke (son of legend Sudhir Phadke ) and Pt Shounak Abhisheki during their concerts in the UK and the Netherlands.
Theatre artiste Sameer Shirwadkar who has performed 100+ commercial shows of renowned plays like Ghashiram Kotwaal, Darling-Darling and has shared screen with various actors like Rima Lagoo, Kuldeep Pawar, Anant Joag for various Marathi serials and movies and done TV commercial for DHFL and acted in many one act and three act plays will belt out passages and read poetry of the Marathi legends.
Pulkit Sharma son of Dr. Mukesh Sharma and Dr. Vandana Sharma began formal music training at the age of 15 in the art of playing tabla under the tutelage of Ustad Sarvar Sabri. He became the official disciple of the Ustad in year 2016. He has developed into a fine well-rounded tabla player; equally at ease in solo playing or accompaniment. His love for music led to him explore rare instruments such as Khartaal, Bhapang and Morchang. Pulkit will accompany the artisets on tabla and offer rhythm support.
Prachi Ghotankar who has earlier worked for Pune Aakashwani as a compere  for their  Yuva Vaani section and has anchored for various cultural and community shows in UK and in India will compere the show. Prachi has received a special mention prize in UK One act play -2015 for a role in the play "Sakhya Re"
The Audio Visual support will be provided by Manisha Malegaonkar.
For further details to attend the show contact Santosh Deshpande on 07881766009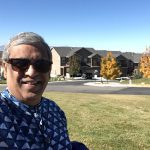 Rahul Laud wears many hats. He is a senior journalist, and works as the Associate Editor of Asian Lite, based out of Manchester, UK. He is the Curator and Facilitator of SAJDA Festival and is a regular volunteer for the Art of Living and the IAHV global charities. He is a musician himself and teaches the tabla to the younger generation of music enthusiasts.