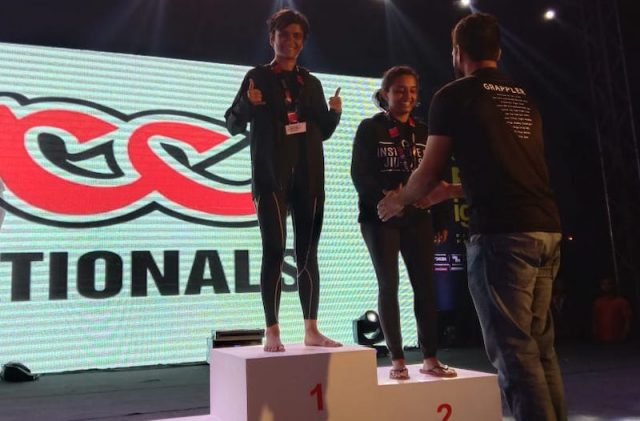 In an era of cut-throat, tough competition, you might be forgiven for thinking success at a sport could only come by practising pretty much from the time you leave the womb. You might believe that a 27-year-old picking up Jiu-Jitsu might never achieve any real level of success. Going against these pre-defined notions makes Sankalita Chakraborty's swift rise to winning the Women's Intermediate -55kg at the ADCC India Nationals seem all the more amazing.
"I only got into sports or martial arts in 2017. I started with practising Kickboxing and Muay Thai and then moved into Jiu-Jitsu in June 2018. I have never really trained in sports before," said the ADCC India Nationals' gold medalist.
The ADCC Association is the Submission Fighting World Federation and is a competition that was created to be a standard for which all ground fighting martial would be measured. The ADCC India Nationals 2020 championship was held in February at the DFL Avenue Mall, Saket, in New Delhi.
Sankalita competed in the women's under 55kg category, from the Jiu Jitsu Ronins club, beating Amoolya Bhat from the Institute of Jiu Jitsu.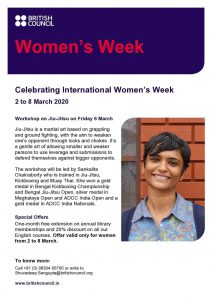 The gold medalist has a Masters in International Relations and is the Program Manager at the British Council in Kolkata. She will be conducting a workshop at the British Council on the 6th March 2020 as a part of the week-long International Women's Day celebrations.
"We are encouraging both men and women to participate in the workshop," said Sankalita.
Jiu-Jitsu is a relatively new sport and has become popular in a short span of time due to its sheer effectiveness, built on the philosophy that a weaker and smaller person can successfully defend herself or himself against stronger and heavier opponents by taking the fight to the ground, eventually defeating the opponent by applying locks and chokes.
"For me personally, Jiu-Jitsu means much more than practising self-defence. It is a way of life. It has taught me values that have beautifully seeped into other aspects of my life. It has made me more patient, confident, and resilient."
"It has prepared me to take challenges head on without getting bogged down by fear and anxiety. Jiu-Jitsu is reflection of life itself, you are constantly faced with challenges and you respond by trying to find new ways to overcome them without giving up."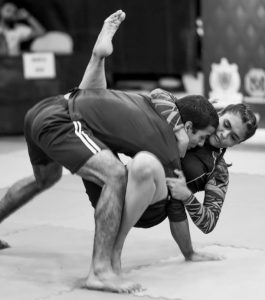 Through the workshop Sankalita wants to introduce this beautiful sport to a new set of participants, break the stereotype that physical strength is one's greatest asset to defend oneself, cover some aspect of physical and mental well-being.
Jiu-Jitsu helps develop and inspire people to take up the sport no matter what their sex or age. People have started training in the art at 70 years of age. 
"The Jiu-Jitsu that I practice is a Brazillian refinement of a centuries-old, traditional art. It is considerably different from all other arts, including its mother art, now referred to as Judo;  because in essence it was refined for weaker people," said Sankalita. 
People of all ages can take up the art. Physical strength is not a pre-condition or marker of excellence in Jiu-Jitsu. "More and more people should learn Jiu-Jitsu because of the positive impact that it can have on one's life," confirmed the champion.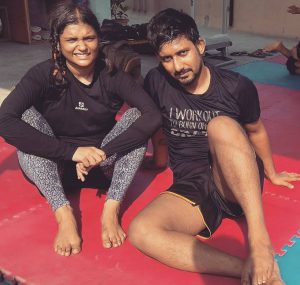 Sankalita is not the only one crazy about martial arts in the family. Her husband, Debayan shares her passion and has trained himself in different forms of martial arts since childhood. Like most of the Indian kids of the 90s, his martial arts journey began with karate but he soon got introduced to a rare form of Kung fu called the Southern Praying Mantis by his brother-in-law.
He is extremely passionate and very, very committed to practising this art. He has been practising this form for twenty years now and has taught students for thirteen years.
"He is the one who introduced Jiu-Jitsu to me and our lives have changed since then," said Sankalita. "We don't have a trainer training us in Jiu-Jitsu. We are a group of self-driven practitioners with varying degrees of experience and expertise who meets every weekend on our terrace to learn from and inspire each other."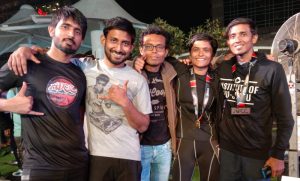 "We are called Jiu-Jitsu Ronins. The experience of practising together has been very rewarding. Debayan is a Jiu-Jitsu nerd and dedicates time everyday before and after work to learn something new about the art everyday which he shares with me. Learning something together and getting better at it is gratifying. He is my team mate and coach. Practising together has also taught us to appreciate each other more. We love the fact that we spend productive time together."
The workshop at the British Council will be Sankalita's way to spread the word of Jiu-Jitsu and ignite the passion for the sport in others, to give them a healthier, more rewarding life.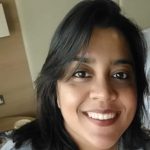 Smita is a multi-cultural freelance journalist, writer, and filmmaker based out of the US, London, Hong Kong, and India. Global Indian Stories is her brain-child. Created to chronicle diaspora stories written by Indians of all age groups, from different walks of life across the globe, Smita makes sure that the platform remains inclusive and positive.