The spread of the horrific Coronavirus that originated in China has reached Canadian borders, with the Prime Minister Justin Trudeau's wife, Sophie Gregoire, testing positive for COVID-19. She is one of the over 8000 cases recorded on Canadian soil so far, and while 1200 people have recovered, more than a 100 have lost their lives to the virus.
Like many countries across the world, Trudeau had to close the Canadian borders to non-citizens and advise the population to self isolate, work from home, stay cautious, report and look out for symptoms.
Like most Canadians we are following the rules, but the past weeks of staying at home has been tough, especially for my outdoorsy and social nearly-five-year-old son Aryan. Keeping him engaged has not been easy. While he has been extremely understanding, we had to look for ways of keeping him engaged and happy.
Aryan is a foodie and home-cooked food is his weak spot. Being a chef's son, Aryan is exposed to healthy food habits along with the occasional indulgences.
Under my supervision, but with very little help, Aryan has been able to make a batch of exceptionally tasty vanilla cupcakes with cream-cheese frosting. The cupcakes are healthy, the ingredients easy to source, and the method is really simple and ideal for beginners.
Vanilla cupcakes with cream-cheese frosting
Ingredients for the cupcakes:
2 cups flour
1 and 1/2 tsp baking powder
1/2 cup butter
3/4 cup sugar
2 eggs
1 cup milk
1 tsp vanilla essence
Pinch of salt
Method:
Gently mix the flour, salt and baking powder in a bowl.
Cream together the butter and sugar.
Alternate by slowly adding the flour mixture and milk to the butter and eggs. Stir in the vanilla essence once the mixture is ready.
Divide equally into a muffin pan and bake at 350 Fahrenheit for about 15 mins or until the centre of the cupcake comes out clean when you prick into it.
Ingredients for the cream cheese frosting:
8 oz full fat cream cheese softened
1/2 cup butter softened
4 cups of sugar
1 tsp vanilla essence
Method:
Beat until the mixture is light and fluffy. Divide into separate bowls, add colours of your choice to each bowl. Add the mixture into frosting cones and let your ward's creativity and imagination run wild.
Why don't you try this at home and let me know how it came out at the end? Did your child enjoy the process and is planning on making another batch soon?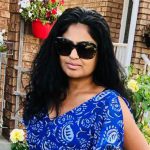 Malini Roy is a Toronto-based chef trained in classical French cuisine. She decided to join the culinary industry after spending nearly a decade as a successful advertising professional. Malini has worked with several 'big' brands and restaurants owned by Michael Bonacini and was part of the opening team of the iconic Momofuku Toronto, by the world-renowned Michelin Chef David Chang. In her younger days, Malini represented her school and University at Regatta Championships. She continues to be a fitness freak.