My name is Ishaan Saxena and I am a student of year 5 in an international school in Hong Kong. My school has been closed since January end amidst the COVID-19 pandemic.
Home learning is one job to do but once you finish it, it gets boring. So I thought I could use this time to explore my interest and do something I haven't done before.
I began looking for old toys and finally I found few mechanic pieces. Inspired by a series on Netflix '
'FORMULA 1 Drive To Survive', I started making my racing car using those mechanic pieces. I started by joining all the mechanic pieces using screws and bolts. The hardest part was to join the back of the car to the middle and fitting everything piece by piece.
In the end, I connected the axle of the tyres to the wires which were connected to the battery. This made my car complete and move faster.
Making this car helped me improve my gross motor and dexterity skills. I understood each step of making a car on my own. In this time of social distancing I can hardly meet my friends but by taking this challenge of making a battery operated car, I have been able to spend my time well and make me eager to take on more challenges and explore more.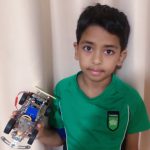 Ishaan is a Year 5 student studying in Hong Kong. He is fond of sports and plays tennis, soccer, badminton and American football. His usual days are very busy playing with friends, and following his passions of reading and baking his favourite chocolate cake.