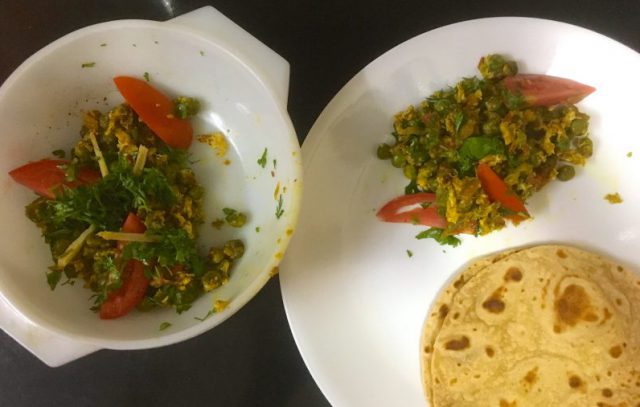 For a Guju like me, the ultimate "comfort food" is DBRS (daal-bhaat-rotli-shaak or daal, chawal, roti, sabji, or lentils, rice, Indian bread and veggies for the uninitiated). But if there is one more food item which provides the ultimate warmth of home cooked food and that long lingering ghar-ka-khana taste (home-style taste) on your taste buds, that is Vimla Aunty's anda-mutter (Egg-green peas).
Vimla Aunty was the wife of a very dear friend and classmate of my Dad. We often went to their home over the weekends and Vimla Aunty, who was a great cook always had a great Punjabi spread ready for us hungry kids. With bottomless-pit stomachs – be it for rajma, kaali daal, aloo gobi, gajar-mutter, bhindi do pyaza and of course not to forget the Kashmiri style mutton (she had grown up in Kashmir), keema and chicken curries, we were a gang to reckon with.
It was on a Sunday. We returned to her home after seeing an English movie from the Railway Club in Dhanbad and she asked us to eat dinner before we left for home in the collieries, that was a good 45 minutes away. For dinner that night, she took out the shelled peas in a jiffy, and put them to boil on one gas burner and started chopping the onion, tomato, slivers of ginger and green chillies and Coriander.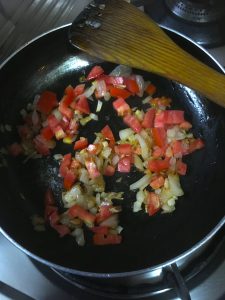 She put this locally made iron Kadhai (non-stick pans were still not available in a small place like Dhanbad back in the '70s) on the other burner and just tossed the onion, tomato and ginger to saute, while adding the usual Indian masalas and tossed in the boiled peas and cooked them together for some time.
When they were cooked, she cracked a few eggs onto these peas, stirred it a few more times, garnished the same with tomato, slivers of ginger and coriander….and served it to us along with some home-made triangular layered tawa parathas.
The taste of this dish was simply divine. It was flavoursome and so home-style that I suggest you try it out and taste it to believe me.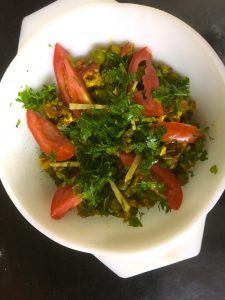 I last met Vimla Aunty in the January of 1976 at her Hyderabad home. After my dad's classmate passed away a few decades back, we lost contact with the family. But every time my brother Hashit Rawal and I eat "anda-mutter", we remember Vimla Aunty. Always. And even today, I remembered her, as I made the anda-mutter in her typical style.
Vimla Aunty's legacy will live on through the bhakts (fans) of her cooking. Do try it at home, and let us know how you find it.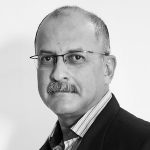 Founder of PXLLens, a Market Research Training and Photography Consulting firm
Nikhil is a Masters in Economics (Econometrics) from Kolkata University and a MBA (Marketing)  from Gujarat University. He has spent over 3+ decades in the Advertising and Consumer Insights industry trying to figure out why people buy a certain brand or behave in a particular way. He likes to give back to the industry by going back to the Business schools and teaching students from the real life Indian case studies he has experienced over his lengthy career. Nikhil is an avid photographer, traveller, and also loves cooking. He has won many awards for his photography.
In case you like any of the prints in this article and want to buy them, please write to nikhil.rawal@pxllens.com