Growing up in the cosmopolitan city of Mumbai in India, I very unwittingly was initiated into our rich heritage of Goan and Indian traditions. Goa – The Portuguese ruled over this beautiful state of sun and gorgeous beaches for almost 450 years up until 1961! That meant that our Goan cuisine and the states religious beliefs had Portuguese influences as well as Indian traditions. Now, who doesn't know about the globally renowned Vindaloo, but that is a story for another time.
Palm Sunday brings us closer to the joyous celebration of Easter and with that a tradition I remember my mum used to keep (even as a treat on a Sunday or summer vacays).
The Goan "Vonn" made so simply with ingredients that form an integral part of Goan cuisine. Coconut Juice, Cashew Nuts, Rice, Chana dal, jaggery. Ideally I would love to use the Madacha God, a darker, more intensely flavoured jaggery from the sun and sandy land of Goa but had to do with the Kolhapuri variety that I got from an Indian local store here.
Made for special festivals and occasions like weddings, this dish has variants across coastal states of India. Vonn also reminds me in a way, of the South Indian favourite "Payasam" but I believe the way the two are made, are slightly different. Of course, I do know that using the dark brown and distinctly flavoured Goan jaggery would have been a game-changer for this dish.
A spoonful of this Vonn today and I was taken into a sweet time into the loving embrace of my mum who was a passionate cook herself, cooked for just one single reason and the reason was Love!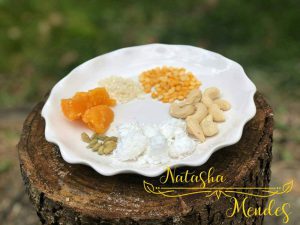 Recipe:
Soak for 2 hours : half a cup of chana dal , a handful of cashew nuts (raw preferable, I used the packaged ones) and half a cup of rice (rice is optional).
Boil the above on medium flame for about 30 mins. Add 1/4th tsp salt. And then add about a half cup of jaggery, or according to taste, and stir till it melts.
Add coconut juice. I used one can of ready coconut milk. Traditionally, one needs to grind fresh coconut and remove thin and thick juice. Thin juice goes in first then the thick.
(Note to self: tradition is hard work!) Add a spoonful of powdered cardamom.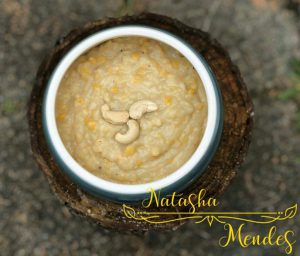 Once the above comes to a boil, add a mix of rice flour and water to thicken (1/4th cup rice flour)
and mix till thickened and take it off the fire.
Cool till warm and then indulge!
So treat yourself to this delicious dish, you won't regret it, and maybe you can make it part of your Easter traditions.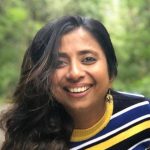 Natasha is a radio voice that has made her mark in Mumbai, Dubai, Hong Kong, and now in Canada where she currently lives. She holds another passion close to her heart, whether rustling up something new or something traditional in the kitchen, she is passionate about all things food.
Her travels, particularly around Asia, have led her to discover foods that are dynamic, bold, and so very local. She loves street food as well as traditional cuisines and is experimental about new cuisines. She is usually found on a roller coaster ride with her three teens and expresses herself best with words, music, poetry, and of course food!