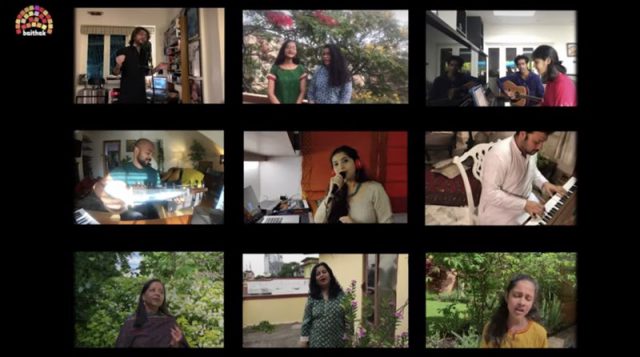 Despite the logistical issues posed by COVID-19, Baithak UK has managed to bring together artists virtually in order to make a music video which celebrates togetherness.
"Those were the days" celebrates the power of music and memory, beautifully melding the globally popular folk song by Robert Burns "Auld Lang Syne", its Bengali adaptation by Rabindranath Tagore, and the recent translation (written exclusively for Baithak UK) by Indian legendary poet Javed Akhtar. 
Sangeeta Datta, Baithak UK's Artistic Director, explains, "the folk song Auld Lang Syne is about reunion with friends. We all want to reunite with family and friends right now, but are unable to."
In the face of all the challenges posed by these lockdown times, many artists generously responded to Baithak's call and came together to record for the video in their home studios or using their mobile phones.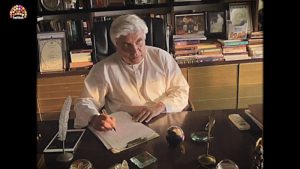 Adapting the material wasn't without its trials, as poet Javed Akhtar elaborates, "the challenge in translating Tagore is to retain the simplicity, purity, this magical poetry of love. How does one carry this from one language to another? Someone has rightly said, however carefully you pour incense from one jar to another, some of it will get lost in the ether. But this is Tagore's music, its fragrance would not fade in anyway."
The short film also contains an urgent message about 'Masks For All' and is promoting two charities – Kolkata Gives and Mijwan Welfare Society – which are each raising funds to distribute 1 million masks for 1 million people.
We also had the pleasure of an interview with Sangeeta Datta, Baithak UK's Artistic Director, to ask her more about the video.
How did this idea of a music video come into play?
As you know, Javed Sahib and I have collaborated on a Hindi Tagore album (Anant published by Zee Music) with eight songs that he translated into Hindi. We have started working on a few more songs now.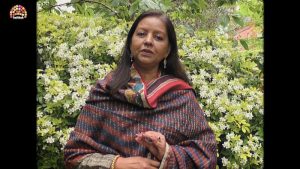 I was planning to work with the songs Auld Lang Syne, Tagore's adaptation into Purano Shei Diner Kawtha, and the new translation that Javed Akhtar has done. It seemed both ironic and poignant that in these lockdown times we had these beautiful songs which express a desire for reunion with friends and loved ones. I felt they could be put into context in these present times of social isolation.
It was daunting to think of making a music video when we can't really shoot outdoors these days. but tying up with the charities and raising awareness about mask safety made these plans quite urgent and so we rose to the challenge!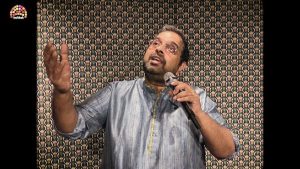 I felt we should make this a collaborative project and reached out to all my friends in the film and music industry. They all came back very quickly saying they were in.
Getting all the material, audio and video, from each artist took time, so we had to extend our deadlines. The video has been made in lockdown conditions with each person filming home video style and I stepped out into my blossoming garden to do my section!
Could you tell us about the Tagore songs from the project that are closest to your heart, and how you decided to feature them?
We have translated different themed songs for our album Anant and even now we are moving around the broad spectrum of Tagore songs from Puja (Prayer) Prem (Love) and Prakriti (Nature songs). A favourite one is Tobu Mone Rekho which Javedsaab translated as "Tumhey yaad rahoon" for my feature film Life Goes On.
For this project we have used the popular Purano Shei Diner Katha which makes the video approachable for everyone really.
You've managed to get quite a selection of talent on board, haven't you?
I am immensely thankful to all the creatives, big star names in their own right, who agreed to join hands to spread an urgent social message.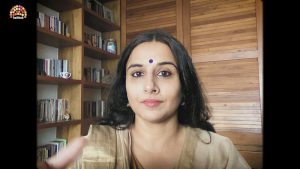 Vidya Balan who flags off the message, Shabana Azmi, Sharmila Tagore and Aparna Sen do the readings. Shankar Mahadevan and Kaushiki Chakraborty are the biggest and best in music, so they sing Tagore in Hindi for the first time.
Actor-director-singer Parambrata Chatterjee is a big name in the Bengali film industry, Rupam Islam and Sourendro-Soumyojit are popular music stars, Pramita Mallick is a stalwart in Rabindrasangeet, Patricia Rozario is a world famous soprano singer in London and Sasha Ghosal is a household name with his Bengali music and recent appearances in musicals like Bend it Like Beckham. Actor-dancer Sreenanda Shankar bears a great legacy as granddaughter of Uday Shankar and grandniece of Pandit Ravi Shankar.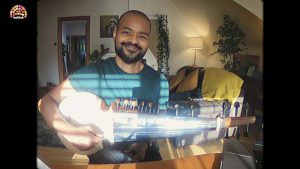 The music is composed by Soumik Datta, an international composer/sarod player/TV presenter, and filmed/edited by Souvid Datta, a young filmmaker/editor who has won several awards with his last film Gladiators on Wheels, including IMDB Young filmmaker of the year.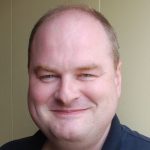 Jonathan has a varied history, having written for publications such as Asian Woman but also technical magazines such as Networking+. He also has a background in IT so he's been instrumental in the technical side of getting Global Indian Stories launched. As co-founder, he also keeps writing, sub-editing, and handling the social media.