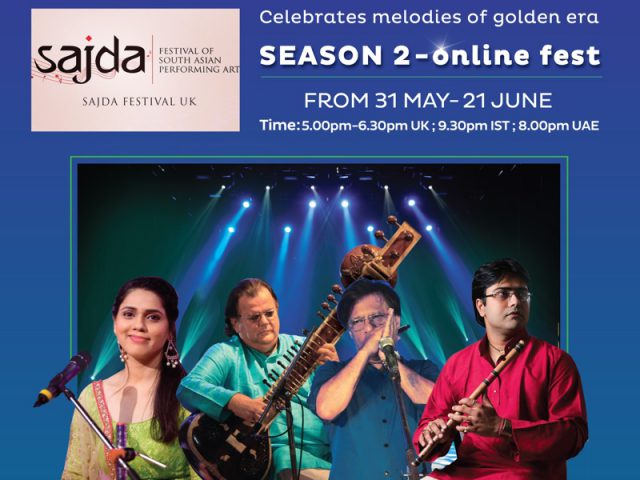 Beginning 31 May every Sunday 5.00pm BST, the SAJDA Online festival will pay tribute to melodies of the golden era of Hindi film music.
Season 2 launches with Nihira Joshi Deshpande
After receiving huge support and acclaim in the UK and Mumbai last year, SAJDA FESTIVAL UK has decided to go online in 2020 for its Season 2. The theme will be TRIBUTE TO UNSUNG HEROES and the creative platform will host a celebration of Hindi film melodies of the golden era. Songs of the yesteryears (from 60s to late 80s) of famous music directors RD Burman, Laxmikant Pyarelal, Khyaam, OP Nayyar, among others will be presented by different artistes as a tribute to that era.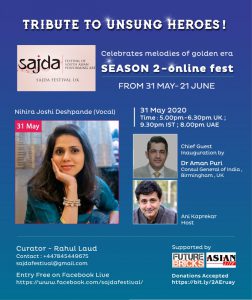 The online festival will be held every Sunday at 5.00pm BST (8.00pm UAE, 9.30pm IST) till June 21. It will have four eminent internationally reputed artistes that includes instrumentalists and a vocalist. Opening the festival on Sunday on 31 May at 5.00pm BST, SAJDA at its inaugural show will host the famous Bollywood playback singer and extremely popular and talented vocalist Nihira Joshi Deshpande an accomplished vocalist and singer in Indian music. She placed in the top 5 in Sa Re Ga Ma Pa 2005. Playback for eminent composers Shankar Ehsaan Loy for films like Salaam E Ishq, Bunty Aur Bubli, and Kill Dil. She is acclaimed for her independent music with her own YouTube channel, where she releases her singles and covers. Her recent single Nirmohiya won her international acclaim and a nomination at the Independent Music Awards.
The Consul General of India, Dr Aman Puri from the Consulate General of India office, Birmingham, UK has kindly consented to inaugurate the festival on 31 May that will be hosted by renowned corporate coach, mentor, and artiste par excellence Ani Kaprekar.
Three more gems to come
Following Sundays on 7, 14 and 21 June the festival will present Chandrashekhar Phanse (sitarist), and Prof Prakash Jakatdar (harmonica), and Soumya Jyoti Ghosh (flute) respectively who will belt out popular melodies of the golden era. The festival hosts include D Anupama Shrotri, Dr Rohit Arora, Dr Trupti Kulkarni, and Rahul Laud.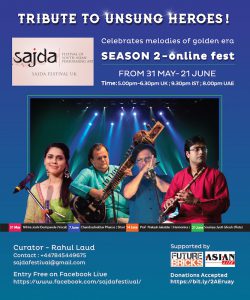 The festival will be streamed on Facebook Live on the SAJDA FESTIVAL UK page to reach a wide global audience. It's reported that, the artistes, volunteers of SAJDA will start a Watch Party to engage their family friends as the show will be watched in UK and in addition from India, UAE, the USA where SAJDA fans and followers live.
"SAJDA draws lot of interest and having a reputation among connoisseurs, discerning audiences, and the popular folk, the online festival being offered free to them will engage them on Sundays from the comfort of their homes,'' said Rahul Laud, curator of the festival. Laud further added that the Online Festival reiterates SAJDA's philosophy to entertain, educate and pay tribute to different performing arts and genres and artistes. As part of its social commitment, SAJDA will contribute a portion of the funds raised for the festival to different charities and cause.
The festival is generating an overwhelming response and Future Bricks UK's popular financial services brand, Sri Sri Tatva UK (for Ayurvedic Products), and the Academy of Science and Technology Management have come on board to support the festival.
Watch, donate, and follow SAJDA
Watch the festival LIVE on: https://www.facebook.com/sajdafestival
Donate to the Festival here: https://bit.ly/2AEruay
For any further information : Rahul Laud +447845449675; sajdafestival@gmail.com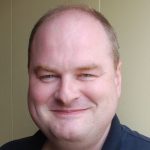 Jonathan has a varied history, having written for publications such as Asian Woman but also technical magazines such as Networking+. He also has a background in IT so he's been instrumental in the technical side of getting Global Indian Stories launched. As co-founder, he also keeps writing, sub-editing, and handling the social media.