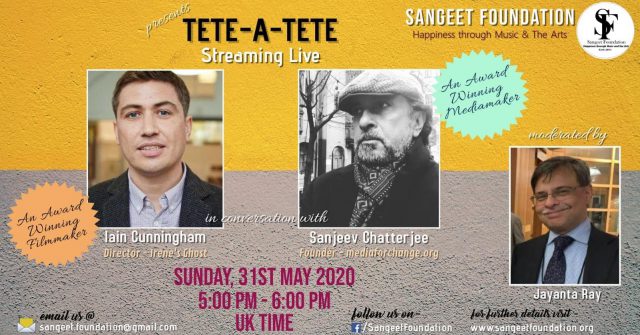 In these times on COVID-19 spurred enthusiasm for virtual gatherings, I have been involved in a couple of such events over the past week. One was the virtual screening of my documentary film Sweet Malady that was part of the program for the Montage Film Series hosted by the Pompano Beach Cultural Center this month but had to be moved online.
The other, an online discussion with UK based filmmaker Iain Cunningham about his slightly dated film Irene's Ghost. To date, the combined viewing (live and recorded) has reached an audience of 2,276 on Facebook and growing. The conversation with Iain was part of a series organized and executed by London Based Sangeet Foundation that is committed to propagating happiness through music and the arts.  The fact that Jayanta Ray, the founder of Sangeet Foundation is a childhood friend definitely had a lot to do with my being tapped to lead the conversation with Iain. As a documentary filmmaker myself and a media educator, I welcomed the idea.
Irene's Ghost is a feature-length (81 mins) personal documentary that chronicles the filmmaker's journey of discovery. Iain's biological mother passed away soon after he was born. Growing up, there was silence around the topic of Irene's death. At 18, when Iain receives a box of his mother's belongings, there are many questions that push Iain to find out more.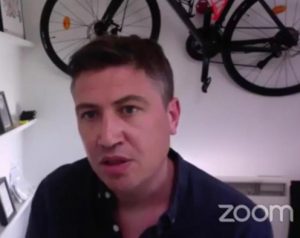 The first part of our conversation focused on Iain's storytelling that tries to reconcile the mother he imagined as a child with the Irene he sets out to discover. Along the way we, as the audience, go along an arc of discovery and transformation. We find out that Irene most probably suffered from what we now know as post-partum psychosis. The ailment claimed her life. We are also made aware of the secrecy and shame that surrounds the subject of mental illness and the possible hereditary implications.
In the second half, we were joined by Panisha Patel/Mistry a mum who spoke from the perspective of having gone through post-partum mental health challenges herself. Questions from the audience included steps that the NHS could take to address post-partum challenges in particular.
According to the NHS Research project Roshni 2: "The rates of postnatal depression (PND) in British South Asian (BSA) women are higher than the general population. PND can cause disability and suffering in women, negative consequences for their infants and their family with huge costs to society. Due to linguistic and cultural barriers, BSA women often do not access appropriate health care services. This has been highlighted as a major contributor to inequitable healthcare across the UK populations.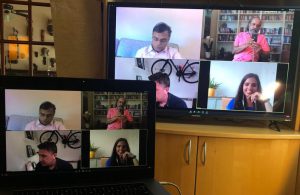 "Mothers of South-Asian backgrounds (Bangladesh, Pakistan and India) account for a large number of births in the UK, particularly in centres participating in this study. There is a growing concern about ethnic disparities in the provision and access to postnatal depression services which is an identified priority in both England and Scotland. We have developed a culturally adapted group psychological intervention called the Positive Health Programme – PHP. We have previously tested this in smaller studies and the approach shows promise as an intervention for PND.
The results suggest that it may lead to improved mood, and successfully engages and supports women from a South Asian background. We have also learned how best to deliver the content to this target group of depressed mothers. The inclusion of centres across England and Scotland will reflect a range of communities and allow us to recruit the number of participants needed for us to robustly answer the question of whether the intervention is effective and value for money.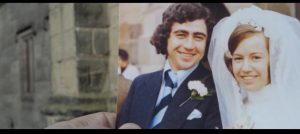 "We will also look at secondary factors such as the impact on anxiety, ability to live confidently, and try to understand what factors impact delivery and engagement with the intervention. At the end of the research we hope to have answered how clinically effective, cost effective and acceptable the programme is, and also summarise our findings in a delivery manual that can be freely used by other centres."
"Panisha came in almost as a living endorsement of what was portrayed in Irene's Ghost, sharing her own experiences," said Jayanta, Founder of Sangeet Foundation.
"The interaction between the two award-winning movie makers discussing their craft and exchanging notes was very engaging and informative. Iain's handling of the topic has been deft and sensitive, a very poignant story speaking about his own life," he said.
Sangeet Foundation's mission of seeking happiness through music and the arts was served through this exercise at various levels. Iain's journey helped him resolve the pain of loss and the attempts to fill the void with fantasy and speculation with reconciliation with the realities surrounding the passing of Irene.
"I thought making the movie was almost like a closure for Iain, regarding his biological mother who he lost at a very young age," said Jayanta.
Along the way there were other connections and reconciliations – with the family on his mother's side and more importantly with his father who had seemed reticent to share the real story at the outset. Ultimately, happiness implies shedding light on the areas of life that remain dark and therefore cause anguish. Those of us who have the opportunity to witness such journeys see the possibility of quelling anguish and anxiety through finding clarity.