Striving for success is the way to a fulfilling life, at least that's how Rumana Rahman sees it, and when you hear her life story it's clear that it has certainly worked for her. Rumana is the Regional Director of Human Resources for the Asia Pacific and Middle East (APME) region of the prestigious British American Tobacco (BAT) and one of the youngest Asian women talents in the industry to hold this station. What makes her remit highly commendable is the fact that her position has a scope of 14,000 employees spanning 35 countries.
Rumana is the first Bangladeshi woman in the company's history of over 100 years, to be holding this key position and the journey has been far from easy for her. A veteran with the organisation, Rumana joined the Bangladesh Tobacco Company, BAT's Bangladesh wing as a Management Trainee, back in 2001. Since then, she has grown from strength to strength in the organisation. She was the HR Director of BAT Bangladesh, before her role in Hong Kong was handed over to her last year.
"At that time, at every event, you would see only executive secretaries as women employees. There were no females," says Rumana as she remembers how she began in BAT Bangladesh. The idea was also that young professionals will come to work for a few years, but not treat their careers seriously after their marriage and children. "You wonder why people say that," smiles Rumana  "because they have not seen women grow."
"If I look at my journey, it's been a very long one of defying taboos, and the national norm at every step. When I visited markets in rural Bangladesh, when I went to Pakistan, it was a different experience where everyone around me were men. There were very few like me when I went through the different stages of my career, when I had my children and went back to work."
"There's a saying: If you don't have a role model, you try to be one, and I've strived towards it," smiles Rumana.
Diversity for all
For a fiery and empowered leader like her, and the organisation she represents, diversity is key and the discussion could not be more relevant than now. Inclusion and diversity are important talking points and Rumana has been introspective and conscious about it. The double crisis of a global pandemic and issues of equality and inclusion have made it a testing time for many leaders in BAT, and her role all the more critical and sensitive.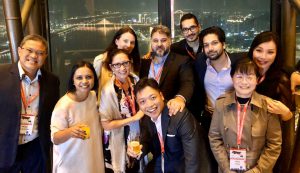 "Gender is a big part of it," admits Rumana. "We also have focus nationalities, the LGBT community and diverse teams where people are encouraged to bring in new ideas, elements, and perspectives in our business. This in turn helps us to win in the markets." This is a well thought-out strategy for an organisational culture that believes women bring a very "different perspective to risk, ways of working and in leadership; very important to the success of an organisation".
A freezing crisis
Rumana believes that it is imperative to connect in these rough times. "Even when you are communicating, you may not be connecting," she says. Rumana agrees that technology often does not compensate for the human factor, the face-to-face meetings, and the HR team has had to go that extra length. Special efforts are being taken to ask after the wellbeing of the employees and their families and staying connected with their employees.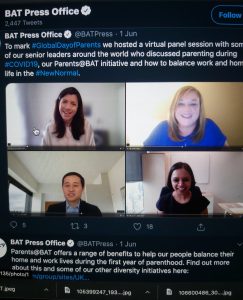 The recruitment freeze globally is an open secret and corporations across the world are faced with difficult times. How do HR Directors make sure the human factor is retained while looking at cost cutting? "I think it's a very good question, and all corporations are facing the hard reality," says Rumana.
"From our perspective, we always look at business sustainability. We at BAT make sure our business remains strong in crisis times. If you look at our results, it has been incredibly solid, which allows us to have a sustainable business. When we look at cost cutting, it is not only people, but other aspects that we cover. We did a huge transformation last year that was hugely successful, I think that is the reason why companies should look at it all times, and not just during crisis times."
But this unprecedented time is probably one of the worst crises, even for a global giant like BAT. With many employees still unable to come to work, what kind of an organisational corporate culture is needed and how does BAT embed this corporate culture in?
"We have a heritage of culture in our organisation. We have just launched the new ethos of the organisation and there are five principles of the ethos: Fast, Simple, Diverse, Empowered, Responsible. It encompasses the purpose of our employees and that of the company, and it comes into convergence in this culture, where we are able to drive results as well as fulfilment for our people."
Retention – the challenge
"We develop people and they say it's a double-edged sword. You develop people and they leave us. But what if you don't? If you don't then you don't progress your business and we have excellent people in our organisation who not only are unique individuals, but they form very strong values and have a strong connection."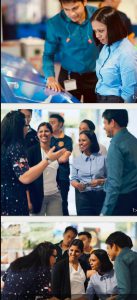 What Rumana has seen in BAT in the current crisis is a can-do attitude to make sure that team leaders progress their business, their teams, and themselves. "It's a human factor – human needs are to grow. If the person has potential, the company gives good growth to them in its own way. I am not saying it will be always through promotion or higher grades – but about roles that are fulfilling."
Rumana has taken up twelve roles in her eighteen years at BAT, something that marked her as an above average individual. This gives a meaning to go on with the company, that to Rumana is the retention power, other than 'hygiene factors' like the pay, the performance, bonuses etc. "To a point I've seen many people rejecting higher pays because of the culture of the organisation and how committed the organisation is towards their growth. They keep that connection and the retention automatically follows."
The best of both worlds
BAT has been going through significant mergers and acquisitions, one such being RAI in the US. The HR has had to play a key role while merging the best practices of two organisations that have very different cultures. "We always talk about something called 'bring your difference' So it's not like we want to have oneness everywhere. People come from diverse places and bring their uniqueness, and we like that uniqueness."
When Reynolds came in, it was very different from the BAT culture. BAT started to integrate by sending people from BAT over to Reynolds and vice versa, and mix the initiatives as well. "Reynolds had good initiatives, so we started to bring in some best practices both ways and 'one mission, one goal.' Our new CEO Jack Bowles has one mission and a goal to simplify the company and make that transition fast. That in itself rallied us, no matter where you come from, you have to have the same standards and ethos of the organisation – that converged."
Striving for fulfilment
Rumana is now an inspiration and role model for many young trainees around the world. "What I've learnt in this journey is that you don't know what you are capable of, unless you've thrown yourself into a big ditch which you think is a deep end but can actually make you grow. Every time I've taken up a challenge, I've discovered a new leadership side of me, a new angle that I can work with and that gave me more for myself, my organisation, and my teams," she says.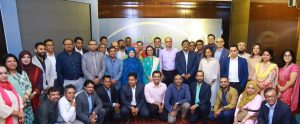 "So, I would say men, women regardless, make sure you try to reach your full potential. That gives you fulfilment, but that potential reaching is quite a scary job. It makes you fearful of what you take on. For example, when I moved to Hong Kong, I was not very confident, I had my doubts, but there were many people who made me do that. I always think what worse can happen, and then do it. Even if it doesn't go well, you can always go back to something else but not trying is not an option. Impossibility is not an option. If you start to walk, there will be a possibility, it might be a different possibility than you thought," advises Rumana, whose mantra in life is the simple 'work hard, party harder, live life full volume. You'll live life just once, maximise it!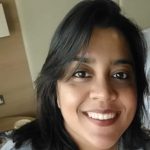 Smita is a multi-cultural freelance journalist, writer, and filmmaker based out of the US, London, Hong Kong, and India. Global Indian Stories is her brain-child. Created to chronicle diaspora stories written by Indians of all age groups, from different walks of life across the globe, Smita makes sure that the platform remains inclusive and positive.