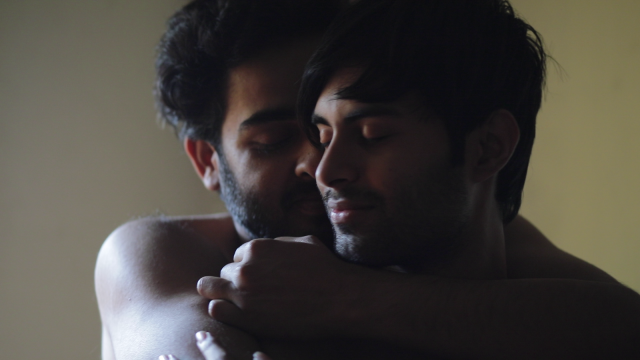 A power-packed, coming of age film, inspired from real life experiences, the "Miss Man" movie will be screening at the virtual edition of the KASHISH: Mumbai International Queer Film Festival on 25th July, from 7pm India time. The film will be available for 24 hours and is screening in the 'Indian Masala Mix 1' program.
Catch 'Miss Man' as part of the Indian Masala Mix Part 1 at KASHISH 2020: http://mumbaiqueerfest.com/indian-masala-mix-part-i/
KASHISH 2020 Virtual, the 11th edition of KASHISH Mumbai International Queer FilmFestival, South Asia's biggest LGBTQIA+ film festival will run from July 22nd – July 30th screening 157 films from 42 countries.
Getting Miss Man in KASHISH 2020
"KASHISH is the biggest queer film festival of South Asia. I have been an ardent follower of the festival for a long time and I knew right from the beginning that I would love to bring my film to KASHISH this year," said Tathagata Ghosh, the 27-year-old director of Miss Man. "It's programming is always stellar and it screens the best of queer cinema from all across the world. Hence it is truly an honour to be a part of KASHISH."
Tathagata feels that the festival works with some of the best filmmakers from across the globe, and being included with them is a huge honour. "People from all across the world follow KASHISH and hence our film will automatically get a global exposure. And with KASHISH going virtual this year, it means the reach will be even bigger as people from any part of the world will be able to watch our film from the comfort of their homes."
"For me, it's a dream come true. I have always looked up to Sridhar and his team for putting together this amazing festival with so much love and passion. With "Miss Man" being selected for this year's festival, it seems the journey has come to a full circle."
Tathagata Ghosh, the young Vancouver Film School pass-out, made this film after encountering some gruelling experiences from people close to him. His initial years were spent in a small town in West Bengal, called Amta. "Coming out from the closet with one's actual sexual preference has been a long struggle for many of my friends and even relatives. I have seen in front of my eyes in what kind of pain they are. They have been looked down upon for loving someone whom they love just because of their sexuality."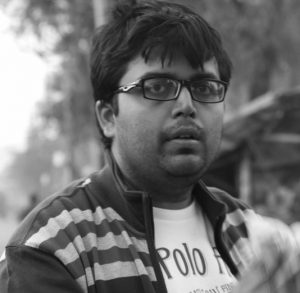 Though section 377 of the Indian Penal Code which made sexual activities "against the order of nature" illegal, has been done away with by the Supreme Court of India last year, many people are still not open and progressive enough from within. Thus, many are still closeted in the fear of facing stigma from society, said the young director. "I felt the pain and anger within me all along and it is only through making this film that I felt liberated. I hope that everyone connects with our film and helps us in taking the dialogue forward that we wanted to create," he said.
Genesis of a filmmaker and Miss Man
Tathagata wanted to be the voice of the voiceless for many in his small town, and tell their stories for the world to see. "One of my close friends got married a few years back. But I was not invited. I felt hurt and upset. But a few months later I came to know that he had actually come out to his parents and was forcefully married off. This was pre Section 377, and their marriage soon fell apart. I was devastated and felt helpless. I could not do much then.
"In 2018, the incidents started haunting me again and it was then that I decided to make a film. I could not rest till I shared his story with the world. A few other incidents also crawled into the script. Incidents that I read about in the dailies. I knew I had to make 'Miss Man'. This has been the most personal film for me and a life-changing experience, working with a lot of artists from the queer community. They all gave their valuable inputs in the script and that's how the film took shape. I have always wanted to be a voice of those voiceless."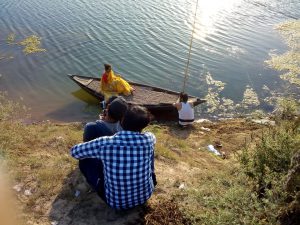 As Tathagata fell in love with cinema, cultivated writing, and learnt classical painting. He published a small magazine at high school where he wrote and often illustrated some of the stories. It was this process that made him wonder how filming these pictures with a camera might pan out. He picked up a handy-cam and shot his first short film years ago. It was not completed but the bug of filmmaking had bit him hard and he trained in audio-visual communication, went to film school, and pursued his passion of making films.
Once he started writing the script he knew that he would produce the film himself. "This was an unusually structured film and it would have been hard for me to pitch this to a producer. This film was also way too personal to make with someone else. I knew that I needed to make this film immediately as it was making me restless. Hence I decided to work for a year, save money and then fund the project myself. I did that and eventually my team came together."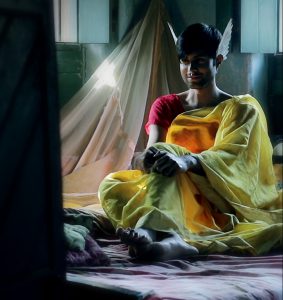 A few who worked on the film had already collaborated with Tathagata earlier. They believed in him and the script. But the main challenge was in finding a protagonist. After a long search, Payel who also played a pivotal character in the film, sent a picture of a person from the pride march of Kolkata. "It was this beautiful picture of a guy raising his head up with a pair of wings stuck behind his ears. I immediately knew I had found my Manob, my protagonist! He was Arghya Adhikary. I got his contact and called him up. He teaches Biology in a Kolkata school.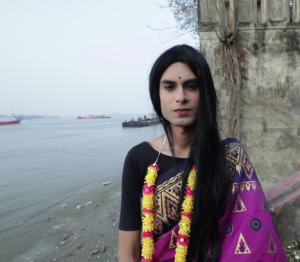 "Initially hesitant, I convinced him to listen to the script. After the narration got over, he looked at me and said, 'How did you know my story? We have just met! This is my story from 5 years back!' And that's how we connected and thus started a wonderful collaboration. Meeting and working with Ratrish Saha was also a turning point. She changed my perspective on gender and representation in a lot of ways and inspired many scenes in the film. This film opened my eyes. As a filmmaker. As a human being," explained Tathagata.
Need for queer cinema and similar ideas
"We need queer cinema now more than ever. Due to the pandemic and the lockdown in various parts of the world, many queer individuals have moved back to their closet again. Living with their homophobic family members, many are scared to come out in fear of mental and physical abuse. At a time like this, queer storytelling plays a crucial part in starting a conversation or dialogue. Suicides are still happening in many places of India because a queer person is facing troubled experiences in the society around them. Thus, I feel more films need to be made to make people aware.
"Also, the portrayal of queer characters need to improve. I strongly believe that queer characters in films and series should be played by queer individuals. It brings a certain truth to the performance. The emotions seem more raw and real. The camera can easily capture a lie. And more importantly, there is a lot of talent in the queer community. They should be allowed to tell their story. They should be allowed to represent themselves and not get represented by others. Inclusion will start from there. Their involvement in the projects is as important as telling stories about them. Otherwise the depiction might feel shallow and one dimensional. I have tried to do that at least with my film 'Miss Man'."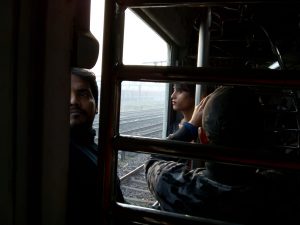 Tathagata's last short film 'Doitto' (The Demon) travelled to many film festivals and the "joy of seeing your film with an audience and having a dialogue with them post-screening has been extremely enriching. Whenever I feel unsettled, I try to express myself through images. I live for cinema and that is what I want to do for the rest of my life."
Here's the trailer of the film: https://www.youtube.com/watch?v=1SKc47-3l94

The KASHISH Mumbai International Queer Film Festival is about to start its 11th edition. This year the festival has gone virtual, meaning now that viewers around the world can watch some of the 157 films from 42 countries which will be screened. It starts on 22nd July 2020 and finishes on 30th July 2020. Find the full schedule here: http://mumbaiqueerfest.com/schedule/
Buy your tickets here: http://mumbaiqueerfest.com/attend/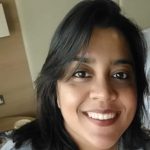 Smita is a multi-cultural freelance journalist, writer, and filmmaker based out of the US, London, Hong Kong, and India. Global Indian Stories is her brain-child. Created to chronicle diaspora stories written by Indians of all age groups, from different walks of life across the globe, Smita makes sure that the platform remains inclusive and positive.