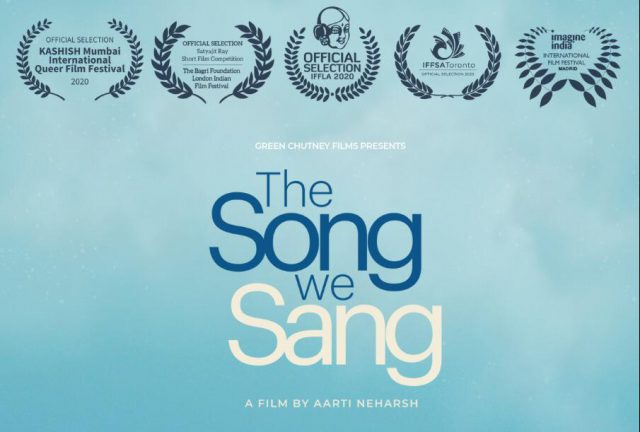 THE SONG WE SANG 
20 min / 2020 / Narrative Short / India
Dir: Aarti Neharsh

KASHISH 2020 Virtual, the 11th edition of KASHISH Mumbai International Queer FilmFestival, South Asia's biggest LGBTQIA+ film festival will run from July 22nd – July 30th screening 157 films from 42 countries. You can register to attend the festival from anywhere in the world. Check out registration details at : http://mumbaiqueerfest.com/attend/ You can know more about the schedule and films at http://mumbaiqueerfest.com/schedule/
"I am so thrilled to have my film have a double nomination in this wonderful festival including the Riyad Wadia Best Emerging Indian Filmmaker Award. It is such an honour. And with the festival going virtual this year with a global access, it is an opportunity for stories to reach more people, sitting at homes across the world and find some comfort and joy in these uncertain times," says Aarti Neharsh, the debutante Director of The Song We Sang. 
The Song We Sang – about the film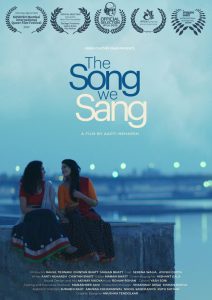 Two women freely roaming the city, sharing a safe space in the absence of a patriarchal gaze and falling in love was something that that the director of 'The Song We Sang' Aarti Neharsh had longed to see on screen. "I really wanted to see two women walking the streets at night absolutely unapologetically — something that almost never happens in reality," says Aarti. 
The film was initially conceptualised as a five-minute skype call between two women- Krishna and Alia and eventually ended up becoming a 20-minute film with them physically meeting and walking the city. "I am a huge fan of conversational films especially when it comes to love stories and I was really excited to explore that space," says the director. Stories and anecdotes formed an essential element throughout the film.
The film is based on two strangers, Krishna and Alia, who meet for the first time on a festive night of Navratri – a nine day long Indian traditional dance festival. Romance blossoms between them as they walk the night in the lanes of Ahmedabad exchanging mythology trivia, laughter, street food and experiences of life.
When two people meet by a chance encounter and instantly have a rare connection, we often attribute it to luck and discredit the beauty of a conscious choice leading to that epiphany. The film explores the idea of such choices one makes & its possibilities leading to either a regret for life or a decision that changes your life forever.
The Director and Writer's Perception
"One thing that this film aimed to do was to normalise a queer relationship by creating a space on screen that is supportive of their love. It was a choice that both me and my co-writer Chintan made while writing every piece of conversation that their story and this attraction need not be contrasted by an external backlash- be it by parents, or friends or society."  In this film, the protagonists are not seeking societal approvals or trying to convince the world of their sexual orientation, but are unapologetically walking the city and just breathing in this night of romance- just like any love story both in real and reel life.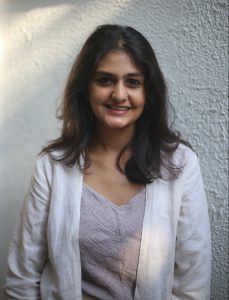 "Ever since a child, I have grown up in a home where stories of all sorts- from mythical to classics to biographical- were given a lot of importance. My mornings used to start with my grandfather taking me to a garden and telling me these stories- something I've also slyly embedded very literally in one of their conversations as a nostalgic ode to those days with my grandfather. I remember falling in love with this power of being transported to worlds so different, yet feeling so close to them and this I thought was a very powerful way of generating empathy," says Aarti.
Growing up in the city of Ahmedabad, Aarti always found Navaratri the one time when the otherwise conservative and rigid city loosened up and came to life, something she found very contrary to the celebration of the unflawed "divine feminine" that Navratri originally stands for. "I remember looking forward to it as a teenager because those nine nights of the year would feel like the most liberating and happy nights, not as much from the dancing crowds as much as it does from outside those grounds where people of all ages and walks of life are talking, laughing, flirting, riding on scooters and having chaat. It is this liberation and warmth that one feels on such a night that I wanted to bring on screen between these two women who happen to cross paths while seeking something common in their otherwise diverging journeys," she says. 
Stretching the limits during the making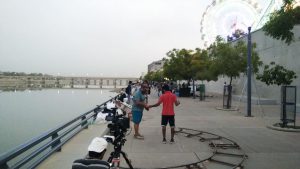 Conversational films in love stories was a genre that both Aarti and writer Chintan enjoyed as film watchers and were excited to explore this genre, but wanted to have a fresh take in the storytelling, treatment and structure. "That is  something we worked really hard on and kept writing draft on draft to get it right. It eventually became a thirty page script that we had to shoot in a five night schedule at multiple locations across the city. And that was the biggest challenge," she laughs. "We had the whole crew come down from Mumbai. The team literally attacked the whole city but it was so fulfilling to see everyone- right from the cast to everyone in the crew have their energies up on all five nights and work towards this singular vision."
Serena Walia plays Krishna in the film and Ayushi Gupta plays Alia. Both of them were so wonderful to work with and are such talented actors. It really feels like a shared baby that we have created together and that I think is a great feeling.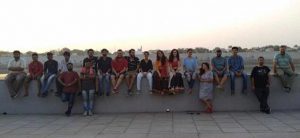 Words of wisdom from a debut filmmaker
"I myself am a young film-maker and this is my debut film. But one thing I can say is that there is no alternative to just keep making films. I think the most powerful way to tell stories about issues and subjects we believe in is by being fully in control of our craft first. With this film I have learnt so much about the process of making a film. And I plan to keep doing that more and keep getting better at it so that I can tell these stories that are close to me and tell them well."
This film was made with all heart. This was a collective vision for Green Chutney Films and Aarti's. The young team believe in telling stories that are important and need to be told and to tell them well by understanding this medium.
Story will reach more hearts through KASHISH 2020
"There is nothing more fulfilling than knowing that your story has reached hearts. We are really thankful for Kashish for providing us this platform where it can reach more people. Going forward, at Green Chutney Films we plan on creating more and telling honest stories."

Aaarti strongly believes that Kashish has earned a presence and reputation over the years globally, by showcasing some of the best films with LGBTQIA+ narratives. The platform not only becomes a space for people watching the films to feel at home and connect with these stories but also encourages independent film-makers to tell these stories more as it provides a platform where our work is recognised and received with so much love. There are so many people, with so many stories across the world and platforms and festivals like these help hugely in providing access and a space where people connect.

The KASHISH Mumbai International Queer Film Festival is about to start its 11th edition. This year the festival has gone virtual, meaning now that viewers around the world can watch some of the 157 films from 42 countries which will be screened. It starts on 22nd July 2020 and finishes on 30th July 2020. Find the full schedule here: http://mumbaiqueerfest.com/schedule/
Buy your tickets here: http://mumbaiqueerfest.com/attend/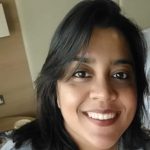 Smita is a multi-cultural freelance journalist, writer, and filmmaker based out of the US, London, Hong Kong, and India. Global Indian Stories is her brain-child. Created to chronicle diaspora stories written by Indians of all age groups, from different walks of life across the globe, Smita makes sure that the platform remains inclusive and positive.