The word 'unprecedented times' perhaps has found a new definition, since the Coronavirus pandemic hit different parts of the world since December last year. Among all the turmoil caused, the pandemic has changed the Durga Puja festival, the biggest celebrations for Hindu Bengalis around the world, where they gather for five days to seek the powerful matriarchal blessings of health, happiness, peace, and wellbeing.
For Bengalis across the globe, the arrival of Goddess Durga with her four children instils a general feel-good vibe. It is an assurance that nothing can go wrong, and amidst all the turmoil and worldly sorrows, that everything is well, after all.
However, the artists who create the Creator's image and make Her fathomable to worship, are finding themselves facing unforeseeable hardships this year. The idol making hub of West Bengal, Kumartuli (Potter's Lane), forms an integral part of the traditional idol-making industry in India. More than 3,000 artisans work here, hereditarily for many, to keep this 250-year-old art form alive. The idol-making trade sees an annual transaction of approximately 2.5 crore Indian rupees annually.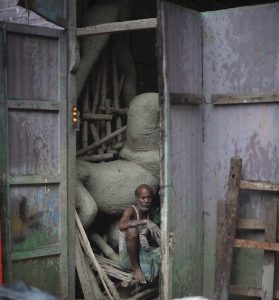 However, this year has been different and like many other industries, the Kumartuli has also taken a massive blow. While Kolkata prepares for a low-scale Durga Puja, idol orders from abroad have reduced by almost 90%. Artisan Prashanta Pal, who usually delivers around 40 idols abroad, during Durga Puja and Diwali, got most of his orders from abroad canceled or on hold for the year. Prashanta's idols go to Paris, France, Belgium, the US, Canada, and the UK. This year only two associations from Singapore had bought idols from him, but of a much smaller frame than usual. "If any, only a handful of idols of much smaller size, 40 inches or so, are going abroad this year from Kumartuli."
"Presently, Kolkata is gearing up to celebrate, albeit in a much smaller scale", he says. "The scene that had absolutely turned dark after the Amphan disaster, and the initial lockdown days, is slowly turning a little towards the light," says Prashanta.
In May this year, the Amphan cyclone caused severe damage in Bengal and the adjoining areas, and had damaged the meagre huts of the artisans and washed their clay idols literally down the drain. The water-logged Kumartuli did not know which way to turn as the COVID death started spiking in West Bengal.
The existing orders for idols got canceled and no new transactions were taking place. The very existence of the idol makers and their exclusive art form were at stake. "Some charities from abroad are sending donations to help us sustain during these hard times. NGOs of Kolkata are also doing their best to provide us with the basic staple food and other necessities. We are a hardworking earthy bunch of people. We will survive," Prashant says, in an indomitable spirit.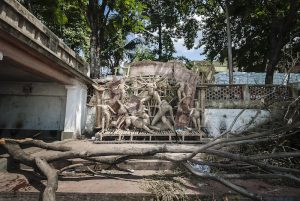 Dr. Ananda Gupta, Chairman of London Durgotsav Committee, Camden, and Founder-Director of Dakshinayan UK, Rabindra Sangeet Academy, is undertaking several initiatives
from the UK to help the backstage artistes and Kumartuli idol makers in Bengal, during this difficult time. He has sent financial aid to the idol makers who make idols for Camden Durga Puja every year. "Not only that, since we are a registered charity, I have also donated to the Mritshilpi Association of Banamali Sarker Street, in Kumartuli, so that they can administer the funds properly to the idol makers who are in distress over there," says Ananda.
The musicians and artist fraternity has also stood up in solidarity with the artists in Kumartuli in their difficult times. Prominent London-based Singer, composer, songwriter, and founder of music academies like NEOM and Robi-Bharoti, Sanjoy Dey had organised a digital concert on 26 September, to raise funds for the idol makers in West Bengal. Srinivas music presented 'An evening with Sanjoy', a melodious evening, where Sanjoy  had enthralled his audience with his enigmatic voice and a fantastic selection of songs. Ticket prices were set at £15 and the proceeds have gone to support this just cause.
This traditional art form of West Bengal, which had survived generations can only be saved if the artists can sustain this unprecedented, difficult time of hardships; and we mortals could do our bit to save our Ma Durga and our traditions.