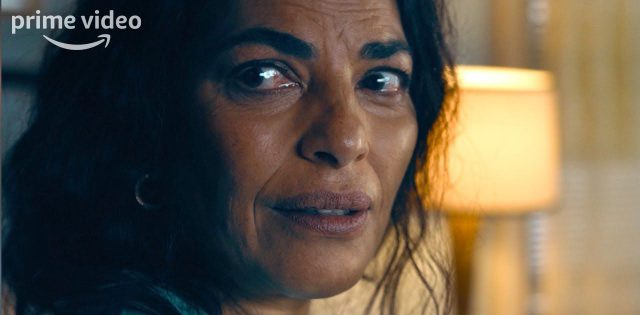 Amazon Studios' upcoming film Evil Eye is a gripping thriller with a suspenseful and chilling storyline. Produced by Priyanka Chopra Jonas and Jason Blum (Get Out), Evil Eye is set to take audiences on twists and turns to explore a dark past and tense family secret. Amazon Studios are bringing one of the most popular audio plays to life with this upcoming release. The film is based on the audio play written by Madhuri Shekar and was named one of the Top 10 Original Titles of 2019 by Audible's editorial board. Directed by award winning filmmakers and twin brothers Rajeev Dassani and Elan Dassani, Evil Eye will be available to watch on Amazon Prime Video from 13th October 2020.
Here's the link to the trailor: https://www.youtube.com/watch?v=JB2b6weKJcc
Speaking on the upcoming release, co-director Rajeev Dassani said, "My brother and I were born in Nashville, Tennessee but our parents are originally from India, so finding a project like Evil Eye that dealt with the tension that exists between Indian and American culture was incredible. You rarely encounter a cross-generational immigrant family story like this, especially one that's also a supernatural thriller. I'd never seen a film go where this one does, and we were very excited about the prospect of directing Madhuri Shekar's script". 
Speaking further on the thriller, co-director Elan Dassani said, "It does what films like this do best, which is introduce you to interesting characters and show you things that are equal parts frightening and fascinating. There are some action elements and there are plenty of nightmares and scary flashbacks throughout the story. It's not a film about pain and gore. It's about tension and suspense, and it's presented in a context that fans have never seen before".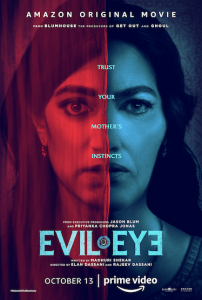 Evil Eye will tell the story of a seemingly perfect romance that turns into a chilling tale of the supernatural, as a mother and daughter are forced to confront dark family secrets. Along with the supernatural elements, Evil Eye also depicts everyday horrors to chilling effect. The filmmakers worked with experts in the field of emotional and physical trauma to ensure they treated the issue accurately.
"Although our story takes place in a supernatural context, we wanted to comment on the cycle of violence that happens to women in the real world," explains Rajeev. "So while preparing for the film we spoke to a number of people involved in helping abuse victims and assisting women who've gone through trauma."
The directors sought that same degree of authenticity when it came to the film's religious references. "We actually had a local Hindu priest in New Orleans come and work with us to make sure that the prayers in Evil Eye were accurate, because we felt it was important to represent those elements as honestly as possible," he adds. The same is true when it came to the idea of reincarnation, which is a major theme of the movie. "We were very aware of using that iconography in a way that was respectful to the culture, while also allowing us the freedom to modify the concept in a way that was effective dramatically."
The filmmakers also strived to avoid stereotypical portrayals of Indian characters, says Elan. "In too many films, even some good ones, the characters tend to fall into tropes, like the strict father, the nagging mother, the vain sister, and so on. But our characters have real backstories, and you understand who they are and where they come from. In the case of our main character and her husband, they clearly brought some American culture back to India with them when they returned years ago."
CEO and Founder of Blumhouse Productions Jason Blum said, "We knew immediately we wanted to work with them. Evil Eye was the perfect opportunity, and this is actually the first feature film they've directed together. Besides finishing each other's sentences — which they do — they complement each other in all areas of the filmmaking process. When one approaches a scene from the visual point of view, the other might approach it from the emotional point of view. And then they can just as easily flip those perspectives on the next scene". 
Evil Eye stars Sarita Choudhury (Mississippi Masala), Sunita Mani (GLOW), Bernard White (Silicon Valley), and Omar Maskati (Unbelievable). Produced by Jason Blum (Get Out), Priyanka Chopra Jonas (Quantico), Lisa Bruce(Darkest Hour), Marci Wiseman (Sharp Objects), Jeremy Gold (Sharp Objects), Guy Stodel (What Happened to Monday?), Anjula Acharia, Emilia LaPenta, and Kate Navin, the chilling psychological thriller will be available for viewers to watch in over 200 countries and territories from 13th October 2020 on Amazon Prime Video.
Ahead of the upcoming release of the psychological thriller, the leading cast shared their thoughts on why they were attracted to the script.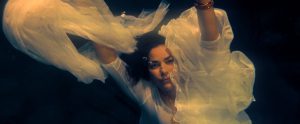 Sarita Choudhury, who plays the mother said this about the script: "You begin it and you think you're in one movie … like a bright, cheery mother wants to get her daughter married. Then you move into what seems a little about psychology. Then when it turns … I remember thinking 'I don't know how to make this work' where the audience will believe all this, and that's what interested me".
Sunita Mani, who plays Pallavi, said about her role: "The mother daughter relationship really stuck out to me and the fact that it's long distance phone calls. And it kinds of feels like a play in a way, because you're sort of staging conversation and it brings this sense of longing to the relationship and really expresses this cultural divide that I find familiar. It really spoke to me in a way that was so close to a version of myself that I had never encountered before in a script."
Omar Maskati, who plays Sandeep in the film, said about his character: "I was so unsure of whether or not it was going to…it felt like it would hinge a lot on how you felt about Sandeep. What you knew about him and what you understood, and so I just thought 'that's so interesting and that's so cool'. To see a character and to not really know, is Usha (Sarita) losing it or is it Sandeep? Is there something wrong with him? It just seemed like a really fun guessing game for the audience to get to play."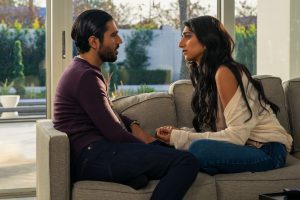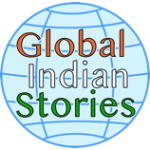 Global Indian Stories team
This story has been posted by the Global Indian Stories team, having been found or sent to one of us. It will have been sent via a channel where there is no specific author to attribute the story to.