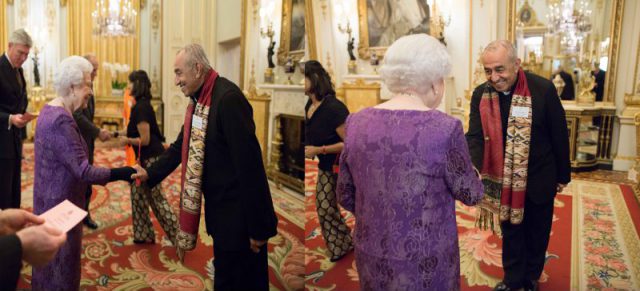 It is with deep sorrow we inform you of the sad demise of the famous Indian dancer Astad Adarbad Deboo, aged 73, in Mumbai on the morning of Thursday 10 December. The dance pioneer, and Padma Shri winner's death is being mourned by artists, friends and family in India and across the globe. Astad was born on 13 July 1947 in Agairy Street, Malesar, Navsari in India.  
He visited and performed in the UK many times during his illustrious career. He was recently diagnosed with pre Hodgkin's lymphoma and had his first round of chemotherapy a couple of weeks ago. His second round was stopped as it was traumatic. Yesterday he deteriorated rapidly and passed away in Shapur Baug, Grant Road, Mumbai early this morning. He was in discomfort, but fortunately he did not suffer too long.
A sad loss to many who knew him. including his sisters Kamal and Gulshan, his cousins Eruch, Cawas, Manek, Aban and families.

Astad grew up in Calcutta till the age of six.  Thereafter his father Adarbad uncle shifted to Jamshedpur, where he was employed with TISCO now Tata Steel and later in the family business Leach & Weborny Laundry Services in Bombay.  His mother Roda aunty was a homemaker, and had two sisters, Kamal and Gulshan.  Roda aunty was known to stitch her own sudrehs and weaved her own kustis.
At the age of six, Astad started learning the Kathak dance form, from the late Indra Kumar Mohanty and the late Prahlad Das. He studied at Loyola School, Jamshedpur, from where he passed out in 1964, after which he moved to Bombay to study at Podar College, Bombay University.  While pursuing his degree, he happened to see the contemporary dance of the American Murray Louis Dance Company, this changed the course of his life irrevocably.
Shortly afterwards, Uttara Asha Coorlawala who was studying dance in New York, visited Bombay, and later helped Astad get admitted to Martha Graham Center of Contemporary Dance.  He left Bombay in 1969, on board a cargo boat that set sail from Bombay port, and later hitchhiked his way through Europe to eventually reach New York in 1974.
Over the next decade, Astad attended the London School of Contemporary Dance where he learnt Martha Graham's modern dance technique and thereafter went on to learn José Limón's technique in New York. He also trained with Pina Bausch in the Wuppertal Dance Company, Germany and with Alison Becker Chase of the Pilobolus Dance Company, and travelled through Europe, Americas, Japan and Indonesia.
On his return in 1977, he studied Kathakali, under Guru E. Krishna Panikar, in Thiruvalla, Kerala, where he eventually performed at the famous Guruvayur Temple.  All these explorations lead Astad to create a dance style unique to him, an amalgamation of Indian classical dance and western group dance techniques.
A turning point in his career came in 1986, when Pierre Cardin commissioned him to choreograph for Maya Plisetskaya, the prime ballerina of the Bolshoi Theater ballet company. Over the years he collaborated with various people, including, Pink Floyd at the Chelsea Town Hall, London, the Gundecha Brothers, Pina Bausch of the Wuppertal Dance Company, Germany and the Thang-Ta – the martial art and Pung cholom dancers of Manipur, India.
He has also worked for several years, with Tim McCarthy at the Gallaudet University for the deaf performing arts program in Washington, and the production "Road Signs" toured India in 1995, with a troupe drawn from Gallaudet and his Indian students.
In January 2005, Astad along with a troupe of 12 young women with hearing impairment, from the Clarke School for the Deaf, Chennai and part of the Astad Deboo Dance Foundation, performed at the 20th Annual Deaf Olympics, at Melbourne, Australia.  He also choreographed the 2004 Hindi film, by painter M.F. Hussain, Meenaxi: A Tale of Three Cities.
In 2009, he performed his production, 'Breaking Boundaries' with fourteen street children from the NGO Salaam Baalak Trust. These children had trained with his troupe for six months. In 2019, he collaborated with Hema Rajagopalan, Sikkil Gurucharan and George Brooks to perform "INAI" with the Natya Dance Theatre in Chicago.
Astad founded The Astad Deboo Dance Foundation in 2002 to provide opportunity and creative training to marginalised street children and provide artistic development to deaf dancers. Earlier this year, Astad shared a short message voicing his concern about the COVID-19 lockdown on the have nots, including his dancers. The video was uploaded on Parsi Khabar on 23rd April 2020, link pasted below. 
He received the Sangeet Natak Akademi award in 1995, for his contribution to contemporary creative dance and the Padma Shri in 2007. On 27th February 2017, Astad was introduced to Her Majesty the Queen at Buckingham Palace for the launch of UK – India Year of Culture. Attached is the photograph and pasted below is his invitation card and email of his visit.
Astad had a wonderful life dancing his way round the world. His performances often left everyone enthralled. He was kind, warm, empathetic, humble and very down to earth, but extremely disciplined. Many of his fellow artists feel that, India has lost a cultural treasure!  May Astad's soul rest in peace in Garothman next to his parents Roda aunty and Adarbad uncle.
Parsi Khabar is a portal of stories about Parsis and Zoroastrians, from around the world. Their aim is to inform the public about news articles referencing Parsis. Based out of Mumbai and New York, Parsi Khabar features opinions, commentaries, and announcements of interest to the Zoroastrian community. Global Indian Stories has partnered with Parsi Khabar for sharing stories pertinent to our readership.