Sir Thomas Moore, the 100-year-old legendary war veteran and NHS hero who won the nation's heart by raising £32 million for the NHS Charities to support their services during the coronavirus pandemic has died at the Bedford Hospital on Tuesday. He was admitted at the hospital on 31 January, after being tested positive for COVID-19. His  condition deteriorated as he had troubles breathing and could not be vaccinated since he was on medication for pneumonia.
Britain's Prime Minister Boris Johnson, Sir Keir Starmer, Michael Ball, and Piers Morgan among others had sent messages of support while he was at the hospital, received by the Moore family. After the news of his death, Prime Minister Boris Johnson in a tweeted video said "Captain Sir Tom Moore was a hero in the truest sense of the word… he became not just a national inspiration but a beacon of hope for the world. Our thoughts are with his daughter Hannah and all his family."
Born in Keighley, Yorkshire, and a veteran of World War Two, Captain Sir Tom Moore became a member of the Royal Armoured Corps and was deployed in India to the 9th Battalion (9 DWR) in 1941. While in India he was tasked with setting up and running a training programme for army motorcyclists. He was initially posted to Bombay and subsequently to Calcutta.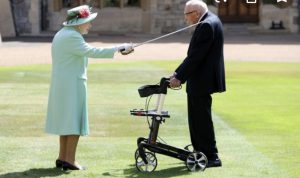 Sir Moore was inspired to raise funds for the incredible NHS staff after receiving treatment for skin cancer and a broken hip after a fall in 2018.
He pledged to complete a 2.5km (1.6 miles), 100-lap garden challenge at his home in Marston Moretaine, Bedfordshire by his 100th birthday on 30 April 2020. The funds raised was for NHS Charities and he said he was doing it for the sake of the nurses and the NHS. He was knighted by HM The Queen in July.
During a BBC breakfast  show in April 2020 Captain Thomas Moore said: "I think you've all got to remember that we will get through it in the end, it will all be right but it may take time.  All the people finding it difficult at the moment, the sun will shine again and the clouds will go away."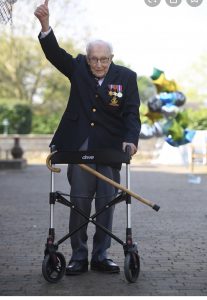 Doctor Sheshni Moodliar, a doctor and psychiatrist, has been presenting on pandemic updates at the Bedford hospital radio for a year is a family friend of Sir Moore's daughter, Hannah Moore Ingram. Sheshni said Sir Moore was admitted to the same hospital, and Hannah commended that the service of the staff at NHS Bedford hospital and the treatment he received was remarkable.
"On February 1, we have been updated that his family are with him in hospital. We personally sent messages of prayers and recovery for Sir Tom Moore, as he is also the grandad of Georgia Moore, my youngest daughter Sitara Rensburg's bestie," said Dr Seshni.
"The true hero, who inspired us all with his positivity was described by his daughter Hannah, my friend as "a beacon of light through the fog of coronavirus, an incredible man and a constant inspiration." she reported.