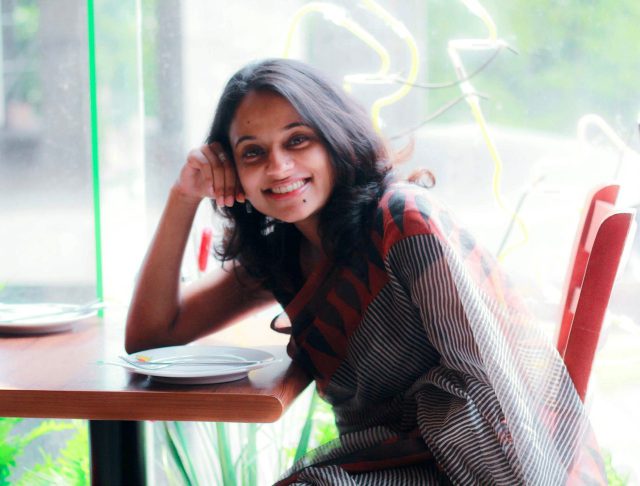 People are the core of any business and those who are in charge of driving the people policies, hiring, development and engagement of talents, are the gatekeepers to that resource. Meet Rhona Tasmia Rabbani, the Managing Director of Talent & Learning for FedEx Express in the Asia Pacific region, one of the youngest directors in the region of this global logistic firm.
Beating the odds of lockdown 
Rhona is the Managing Director of Talent and Learning & Development for the Asia Pacific region which is home to 30,000 employees across 15 markets. With a team of 55 spread across in Asia-Pacific, Rhona spearheads talent planning, talent acquisition strategy, leadership development and operational and general learning solutions for employees in North Asia (Hong Kong, Taiwan, Korea, Japan), China, South East Asia (Singapore, Philippines, Thailand, Indonesia , Malaysia, Vietnam) and Australasia which includes Australia, New Zealand, and Fiji.
"Many of my peers and team members have been in the business for 20 – 30+ years. They are very experienced and senior in terms of their tenure but I think whether or not you see age as a challenge is down to yourself," she says. "FedEx has a very inclusive culture, so I don't see being one of the younger Directors as a challenge in the way of my credibility or how people treat me. It's essentially my own mind-talk that I had to challenge that being young does not make me less capable or fit for any role. I am also inspired by many others in the organizations who took on leadership roles against various odds".
Rhona has expertly overcome the challenges her department faced during recent times. It has been an extremely busy year for FedEx, with the unexpected surge in demand for transportation of PPE and medical equipment across the world amidst the pandemic, and now in the critical area of vaccine distribution.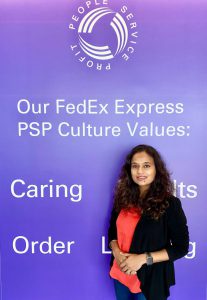 "This year has taught us resilience, agility and what it takes to adapt to very uncertain situations. As an essential service and operation running as normal (or even more than normal), it has meant looking at our training and learning methodologies from a different lens as programmes that would generally be in-person, with face-to face delivery suddenly came to a halt with social distancing measures and travel restrictions.
Fortunately, we had already embarked on a learning innovation journey in some areas with a move towards digitization, eLearning and on-demand learning solutions but the pandemic accelerated the transformation for all other areas that still heavily relied on the in-person element and physical demonstration" she says.
The entire gamut of operational process and system training, general skills and competency solutions, and leadership development programmes needed to be moved to eLearning or virtual learning which required change management and reassessment of effectiveness. For potential future HR practitioners, "Don't get into HR thinking it's easy or that it's simply a supporting function operating in the back-end," she warns.
"The past year, more than ever, has reinforced HR's position in an organization as almost all decisions and actions came down to people and their safety and wellbeing. HR plays a significant role in influencing and embedding a company's culture in the way that the people policies and processes are led, employee experience which in turn influences customer experience, and driving people strategies along with other business leaders sitting at the same table. HR is a business function in the same way as Finance and Marketing and other functions are, so you need to have the same level of competencies, business understanding, passion, grit, and leadership to drive the business forward through people."
"I came into HR by chance, perhaps due to my natural pull towards people-orientation", explains Rhona. She holds this Maya Angelou quote to heart: "People will forget what you said, people will forget what you did, but people will never forget how you made them feel."
An extraordinary journey

Rhona, born in UK, grew up in Dhaka, Bangladesh, in a large joint family setting, and secured a scholarship to study abroad in the US, in Business Administration and Economics at Ithaca College in New York. "I was the baby in my family and moving so far away from home at 17 was really hard but I'm thankful to my family for enabling this as it helped me get life experiences that no education degree could have offered.
In South Asia in particular, we lead very protected lives. Living away for a while on own helps to gain better understanding of oneself, take ownership of responsibilities, and experience the big world that exists outside of our protected homes."
Studying abroad did her the world of good but the lure of home brought her back to Dhaka as soon as she completed her bachelor's degree, whereupon she explored a couple of different work areas in the first few years, in marketing and the development sector, in search for the right career direction.
Through personal networking, she found an opportunity to work in a newly established training organization under a bigger group of companies, Ascent Group, focusing on corporate learning solutions. This is how the world of HR opened up for her as she eventually moved into the Human Resource function of the Group, to lead the training function for the group and as well as other areas of HR.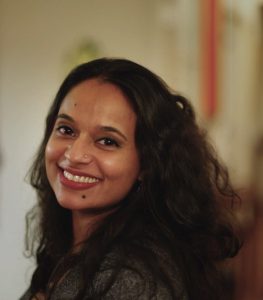 During this time, Rhona also completed her MBA at North South University in Dhaka while working full time. Aspirations for international exposure led her to be headhunted to join Tesco International Sourcing in a regional HR management role, eventually leading to an assignment in Istanbul, Turkey, followed by an opportunity to move to the regional HQ in Hong Kong in a bigger role.
"This was, yet again, a difficult decision personally, to leave my elderly mother and move to another country, but she has always been an advocate for career development and personal independence so with encouragement from her and other close family and friends, I made the move for what I now know was one of the best decisions both personally and professionally."
Rhona spent five years as the Regional People Partner for Tesco before taking a change in pace and challenge, with a move as the Head of HR to an interior design and furniture company called Halo Creative & Design Ltd., of which the global retail brand is Timothy Oulton.
"It was a very different environment with a smaller employee base that is spread out internationally and close-knit as a team, with creativity, design and relationships being at the heart of the operation. The company was growing rapidly and there was a vision to modernize the HR function with best-in-class practices and a strongly embedded organizational culture, which is what excited me to take on the role to lead and transform the HR function."
"It needed a shift in my thinking, leadership approach and way of working to adapt and thrive in this significantly different work setting and nature of the business, but at the end of the day, the common factors that mattered for me were the foundational culture in the company – how people were valued and treated, and the value that I could add to this business with my experience and competencies to take it forward", says Rhona.
Internal changes at Halo, combined with career aspirations led to exploring opportunities at FedEx, a company she had heard of greatly for its values and strong people culture. She compromised both on pay and position at the time of joining FedEx with an eye on longer term career fulfilment, and this decision proved to be the right one as within exactly two years, she earned her current Director position and what she considers her dream job area, in the talent management and people development space.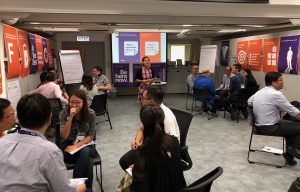 Successfully managing the balancing act
As a woman, career and life choices are carefully thought out, for the ambitious professionals. "Everyone needs to have a destination of where they want to get to, both from a work perspective and personal life perspective. Once we have a destination in mind, we can work towards it by balancing both the goals. It's not always about choosing one over the other," shares Rhona.
It is important to know how much you are willing to compromise to get to your goals, and that will help charter your path in terms of how to get to it, she says. "I don't think a man can go far in their career if they don't have the right support and an enabling environment and it is the same way for women as well. If I take the examples of female leaders like Indra Nooyi or Kamala Harris and many others, a common narrative in their stories is the support structure and the enabling environment for them to get to the destination they have reached."
Women participation in the workforce in Bangladesh has always been relatively high, largely in the garment industry and at the grassroots level. And over the past decade and more, we can also see an increased representation in formal industries, and particularly in various leadership roles which is very promising not only in terms of building gender diversity but also overall economic and social development of the respective sectors and country.
However, this is not to say we are where we need to be – we have a long way to go to continue to change mindset, build the right skills and capabilities, create opportunities, and promote stories and sharing to connect women to possibilities." says Rhona.
All work and no play, will not make her day
So what does Rhona do when she isn't being an inspiration to young women? "I love reading," she says. "Books are like escaping into a different world. I have developed a new passion for cooking in the last year, I find it very therapeutic and it also compliments my husband's great cooking skills and our mutual love for food!" Perhaps unsurprisingly, Rhona loves music too. "I have a very musical family. I have grown up surrounded by music and singing at all family gatherings, so music is kind of in my blood."
When it comes to advice, Rhona says, "Exposure through opening up your mindset and being curious is key to finding opportunities; the more you connect with people from all spheres and the more you read, listen and get inspired, the more you can develop a broader outlook and start to dream big as well."
And it seems only fitting to end on her mantra, that sums up her attitude to life:
"Dance as though no one is watching you

Love as though you have never been hurt before
Sing as though no one can hear you

Live as though heaven is on earth"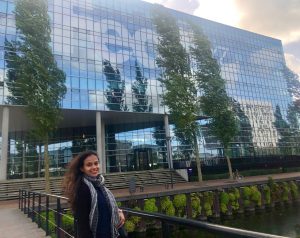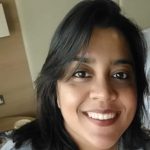 Smita is a multi-cultural freelance journalist, writer, and filmmaker based out of the US, London, Hong Kong, and India. Global Indian Stories is her brain-child. Created to chronicle diaspora stories written by Indians of all age groups, from different walks of life across the globe, Smita makes sure that the platform remains inclusive and positive.