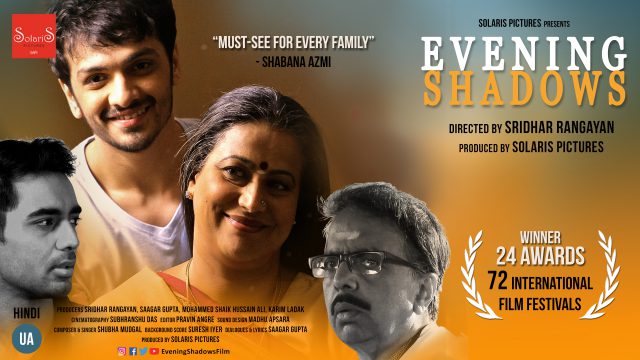 Sridhar Rangayan's gay drama kicks off series of films as part of London Indian Film Festival (LIFF)
The UK and Europe's largest South Asian film festival, the London Indian Film Festival  (LIFF) is kicking off its 2021 series of films and marking LGBT+ History Month with a screening of Sridhar Rangayan's feature film Evening Shadows, a tender heart-warming story, set in a small town in Southern India, where a young man comes out to his mother and the upheaval it causes with the traditional family and society around it.
The sensitively handled film, directed by award-winning Indian filmmaker and gay activist Sridhar Rangayan, underlines the challenges that gay men continue to face in India upon coming out to their family, and question the dominant patriarchal social mores. The film has won 24 international Awards and has become a success in the international film festival circuits with selections in 72 international film festivals.
Sridhar Rangayan, director said, "Myself and the team of Evening Shadows are thrilled to be screening at the prestigious London Indian Film Festival, and we thank them for according to our film the honour to kickstart their series. We feel triumphant that the film continues its successful festival journey three years since its world premiere in 2018 at Sydney's Mardi Gras film festival."
"The film's topic is surely as relevant as it was three years ago, and will continue to remain so till the time homophobia is not eradicated from every society in the world. Evening Shadows offers a rainbow of hope not only for LGBT+ persons, but more importantly to their parents who struggle to come to terms with their children's sexuality", he added.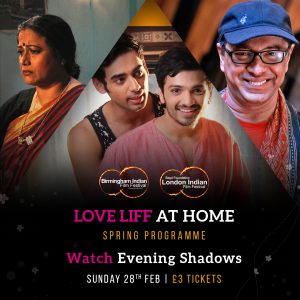 The film will screen on the festival's platform https://www.loveliffathome.com/ on February 28th available only to UK residents.
As an exclusive added extra, film critic Ashanti Omkar talks to director Sridhar Rangayan and lead actors Mona Ambegaonkar and Devansh Doshi, who play mother and son in the film, talking about their roles and the LGBTQ+ issues in the film in modern India.
Further titles at London Indian Film Festival will be announced, meanwhile film buffs can catch up with some top names from Indian cinema in a series of exclusive 'In Conversations' with the likes of Ayushmann Khurrana, who was recently listed as one of Time's 100 most influential people of 2020, the evergreen doyenne of Bollywood cinema, Shabana Azmi, and Mira Nair whose first all Indian-led cast brought to life Vikram Seth's novel A Suitable Boy for the BBC. Other top names include cult director, Anurag Kashyap, Indo-Canadian Director, Deepa Mehta and Star Trekking award winning actor, Adil Hussain.
This programme is supported by Film Hub London (managed by Film London), Film Hub Midlands and Film Hub North, proud to be partners of the BFI Film Audience Network, funded by the National Lottery. Major partners of LIFF are the Bagri Foundation and the British Film Institute (BFI).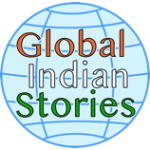 Global Indian Stories team
This story has been posted by the Global Indian Stories team, having been found or sent to one of us. It will have been sent via a channel where there is no specific author to attribute the story to.