This year sees the London Indian Film Festival adopt a hybrid format, fuelled by having to go online under last year's COVID lockdown. What this means is that the Satyajit Ray Short Film Competition is available to watch at home, for free, right now. Go here to sign up and "buy" your free tickets: LoveLIFFatHome
You can watch the films individually, so even if you've just got a half hour spare then you'll find something to dip your toe into. Personally, I've always found short films a great way for directors to try something out and an experimental idea that might wear thin for a feature can blossom beautifully in 15 minutes.
I treated myself to watching all the films, but with a total running time of three hours and 15 minutes that might not be something you feel you can commit to. However, I do feel that there are a few films that really deserve your time and I'd like to share those with you now.
Firstly, I'd like to share "1978". Set in Pakistan in that year, it sees a rockstar from the Goan-Christian community called Lenny D'Souza (trust me, you won't forget that name having watched it). He's a hip, snappy dresser and has a charming way with the ladies but fame comes calling. All he needs to do is fit into the mould of a clean-cut state sanctioned singer. Will he trade in his individuality for a shot at the big time? It's a nicely judged piece, giving time to building the characters and the scene, and it left me with a smile on my face. You should really try to catch this short and they are all available free in the UK until 4 July.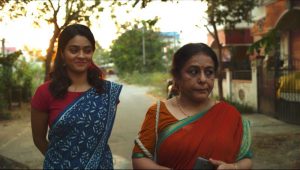 Power, and in particular girl power, comes across as almost a sub-theme of this year's competition. "B Selvi & Daughters" sees a mum in her 50s successfully maintain a small side hustle, but who dreams of it being a real business. The film tenderly shows her fear and confusion of trying to start a business. As might be expected, there are those who don't understand or approve, but she finds solace and support in her daughter, who is a modern girl who understands the new internet-powered world. This is a touching display of family and progress for women. I'd heartily recommend catching this while you can.
Hope and devotion mix with tension in the short "Transit". A Bangladeshi man is on the edge of poverty, trying to stay alive by selling goods on buses but finding it tough. He dreams of a better life, trying to migrate but obtaining a visa seems like an insurmountable task. The paperwork and the waiting is a physical and emotional challenge, but it's the only way he can see of a better future for his family. Life can't be sustained by selling "magic" books to commuters. "Transit" paints this picture in its 19-minute running time, sweeps you up in the touching situation of man who loves his home and family but feels compelled to leave them in order to keep afloat in a tough world.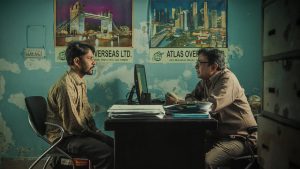 If you're still hungry for more then perhaps you should consider moving onto Kanya, a tale of a girl whose competitive swimming is put in jeopardy when she hits puberty. It's another tale that shows the difficulties women face in countries where there is a pre-destined path for them to become mothers and home-makers, but it has a nice little moment of defiance which gives us hope for the future.
Finally, if you've ever wondered what it might be like having a submerged Kolkata where you're in danger of being attacked by packs of wandering tigers then check out Sumamime (Wade). Luckily it's an animated feature, live action would be terrifying, of a potential future where climate change has ruined the once great city. It's certainly unlike anything else in the competition this year.
With the Satyajit Ray Short Film Competition being available for free and online this year, there is no reason why you shouldn't dip in and watch a couple of your favourites or go for a marathon and try to watch them all in one go. Remember, it's only available until 4 July. LoveLIFFatHome (https://www.loveliffathome.com/page/satyajit-ray-short-film-competition-2021/)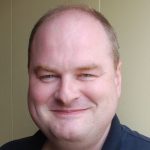 Jonathan has a varied history, having written for publications such as Asian Woman but also technical magazines such as Networking+. He also has a background in IT so he's been instrumental in the technical side of getting Global Indian Stories launched. As co-founder, he also keeps writing, sub-editing, and handling the social media.