Walking 3,800 kilometers might seem like a vast task in itself, but that was only scratching the surface of what Srishti Bakshi aimed to achieve. Her astounding story is told in a new documentary called Women of My Billion (WOMB). The film is a pragmatic, heart-warming documentary about the movement that Srishti Bakshi started. As the Founder of CrossBow Miles she set out to sensitise citizens to the gender-based violence and inequality in India, with a message towards finding solutions for change and inspire conversations on how gender norms need to be overhauled.

The movie has garnered much appreciation in festival circles across the world. The documentary featured as the centrepiece for the New York Indian Film Festival in early June and was the opening film at the London Indian Film Festival, and the sister festivals Birmingham and Manchester Indian Film Festivals, with a standing ovation for Srishti at the end of the film screenings.

Walking to raise awareness
WOMB documents Srishti's gruelling walk of 3,800 kilometres on foot in 240 days from Kanyakumari to Srinagar, conducting 110 gender sensitisation workshops, interacting with over 85,000 people on the ground, using the observations and suggestions as the primary research for the white paper that it will be presenting to GOI.
Trying to change minds is the hardest to do, it is slow, it needs a lot of patience. It requires a lot of precision targeting and raising questions on existing norms and that is what the film shows. The movement started by CrossBow Miles pushes you beyond the boundaries that are known and challenges one to think beyond. "That is what we are trying to do, go wide with Women of My Billion because that is one attempt of ours to break the silence of the majority," said Srishti.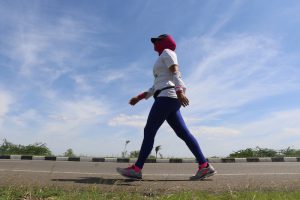 The idea of this walk came about after much deliberation for Srishti, a marketeer working in Hong Kong at that time. "In the past I've always been an arm-chair activist where I used to take to the keyboard and try to express my anger and frustration wherever there was any news about violence against women. But there came a time when I came across the Highway 91 case, where a mother and a daughter were gang raped in front of the father. It moved me to a degree when I thought I must do something on the ground," said Srishti.
She started thinking how she could employ her education and work experience to create buzz. "We are so fatigued with such incidents and cases, I see highly-educated people are motivated to do something, but they don't do anything on the ground. That's when I decided that I wanted to walk. When you are very angry, people say that you must take a walk to calm yourself down. So I just went on a very long walk to explore, sit with women, talk to them, understand this violence, understand the solutions that are out there and present them to the world."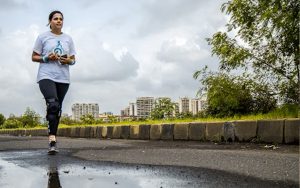 Sharing traumatic stories
The narratives of the main three main characters in the story entwined cleverly with Srishti's walk, her workshops, interviews with women in remote areas and the narratives of women from different walks of life made this a very productive film. The story of Pragya Prasun, an acid attack survivor, is chilling but brings out the positives surviving the attack, and despite the suffering, becoming an activist for women who have suffered a similar fate. The Founder of Atijeevan, and a President's Awards winner, funds surgeries and rehabilitation for acid attack survivors with free medical care.
Similarly, Neha Rai speaks about the flaws in the Indian system that does not acknowledge marital rape as a crime and domestic violence that exists in cities, among educated people where you least suspect them to be. She breaks out of the shackles, remarries, and dedicates her life to helping women like her.
The inspiring story of Lt Col Dr Sangeeta Tiwari, a young widow married off hastily to follow age-old traditions, eventually rebuilt her life by making education her weapon. She joined the army and supported her son whilst fighting against the ostracising of widows in many communities in India. She upholds the importance of education in rebuilding one's life.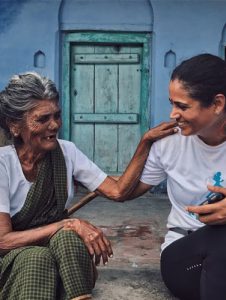 The women represent the spectrum, and this unique weave stirred emotions because it was heartfelt, deep diving into the truths that Srishti discovered on the ground; and truth is always relatable.
"The focus to produce WOMB was always driven by the urgency to tell this important story rather than the response it would garner," said Apoorva. "We have lived with patriarchy as an unspoken norm and the problems it causes for women for so long, that somewhere we, the majority, have stopped acknowledging it as a problem altogether." This is an Awedacious Original for Producer Apoorva Bakshi.
Crafting a documentary from vast quantities of footage

The film was directed on the edit table. The idea to convert the 1,000 hours of footage of Srishti's walk came to Director Ajitesh Sharma when he met Srishti while she was crossing Delhi on her walk. Ajitesh was shooting for the Netflix series 'Delhi Crime' also produced by Apoorva, and was shocked and blown away by what Srishti was doing. "It took me a couple of days to understand how challenging it is. I pitched this idea of making a documentary on Srishti's journey so that it can amplify her movement and so many stories of violence on women can travel across the world so that we expect a change. And one day, after finishing her journey, Srishti sent me some 1,000 hours of footage from her 240 days of walking in some 10 heavy hard drives. That's how I began my journey of WOMB," Ajitesh said.
It was a long journey from there on, and the time that the team took to develop the film became its biggest strength. "I sat with a blank document and started writing a script, I imagined myself as how I would have thought and designed the film if I were walking with Srishti," said Ajitesh. 
A script that would weave the modern day social justice march with the stories of three brave survivors was written and rewritten almost six times. "I narrated it to Srishti, Apoorva, and Monisha, the Executive Producer and a very good friend. They loved it, Apoorva introduced me to my editor Karsh and my DA Aparjita who worked tirelessly to achieve what we have. I am grateful to the entire crew and all departments to make sure that this film becomes a testament to courage."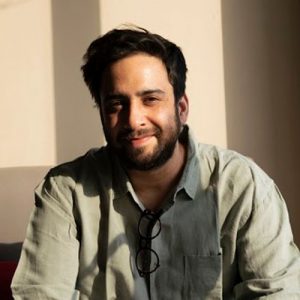 The challenge that Director Ajitesh took on himself as a storyteller was arduous and Apoorva is very pleased with the outcome. "Critical discussions only focused on development for almost a year before we started cutting the first version of what the film looks like today," said Apoorva.
The biggest challenge for Ajitesh was to get into Srishti's state of mind. "I used to be in constant touch with Srishti during the editing of the film. She was in Scotland and I was in Mumbai with the edit team. I used to randomly call her only to ask what she was thinking while crossing the 800km mark or 1,500 km mark. It helped me decide the rhythm of the film and also gave me a bigger understanding of the stories of women."

Storytelling to make a positive impact

The documentary leaves a deep impression in your mind. While watching the film, one of the stories that touched my heart deeply was that of a teenager Anjali, a beautiful, free-spirited, youngest of the four daughters to a widowed mother in a village close to Dabeli. She was gang raped in her house and burnt alive with gasoline oil from her kitchen. Reason being, they were a vulnerable family and the young girl was home alone. The distraught widowed mother, deeply shaken by the incident, found her life pitiful because she had only daughters and no son to protect them. A barbaric death of a family member was overshadowed by the fact that she had given birth only to daughters.
It was stories and incidents like this in India that stirred many women producers across the world to join in the movement and support Apoorva and Srishti. "I am so honoured to have partnered with producers and marvel humans like Juliet Blake, Monisha Thyagarajan, Purviz Shroff, and Gururaj Dixit on this first Awedacious Original," said Apoorva. "We are like minded and believe in collaborating to support urgent and mission-driven narratives that have the ability to move, inform, stop you in your tracks and 'WOMB' is a true example of such impactful storytelling. Our aim is to share this bold, unusual and compelling film with the widest audiences possible, even if that means pushing boundaries and taking risks."
Juliet Blake, British-American film, television, and web producer, the Producer of India Nayi Soch for Star Plus, India is one of the Co-Producers of WOMB. Juliet joined the project after having met many women in India who have been victims of violence and felt that this serious issue will not go away unless women speak up and men listen. "Women Of My Billion gives a much needed voice to women and goes a long way to educate women on how to effect change in their own lives. India is very close to my heart, it is indeed a country of great promise and innovation and yet no hope of equality for women if they feel unsafe walking unaccompanied through their lives," said Juliet.
There is strength in numbers, in community and in knowledge, said Juliet. By sharing these stories and painful experiences these talented filmmakers are shining a light on this polarizing topic which can only increase awareness of this heartbreaking issue. "If Srishti Bakshi can walk thousands of kilometers across India listening to and empowering women of all ages, then I want to support whatever I can do to help this mission," she said.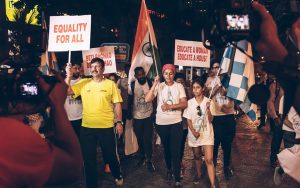 A supportive family was vital
Narrating one incident during the making of the film, Srishti said that the elders in one village were shocked that "I was married and was walking across the country and that my father was with me. It was then that I put my father on the stage. It blew their mind and gave them something to think about, even if they did not like it, or agree with it. It was something that pushed their boundaries – once you know the unknown, you cannot forget it. You'll mull over it. There were a lot of fathers in that audience and I'm sure some of them wanted to emulate my father, or be like him."
Srishti's mission became a common mission, including every member in her family and beyond. Her father was featured in the documentary as the Operations Head who put the entire planning of the walk together. "I don't think I would've been able to take this journey had it not been for his support. We wrote letters to every district collector of districts that would come in our path and took out a map and planned through how to cover the 30 kms everyday to reach the 3,800 kilometres walk," said Srishti.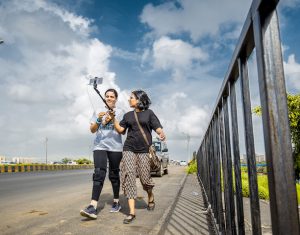 "Similarly my mother, who writes content, documented my entire journey, my in-laws came and walked with me. The first time that I told Haresh (husband) my plan he asked 'if I am sure I want to do this and did I know what I needed to do to make this happen' and I said 'no'. His next statement was okay, let's start planning it. Had I felt any apprehension in his tone on 'how will we stay apart, or how will it going to work out between the two of us', I think I would've taken a step back and tried to reevaluate. When I shared my idea with Apoorva, she said 'let's do this together'. So I have been very privileged to have my family around me."

Awareness generating is just the beginning

"The challenges we faced were very instrumental in chiseling and driving development of such a powerful narrative. Constant discussions to attack the bias we may bring to the table was dealt head on and tackled. We collectively understood the privilege that was passed on to us by Srishti and the power of the stories that were documented on the ground. It became our duty to pass on the privilege of knowing these brave women who chose to fight and survive their violence without adding any filters," said Apoorva.
The beauty of WOMB is that it is an awareness generating film, and one that comes up with solutions and has a mass appeal. The Producers are looking at releasing WOMB on a platform where there is wider reach and every household is able to consume this content, and have conversations around what they saw.
"We are in the business of breaking the silence of the majority, because violence is perpetuated in the hands of the minority. It is only the silence that perpetuates this violence. So our dialogues with different sections of girls we have met on the ground or people who come to know of this journey has continued till now," said Srishti.
The work has continued even after the end of the walk. Before the pandemic, CrossBow Miles engagement was to cover the state of Bihar through Asmita Foundation, we conducted workshops in the state. We met around 3,000 girls through different workshops that we conducted with NCC. The pandemic did put a pause on the physical meetings and going into the villages, but the dialogue has continued.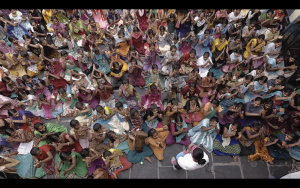 Srishti has moved to Edinburgh since the making of the film, but that has not stopped her from working with the women in India. She is positive that in the digital world, a screen in a village can be reached sitting from whichever part of the world you are. "We have done that, we've conducted workshops, talk shows, conducted seminars online and spoken to people while I was all the way in Edinburg. Post pandemic we plan to support organisations like Atijeevan which funds surgeries and rehabilitation for acid attack survivors. We will collaborate with various organisations to extensively start looking at doing these workshops through partner organisations in this part of the country. Our country is huge and it's absolutely imperative that we collaborate with as many organisations as we can. We are inviting people to come see our work and see if it resonates with them," Srishti concluded.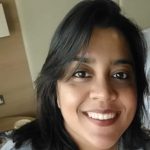 Smita is a multi-cultural freelance journalist, writer, and filmmaker based out of the US, London, Hong Kong, and India. Global Indian Stories is her brain-child. Created to chronicle diaspora stories written by Indians of all age groups, from different walks of life across the globe, Smita makes sure that the platform remains inclusive and positive.