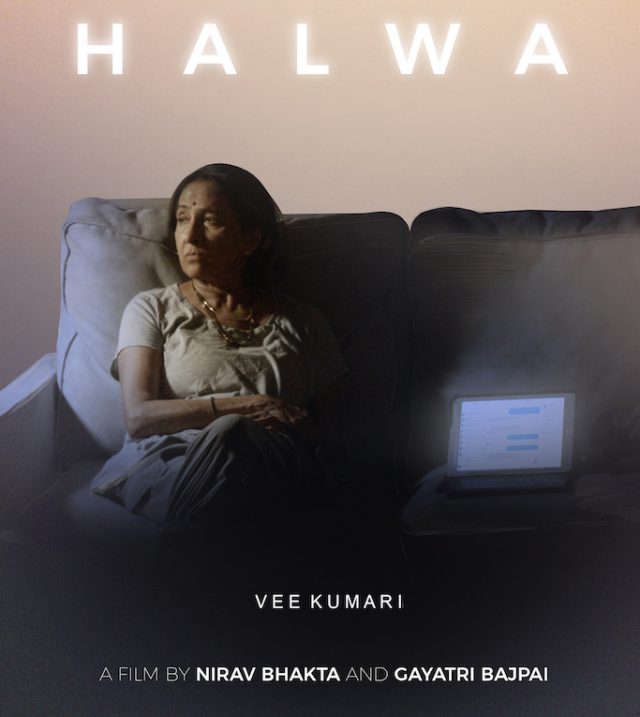 HALWA
Dirs: Gayatri Bajpai, Nirav Bhakta
15 min |2019 | USA | Hindi, English
Screening on Friday, September 3, Program 4 in the Short Film Package, Halwa is a vital short film that strives to break the cliches around older Indian women. The story concerns an elderly, docile housewife, Sujata Chopra, stuck in a lonely marriage overseas with a controlling husband. On the eve of her wedding anniversary, the empty-nester attempts to find some joy in her broken marriage, until she learns about the passing of her childhood companion's spouse on Facebook. Sujata finds the courage to reach out to send her condolences, mustering the courage to connect with her after three decades, but their rekindled bond doesn't go well with Sujata's abusive husband, Dr Chopra.
Loosely inspired by actual experiences of women over 50 from India, Halwa is a peek into the life of a character that is hardly ever seen portrayed with any nuance in fiction: the middle-aged Indian woman. Emerging as the next generation of film-making visionaries, directing duo Gayatri Bajpai and Nirav Bhakta have seen rapid success with their short film Halwa, for which co-director Nirav was named as a finalist in HBO's Asian Pacific American Visionaries Competition of 2019. This is the first time a South Asian-directed film has been honored in this competition.
"For us, it's not about the awards. Rather, it's about being heard. I've grown up as an undocumented immigrant in this country with a fear of remaining unseen or not having a voice. It's now empowering to give a platform through storytelling to the quiet and complex lives of immigrants. There are thousands more such stories waiting to be told," said Nirav.
Halwa in KASHISH 2021
"The festival's reach is broad and impactful. Just browsing the upcoming panels and seeing the kinds of platforms Kashish gives to young queer South Asian filmmakers is encouraging: as these young artists are celebrated, their work will flourish and influence hearts and minds everywhere," says co-director Gayatri Bajpai.
"It's a huge honour. We haven't had a chance to experience the festival before but are aware it's South Asia's biggest queer film fest with global reach, and we're very excited to be bringing a slice of the diaspora to its audience in India," she says.
KASHISH 2021 is available in India and Internationally:
Register Outside India at https://tinyurl.com/K21International
Register Within India at https://www.instamojo.com/KASHISH_MIQFF/
The directors' quest for representation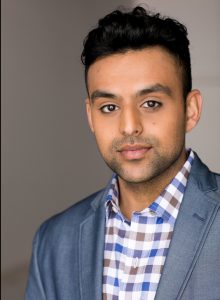 Raised as an undocumented immigrant in motels, with an educational background in architecture, Nirav Bhakta began his journey in film as an actor. With the lack of authentic roles for Asian Americans, Nirav began to create narratives focusing on the immigrant experience. He created his first experimental short film 'Honor' revolving around the topic of honor killings, which traveled to film festivals around the world, including the prestigious UK Asian Film Festival.
"We wrote Halwa while working full time jobs in different cities. Gayatri was in Vancouver, Canada, and I was in Houston, Texas. We were consulting Vijaya, who was in Los Angeles, on the authenticity of some details of the story. We exchanged drafts over Facebook and finalized the script in just a few weeks, did prep remotely, and planned to fly into LA to shoot it over three days with no rehearsals," says Nirav.
With a multiethnic, international upbringing, Gayatri is interested in stories about people who find themselves caught between cultures. She is developing a feature screenplay as a co-production based in India and North America, and finishing a documentary with co-director Nirav Bhakta about the experiences of a Mexican trans woman who escaped a cartel. She holds an MFA in directing from UCLA.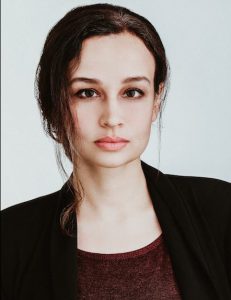 "It's rare enough to see a middle-aged or older woman explored in depth in Hollywood or Bollywood, mainly because they are not sexualized, and therefore not interesting to the dominant narratives," says Gayatri. "But perhaps it's even rarer to see the romantic or sexual life of a South Asian woman, let alone a queer one. We hope our short exploration offers some insights and have been told it's an emotional journey.
"Just before our original dates, Nirav went through a personal tragedy, and we had to push the shoot by a week. This meant we lost a cinematographer and ended up finding our final DP very close to the date. We were lucky he and the rest of the crew came through for us, doing us massive favours to make this film happen.
"But overall, the shoot itself was a really good experience, during which we became totally immersed in the work with our actors and the world of the story," confirms Gayatri.
"The iPad was frequently uncooperative and our biggest diva on set since we'd pre-filmed videos for the Facebook chats that didn't work. Vijaya ended up doing all the chatting live like a trooper and it works so much better.
"Don't write lengthy text chats into your films," she advises.
A story that needs to be told 

The directors feel that it is vitally important to tell narratives like Halwa, because they are narratives of the unrepresented. The younger Asian generations are breaking through with new characters that push perceptions forward. However, characters above 50 are still generally stereotypes, even amongst Asians.
Themes of identity, desire, abuse, and relationship problems in modern culture are not exclusive to younger generations which is why this story is important, as the main character of Sujata could be any of our friends or mothers. It's important to see this woman beyond simple labels. She is a complex human being and this short film captures that beautifully.
The project originated with a discussion between Gayatri and Nirav, the film-makers, and the lead actress Vijaya Kumari, the Executive Producer, who shared a personal story of a brief but abusive relationship. So, the core of this film was formed around the lead actress, Vijaya Kumari, and her story.
Vijaya had been playing flat roles of the nagging Indian mother repeatedly, and the filmmakers wanted to change that characterisation and narrative. "We wanted to bring to life a rounded and real Indian woman over 50 with a story loosely inspired by actual experiences," says Gayatri.
A victor, not a victim
"After hearing her story, it became very important for us to make our protagonist, Sujata, the victor and not the victim. We had been hearing stories in our own diaspora communities of lovers reuniting over social media chats decades after breaking up in high school. From there we began to write Sujata: a woman who must break free from a life that is quietly killing her, and decide whether to pursue a long lost love, her childhood best friend who is a woman."
"When you've moved a lot growing up, your identity can start to feel fragmented. One of the joys the digital age affords us is keeping alive the connections that sustain our histories and identities. I wanted to explore, in an intimate way, how reconnecting with someone from her past helps this immigrant woman over 50 rekindle a sense of self. We wanted to tell this story against the backdrop of a seemingly calm domestic world, the kind which often masks volatile situations," says Gayatri.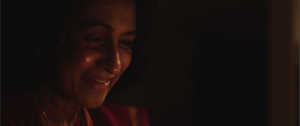 The star of the short film is Vijaya, of course, who is a brilliant and a subtle actress. "But she is so much more, for Halwa," says Gayatri. "She is also one of the creators of the film, whose experience was crucial to our understanding of both abusive relationships, and an older woman's perspective on romance.
"That said, every member of our cast played a crucial part in our film. We are so grateful to Asit Vyas, who is actually a wonderful human being, for portraying Sujata's abusive husband with both humanity and chilling cruelty. And the very talented Sanchita Malik in her turn as Sujata's daughter."
Do not miss the screening on Friday, September 3, Program 4 in the Short Film Package.
---

Check out India's first travelling LGBTQ campus festivalKASHISH Forward 
Festival Website | Festival Blog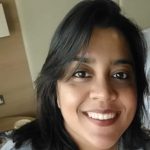 Smita is a multi-cultural freelance journalist, writer, and filmmaker based out of the US, London, Hong Kong, and India. Global Indian Stories is her brain-child. Created to chronicle diaspora stories written by Indians of all age groups, from different walks of life across the globe, Smita makes sure that the platform remains inclusive and positive.