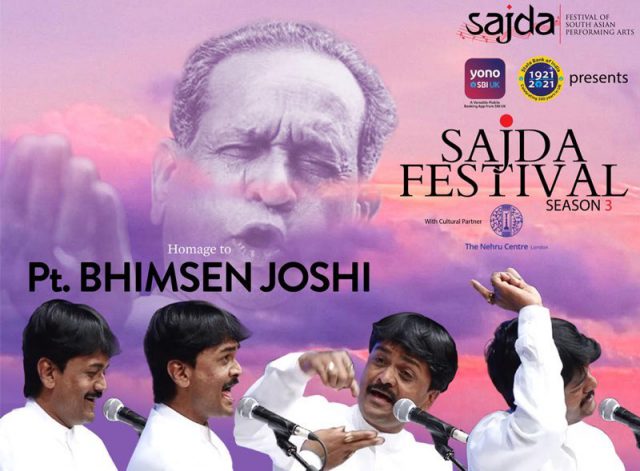 Sajda Season 3 will have its last free, online concert in homage to Bharat Ratna Shri Bhimsen Joshi as part of his birth centenary celebrations. The evening will consist of a performance of Abhangs, Bhajans, classical compositions and light classical pieces.
Pt Mevundi will mesmerise the global audience by drawing on his repertoire of bhajans in a few different languages including Kannada and Marathi. He is a young star on the galaxy of stalwarts in the lineage of the Kirana Gharana who is lighting up the Indian music scene.
Concertgoers can log in via Sajda Fest UK's Facebook and YouTube channels on Saturday Oct 16th 2021 at 3pm BST, 7.30pm IST to enjoy the music of this young maestro! 
Facebook: https://www.facebook.com/sajdafestival 
YouTube: https://m.youtube.com/channel/UCeAfIMGGVs557epiL-dAhdg   
Jayateerth Mevundi is a Hindustani classical vocalist who hails from Hubli in North Karnataka much like Pt Bhimsen Joshi. He took to music at a very tender age under the guidance of his mother, Sudhabai, who was fond of Purandara Dasa (a famous Carnatic music composer) songs.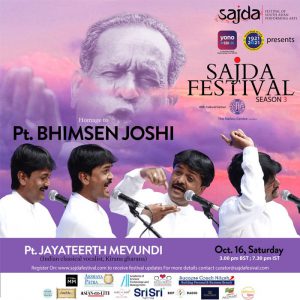 His formal training in classical music was from Sangeet Ratna Pt. Arjunsa Nakod and he continues to learn from Pt. Shripati Padegar, a disciple of Pt Bhimsen Joshi. His singing style is reminiscent of Pandit Bhimsen Joshiji and is also deeply influenced by Carnatic music.
Besides the Young Maestro award that he received from President Abdul Kalam in 2007, Mevundi has won accolades including the Pt. Jasraj Gourav Puraskar (1995), the Mewati Gharana Sangeet Gourav Puraskar (2000), and the Shanmukhananda Sangeet Shiromani Award (2005), Mumbai. He is an 'A Top' graded artist at All India Radio (AIR).
Jayateerth is an admirer of playback singers like Lata Mangeshkar, Mohammed Rafi, Asha Bhosle, Kishore Kumar, PB Sreenivas, Vani Jayaram and S Janaki. He describes himself as a fan of raaga-based film music.
Sajda's current season 3 has been enjoying worldwide encomiums with several enthralling performances. The season was inaugurated with a tribute to Mohan Veena great Pt Vishwamohan Bhatt by his student Shri AnanDa. The second concert in the series was an ode to Ghazal Badshah, Mehdi Hassan. Young ghazal maestro, Gayatri Asokan, won the hearts of the audience with her soulful renditions of Hassan sahab's pieces.
Presented by the State Bank of India, UK, and Nehru Centre London (cultural wing of Indian High Commission, UK) as its cultural partner, Sajda is determined to bring top notch curated content, whilst staying editorially independent, multicultural, and inclusive. This season will feature a unique online and offline repertoire of Indian artistes.
The entire festival is being offered FREE OF COST to music lovers. Sajda's eminent supporters and partners include the Manchester Museum, Akshaya Patra UK, NRI Legal Services, ASTML, Success Coach Nilesh, Sri Sri Tattva, Saffron's Spice, and Kathik . The festival is also supported by several media and community organisations.
For more information and enquiries and all event related updates, visit the official Festival website at www.sajdafestival.com
Donors can contribute to https://www.gofundme.com/f/sajda-festival and be recognised for their support on the festival website.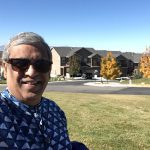 Rahul Laud wears many hats. He is a senior journalist, and works as the Associate Editor of Asian Lite, based out of Manchester, UK. He is the Curator and Facilitator of SAJDA Festival and is a regular volunteer for the Art of Living and the IAHV global charities. He is a musician himself and teaches the tabla to the younger generation of music enthusiasts.