It is said that the biggest wealth of a country is its people. It is especially true for our country India. Currently our country is celebrating the 150th birth anniversary of Mahatma Gandhi, Father of our Nation. He is the biggest NRI who returned to India on January 9 to fight colonial rule and the day is celebrated as Pravasi Bhartiya Divas since 2003.
Since October 2, 2007 the United Nations Organisation (UNO) designated Gandhi Jayanti as the International Day of Non Violence and it is celebrated all over the world. It is often stated that Mahatma Gandhi was never awarded the Nobel Peace prize, so what? He is the only world leader who is respected and recognised all over the world as an apostle of peace and non-violence. His teachings are still quoted by the presidents of important world powers.
It is a matter of great happiness that the Government of Gujarat is going to hold its 9th Global Vibrant Gujarat Summit from January 18 to January 20, 2019 at Mahatma Mandir exhibition-cum-convention centre, Gandhinagar. While serving in the prestigious Indian Foreign Service, I had the privilege to serve, during last 11 years of my career, in the Public Diplomacy Division, Ministry of External Affairs Headquarters, New Delhi (July 2006 – May 2008), in the High Commission of India, London (May 2008 – November 2011), and the Consulate General of India, Birmingham (February 2015 – January 2017).
It is a well established and well known fact that Non-Resident Indians and Persons of Indian Origin have excelled all over the world as entrepreneurs, doctors, scientists, academicians, investors, business leaders, actors, sportspersons, management gurus, engineers, politicians, IT experts, media persons, writers, etc. Even the Noble Prize winner in Chemistry Mr. Venkatraman Ramakrishnan, also a Padma Vibhushan awardee, has a Gujarat connection as he studied in Gujarat while his father served there.
Parliamentarians of Indian origin
To my pleasant surprise I discovered that the United Kingdom has the highest number of parliamentarians of Indian origin and they mainly come from states of Gujarat and Punjab. They are present across the entire political spectrum; have made great contributions to British society; and enhanced the image of their country of origin – India.
Some of the British Parliamentarians tracing their origins to Gujarat are: Lord Bhikhu Desai, Lord Navneet Dholakia, Lord Meghnad Desai, Lord Kamlesh Patel, Lord Adam Patel, Lord Dollar Popat, Lord Jitesh Gadhia, R H Shailesh Vara, RH Preeti Patel, among others. While Gujarat has several Honorary Consulates and Trade Offices of foreign countries, the UK is the only country to open a Diplomatic Mission in Ahmedabad.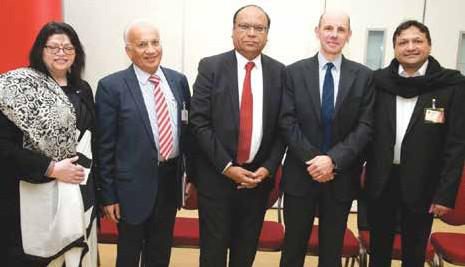 Recognising this Govt of Gujarat, in order to promote Vibrant Gujarat 2017 and to explore better business prospects as a consequence of Brexit, mounted an official business delegation to the UK, led by Ms Mamta Verma, Commissioner of Industries. The delegation had several government officers and leading business persons as members. The delegation held roadshows in Manchester, Birmingham, and London.
On behalf of the Consulate General of India, Birmingham, I had the privilege to be associated with their visit and roadshow in Birmingham which was organised in association with the then newly-formed West Midlands Combined Authority. It was only appropriate the delegation visited Birmingham as the Midlands is the heartland of British manufacturing and SMEs, and is also known for its world famous Universities.
The presentations of the delegation made such an impact and generation of interest that in subsequent months three major business related events pertaining to doing business with India were organised in the Midlands in Nottingham and Leicester. These were on October 26, 2016 in Nottingham (organised by NIBPA), October 28, 2016 in Leicester (organised by British Government's UKTI and Leicester City Council), and finally a Vibrant Gujarat 2017 promotional event was organised on January 4, 2017 in Nottingham by the Consulate General of India, Birmingham in consultation with our High Commission in London.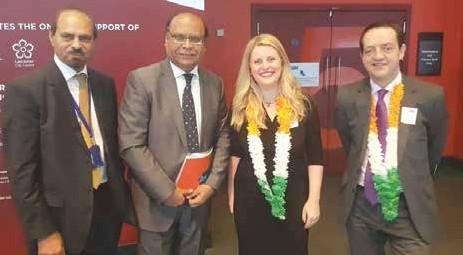 Successful events
All the events were very well attended. British Deputy High Commissioner in Ahmedabad Mr Geoff Wain, covering Gujarat and Rajasthan, flew down to the UK and attended the first two events and Professor N R Puri, British Industrialist and an awardee of Pravasi Bharatiya Samman, and Professor Hardeep Singh from the University of Nottingham attended the Nottingham event. Following these roadshows, a delegation of the Nottingham Indian Business and Professional Association (NIBPA), which has among its members Dr Raj Mistry (a dental specialist) of Nottingham, Councillor Rati Lal Govind of Leicester, and several other NRIs and PIOs, attended Vibrant Gujarat, 2017.
The delegation had an excellent visit. According to Councillor Ratil Lal Govind, Member of Leicester City Council, "Attending Vibrant Gujarat 2017 had been a great experience personally and a learning curve. I represented the textile industry (saree manufacturers) and also visited Surat. The visit led to networking and an increase in partnerships.
Now sarees are being made/designed directly from manufacturers in Surat and other parts of Gujarat as per market demand, leading to savings in costs for the buyers. A distribution centre has been set up in Dubai and talks are on to set up something similar in the UK. The most important outcome was that the local education authorities of Leicester linked up with Ahmedabad and students from the UK visited Gujarat and there will be a return visit soon."
Best wishes for the continued success of Vibrant Gujarat movement and bigger and better Vibrant Gujarat 2019!
(This article first appeared in Gujarat Investors Paradise a souvenir released by Hon'ble Vice President of India on the occasion of 9th Vibrant Gujarat Global Summit held at Gandhinagar from Jan 18th to Jan 20th, 2019)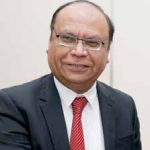 J K Sharma is the former Consul General of India in Midlands and North England. Having served in the Government of India for 37 years, he's now retired from the Indian Foreign Service and is living in New Delhi.