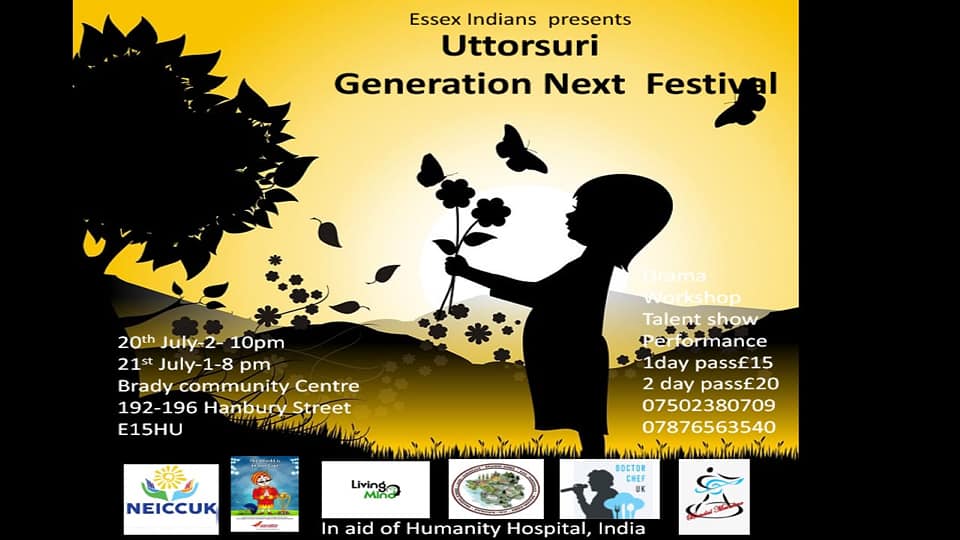 Climate change is not a part of a scary science fiction story any more. It is a reality.
Irrational use of natural resources, deforestation and reckless use of scientific advances have created this critical situation.
It is so bad that future generations are worrying about the safety of their future. The start of 2019 was marked by students skipping school worldwide on a Friday. This movement was initiated by a Scandinavian differently abled teenager.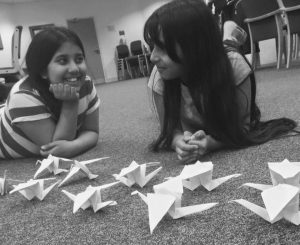 Young adults are trying to create awareness amongst adults. Their demand is very basic – they want a safe world. A group of British Asian kids from Essex has started a new trend within their community by writing a story on climate change, pollution and its impact in the future. They named the project 'Heal the World'. The group consists of 20 children aged from 5 to 18.
They explored real case studies on river pollution across the globe.They highlighted river pollution due to the fashion industry in China, mass deforestation in India causing pollution of rivers and soil erosion, explosion of nuclear reactor in Russia and long term damage to the community and nature.
They have used a variety of eastern and western instruments, songs and dances as modes of story telling and performances to increase awareness and to improve day to day practice towards recycling and energy conservation.
So far they have been successful in improving awareness in Essex and they will be doing future shows in East London in the coming months to involve people in the movement of 'Heal the World'.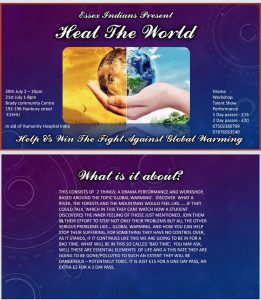 Date:
20th July, 2019 Time: 2pm to 10 pm
21st July, 2019 Time: 1pm to 9pm
Venue:
Brady Art and Community Centre
192-196 Hanbury St, Mile End,
London E1 5HU
Uttorsuri Gen Next Festival is organised by Essex Indians community group. The event is powered by Essex Indians and supported by community groups like Inspiring Indian women (IIW), NEICCUK. Festival is dedicated to fund raising for Humanity Hospital, India.
This is first ever Uttorsuri – Generation Next Festival happening in London. The theme is to connect young adults with global culture and heritage through workshops, showcasing their talent and entertainment. The festival is also a platform for sharing views of young adults about global issues related to their future.
Exciting cultural events will happen over two days.
On 20th July, the festival will start at 2pm with a variety of workshops and a talent showcasing event until 6pm. Workshops available include Dance , Drama (dramatist prof. Sudip Chakrabarty) and Robotics (Cambridge University Space scientist).
Festival registration as follows:
https://docs.google.com/forms/d/18UL2UbLr0fstUbrKQJqUa7Ubar2-OzAc2eW_Pmjxf88/viewform
Four famous short stories of Tagore will be staged in drama form as 4 Acts-Choturongo, in the evening.
The festival reopens at 1pm on 21st July with a variety of events.It will include dance, basic life support, mindfulness and an origami workshop to entertain and engage children and their parents.
The main attraction will come live at 5.30 pm.
'Heal the World' – a sensational multi media show with more than 50 artists highlighting problem of global warming and pollution will be staged in the UK for the first time.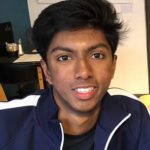 Arya is a 17-year-old Year 13 student and a Junior Trustee of the Essex Indians community group. He is passionate about singing Indian classical and western contemporary music. A keen dramatist, Arya regularly participates in Drama Festivals as part of his school drama group. He enjoys long distance running and swimming and wants to study mathematics after his A levels.