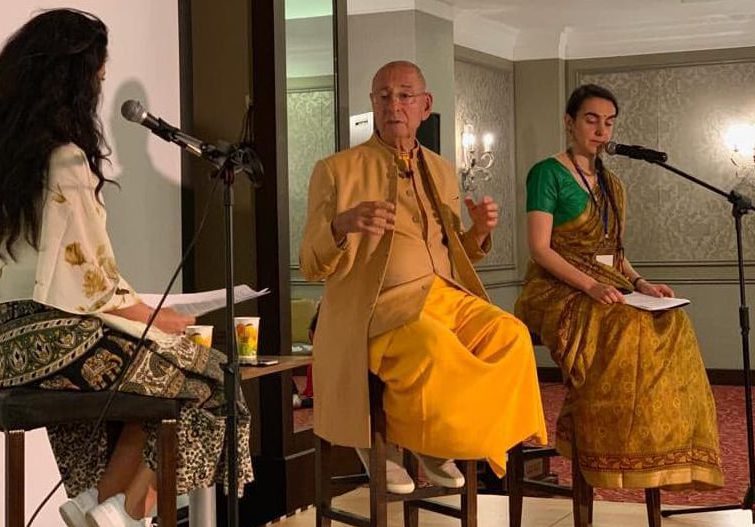 Turkey is a secular country, but 99% of the population are Muslims. According to some spiritual groups, this poses a challenge for other religions to co-exist within the country. The teachings of Sri Srila Prabhupada has, despite the limitations penetrated into the heart of Turkey and ISKCON continues to draw Muslims as devotees.
Unlike many countries in Europe and in the West, where the government is more liberal, Turkish devotees have to stay under the radar and lead dual lives in order to continue being disciples and followers of Krishna Consciousness. They keep their official Muslim identities in the society, while using their spiritual Hindu names outside of it.
Despite this, Hindu disciples and devotees continue to grow, and so does the determination of two individuals, Nrsimha Krishna Das Prabhu and Sivarama Swami.
During a recent event in Istanbul, around 150 young and old people registered to understand Bhakti Yoga, the way of Hindu life and what it entails. Nrsimha Krishna Das Prabhu, the Governor Body Commission (GBC) Zonal Supervisor of Turkey organised a programme in May where Sivarama Swami, the Monk, Author, Bhakti-Yogi and Governing Body Commission member responsible for leading ISKCON's mission in Hungary, Romania and Turkey was invited to address a group of Turks, new to Bhakti Yoga.
These were Turk followers of the Yogi's social media and Vlogs that he uses to spread the word of Bhakti Yoga, Krishna Consciousness and Hare Ram among the Muslims.
In the ballroom of the Holiday Inn in Sisle, "we set up vegan prasadam table and during the programme we distributed about 80 books of Srila Prabhupada. After they registered, programme started with introduction to Sivarama Swami, to the Turkish audience.
"We showed one of his popular vblogs about yoga. In Turkey, this video was viewed by over 1.4 million people. Sivarama Swami presented a power point presentation, on yoga, celibacy and the audience were very receptive," confirmed Nrsimha Prabhu.
This was followed by a Q&A from the audience and Sivarama Swami sang Indian devotional songs bhajans and kirtans on stage, to engage the audience and let them have a feel of Bhakti Yoga, Krishna Consciousness or Hare Krishna.
"They were chanting, clapping and the response was simply rewarding. It was great. All new to bhakti yoga, the crowds wouldn't just stop singing and chanting with us," confirmed Nrsimha Prabhu.
After the Kirtan or Bhajan, Sivarama Swami sat down on the stage and people asked him questions. What seemed to be a long event that went on for four hours, people continued to engage and did not want to leave at the end.
The translations to Turkish was done by Krisha Mala, who did it tirelessly for nearly three hours. On the way back home, Shivarama Swami said, "Srila Prabhupad wanted us to feed people with prasadam, distribute books and chant Hare Krishna and we did today. Srila Prabhupad wanted us to do all of this to Muslims, and we did today."
In ISKCON, Sivarama Swami is well known for his scholarship. He has written several books on Gaudiya Vaishnava theology and philosophy and has taught many courses in Gaudiya Vaishnavism in various parts of the world. He is also well-known for his Holy Name festivals which annually attract hundreds of devotees to a feast of kirtan.
In 1980 Sivarama Swami moved to the UK, becoming the president of Caitanya College, and the UK's National Sankirtana leader. He was requested to accept the responsibility and service of a GBC member and ISKCON initiating guru in 1986. In 1988 he took up the leadership of ISKCON in Hungary, while in June 2003, Sivarama Swami stepped down from his GBC duties in UK and Ireland to be able to concentrate on his growing commitments in Hungary.
As a member of the Governing Body Commission he is currently responsible for leading ISKCON's mission in Hungary, Romania and Turkey.
In Hungary he led a budding group of young devotees through the country's transition from a member of the former USSR to a democratic republic. Krishna consciousness has flourished in Hungary under his leadership, with ISKCON becoming the fourth most popular religious group in the country.
He translated all of Srila Prabhupada's books into Hungarian. The opening and running of the Bhaktivedanta College for Religious Science, an official college accredited by Hungary's Ministry of Education which offers a Bachelor's degree in Vaishnava Theology.
He also set up the New Vraja Dhama temple and farm community project in south-west Hungary. Situated in the hills close to Lake Balaton, New Vraja Dham is the Hungarian yatra's varnashram farm community.
Another commendable ongoing story of Nrsimha Krishna Das Prabhu, the Governor Body Commission (GBC) Zonal Supervisor of Turkey, a Turkish-born Muslim Serhat Sen, Commercial Director of a giant multinational, world's fourth largest freight and logistics company, DSV.
The 42 year-old successful professional rose to great heights while following the principles of duty and service – teachings that are ingrained deeply in Prabhupad's devotees.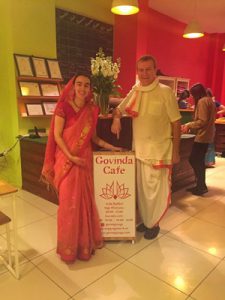 Nrsimha Prabhu now devotes all his time beyond office hours to spread the teachings of Krishna and Prabhupad through the Goranga Yoga Centre, that he heads and the Govinda Café, that serves vegetarian prasadam to devotees and all. His team has translated Srila Prabhipad books in Turkish like Srimat Bhagavatam and Bhagavad Gita, Krishna Consciousness.
They broadcast all the kirtans and classes from the Istanbul centre on social media and have conducted more than 15 programmes in Antalia since summer.
"We do all activities under the Yoga Centre in Istanbul, since Iskcon is not an official entity in Turkey," said Nrsimha Prabhu. "We do yoga classes, Ayurveda programmes, consultations, teachings, prasadam distribution via the Govinda Café and Bhakti Yoga programmes which includes kirtans, Bhagwad Gita and Srimat Bhagvatam and philosophic classes from other Vedia literatures through the Goranga Yoga Centre."
When he read Srila Prabhupad book "Science of self-realisation" at the age of 23, he was deeply impacted, but embracing this way of life has been far from easy for the devotee, whose cultural and spiritual roots are entirely different from those set out by Srila Prabhupad.
"Although I was a Muslim, I used to smoke and drink and eating meat was a daily part of my life. So, it was a difficult transition for me when I first read the book. After a few years, I read the book again and I realised that I was able to started thinking about life."
He started following a vegetarian diet, quit smoking and was able to give up drinking. He tested himself for about six months, holding back the reasons behind the lifestyle changes from his close friends and family. He told them he was following Yoga and these were the lifestyle changes needed and his parents were very happy when he quit smoking and drinking, chuckles Nrsimha Prabhu.
So despite the challenges and lack of support, the Iskcon fraternity in Turkey is determined "to grow and have centres in all the big cities in Turkey, because people want to reach us despite the challenges since Krishna is so pure," concluded Nrsimha Prabhu.
He would like Hindu groups across the globe to support their initiatives in Turkey, so they can choose to practice and follow their spiritual and religious path without fear and restrictions.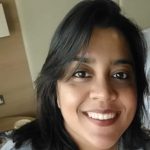 Smita is a multi-cultural freelance journalist, writer, and filmmaker based out of the US, London, Hong Kong, and India. Global Indian Stories is her brain-child. Created to chronicle diaspora stories written by Indians of all age groups, from different walks of life across the globe, Smita makes sure that the platform remains inclusive and positive.