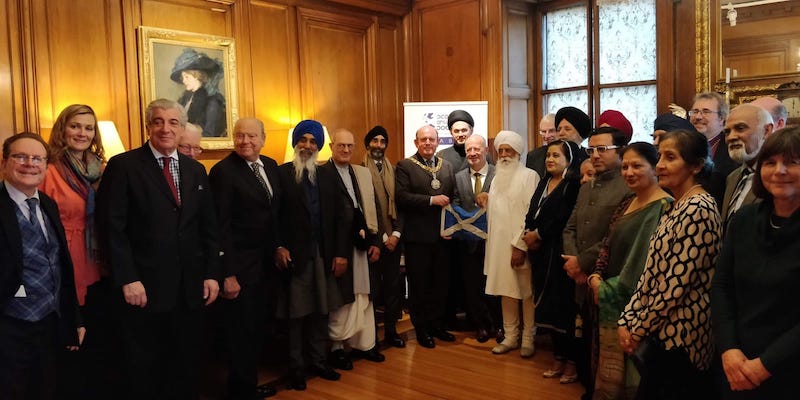 Multiple faiths truly came together in Edinburgh at an event held to celebrate the 550th anniversary of the birth of Guru Nanak, the founder of Sikhism. It was a ground-breaking evening arranged a Muslim organisation, supported by a Hindu organisation, and hosted by the Christian Lord Provost. It was attended by all faiths and was a wonderful showcase of religions working together in unison.
The Scottish Ahlul Bayt Society (SABS), led by its Director-General Imam Razawi, with Frank Ross, the Rt. Hon Lord Provost of the City of Edinburgh, convened the reception which was held at the Edinburgh City Chambers, as the civic symbol of Edinburgh's society and a place for people to gather across all walks of life.
The event was held in partnership with the Guru Nanak Nishkam Sewak Jatha, the Hindu Forum of Britain (HFB), and the Lord Provost of Edinburgh. The reception witnessed for the first time senior Dharmic Faith Leaders from across Scotland and Europe gather together in Edinburgh. The event's chief guest was Bhai Sahib Bhai Mohinder Singh Ji of the Guru Nanak Nishkam Sewak Jatha.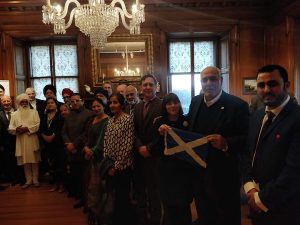 In attendance were leaders across the Scottish and British Christian, Sikh, Hindu, and Muslim communities, along with the Consul General of India and a UN representative.
The event began with the Rt. Hon Lord Provost of the City of Edinburgh welcoming the guests and explaining how the city of Edinburgh is multi-cultured and all faiths are welcomed.
He invited the Imam Razawi to address the gathering, who mentioned that this event would showcase a multi-cultural and tolerant Scotland, accepting to people of faith and no faith, but it will also witness the coming together of the various strands of Scottish society. After this speech Imam Razawi introduced Mr Puneet Dwivedi, vice president of Hindu Forum of Britain, who spoke of how India has been and continues to be a land of spirituality. He said that the country had produced not one but many religions, many holy scriptures and many systems of spirituality and spiritual gurus, with one of the greatest gurus being Guru Nanak Dev Ji.
Guru Nanak Sahebji travelled extensively to spread the spiritual message based on virtue, equality, goodness, and love for every human being. HFB is really delighted to share in this celebration and wish everyone well and believe the message of hope, respect, peace, and compassion given by Guru Nanakji needs to be taken to heart by one and all.
Madhupati Dasz from the Hungarian Society for Krishna Consciousness, who travelled a very long distance and take four different trains to attend the event, gave a short and sweet speech about unity of all faith. This was followed by an inspiring speech from Edwin Shuker, Vice President Board of Deputies of British Jews.
Then Jasvir Singh from the City Sikhs London and Faiths Forum for London introduced the chief guest, Bhai Sahib Bhai Mohinder Singh Ji, who was recently with the Indian Prime Minister Mr Narendra Modi and Pakistan Prime Minister Imran Khan. He was also with Prince Charles during his last India trip.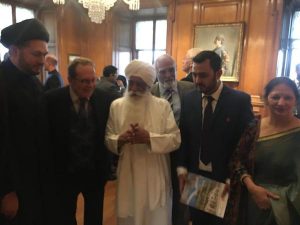 Bhai Sahib explained how two rival countries, India and Pakistan, came together to open Kartarpur Corridor on the birth anniversary of GuruNanak Dev Ji – providing a visa-free border crossing connecting the Gurdwara Darbar Sahib in Pakistan to the border with India. The crossing allows Sikh devotees from India to visit the gurdwara in Kartarpur. He also highlighted the spiritual teaching of Guru Ji that each of us are unique and a spark of God who will ultimately merge with that oneness, that ultimate spark. He explained how life is all about where we came from, what our purpose of life is, and where we will go after death. He said all the conflict in the world can be resolved with dialogue and if we have peace inside then we will be able to reflect and bring peace outside.
Bhai Sahib Bhai Mohinder Singh Ji's speech was very well received with thunderous clapping by all. The closing remark was made by Mr Shabir Beg, chairman of SABS who held hands with all the faith leaders and thanked everyone who had worked so hard to make the event successful.
After the event, Mr Wegi Singh Ji invited all the guests to Edinburgh Gurudwara, where all faith leaders were very warmly welcome by the Gurudwara committee president Mr Jaswant Singh Ji, vice president Sukhdev Singh Ji, Gen Secretary Jagjeet Singh Ji, and resident Giani Harbhajan Singh Ji.
All the faith leaders and organising team were felicitated with Sikh Saffron Siropa and a special commemorative medal inscribed with a 550th birthday message of GuruNanak Devji. Dr Maureen Sier, director of Interfaith Scotland, and Mr Iain Stewart of Edinburgh Interfaith spoke about the great interfaith event they had witnessed and how they hoped that this would help to bridge all gaps and faith together.
The event reminded us of Guru Nanak's message of the 'oneness' of humanity and that each of us carries a spark of the divine. In an ever-increasingly divided world, it is great to be reminded that the artificial boundaries which divide us can be put aside as we can come together in the spirit of Guru Nanak teaching's to remember the oneness and equality of humanity and to celebrate the beauty within all faiths.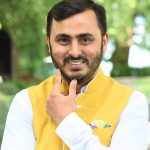 Puneet Dwivwdi is a Financial Data Consultant by profession. He is also the Regional Vice President for the Hindu Forum Britain, the largest body of British Hindus, that promote Hindu culture, spirituality and interfaith dialogue with various faiths.