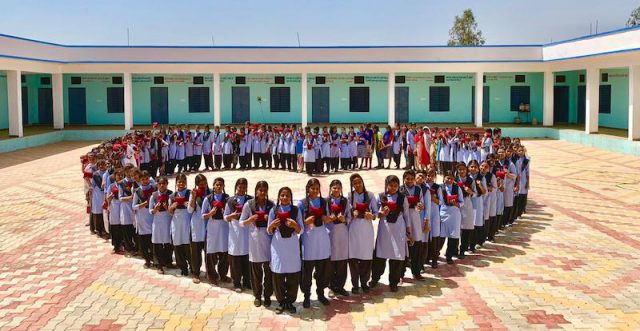 At the Hemraj Goyal Foundation (HGF), we believe that supporting the growth and nurturing the development of next generation philanthropy is key to our own success as a Foundation. This is a story of not one, but three different activities, all designed by next generation philanthropists and the youngest descendants of Hemraj Goyal himself.
Sense International
In December 2018, Simran S joined her family on the Foundation's trip to India, visiting some of our longstanding charity projects in a bid to better understand how HGF's funding is directly impacting beneficiaries around the world. One such project was Sense International – a deadblindness charity which works with deafblind children and their families to support the challenges they face every day.
Touched by what she saw in India at the centre, Simran identified with Sense International more than most, having struggled with her own visual challenges earlier that year.
The experience of learning tactile sign and the daily challenges that young people with deafblindess endure, gave a brief insight into a world that we cannot imagine, and Simran found that she wanted to do more; not just to raise the vital funds that keep these centres going, but to raise awareness of the challenges that others face across the globe.
SENSES was designed as an immersive and highly experiential event, hosted at specialist AV venue Aures London in the iconic Leake Street tunnels.
With a vision to impact guests by enveloping them in the five different senses, Simran and the HGF Team secured a series of different experiences linked to Smell, Sound, Sight, Touch, and Hearing. Each guest was invited to take their own time to experience the five "sense stations", and gain an insight into the world of tactile sign and how the work of Sense International supports people to live, learn and thrive.
"Given my own challenges, I knew I wanted to do more to help those without the support that I have had. The event was designed not only to raise funds but also to raise awareness amongst other young people, about the importance of charities such as Sense International," said Simran Sehmi.
IN2MedUK
And SENSES is not the only way that next generation philanthropists have been getting involved. IN2MedUK is a new venture designed by Simran G and a colleague, Ankit, to enhance the learning of students looking to apply for medical schools and ensure that their applications and personal statements showcase the best of what they can offer as individuals.
Intended as a workshop for individuals to attend on an as-required basis, IN2MedUK was set up by Simran and Ankit as a learning tool both for schools and for their students, after identifying a distinct gap in the support that potential medical students are given in school.
Writing a personal statement and application designed for a medical school application is a labour-intensive activity that challenges students at all levels, with disparities in support available in schools creating an often-unassailable hurdle for some students across the UK. In 2019 the first workshop was successful attended by a set of students from three different schools. These students, seeking to learn how to write the best possible personal statement, were able to attend the workshop for free thanks to HGF's sponsorship, and develop their learning with hands-on support from the instructors.
This example of next generation philanthropy employs not just time and funds, but also expertise – highlighting the shift in what our next generation perceive to be our most valuable resource, and linking knowledge and learning opportunities to philanthropic support.
Fundraising Bollywood dance competition
Our third and final story comes from the group of students who embody the values we hope to distil in young people across the world. Committed to turning their passions into amazing work to benefit others, this group donate their own time and skills to hosting an event unlike any other in the UK.
We first met the group in March 2018, when they pitched their Bollywood dance event concept to our Trustee's, in the hopes of hosting an inter-university competition that would raise spirits, raise smiles, and raise funds for Doorstep Schools in India.
This group, made up entirely of London-based students were determined to harness the power of inter-university competition and sell tickets to a showdown that promised glitter, glamour, and the best of Bollywood under one roof. With a full theatre on the night, celebrity judges and some excellent coverage of the event across social media, 10 teams were selected to take part in the final hosted in the Centre of London, with the overall winner being crowned by the judges and HGF trustees Avnish and Anita Goyal
The funds raised were put towards the costs to launch an HGF School on Wheels, which launched in Summer 2019 on the streets of Mumbai, providing education and a safe place to learn for hundreds of children who live on the streets.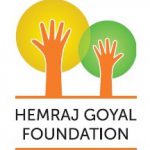 The Hemraj Goyal Foundation is committed to supporting positive change on a global scale for women and young people. Much of our work is achieved through partnering with NGO's across the world, to find solutions to big social problems.
Through funding, resource, support and guidance, the Foundation partners with both charities and projects to bring the injustice around the world to the forefront of our communities.