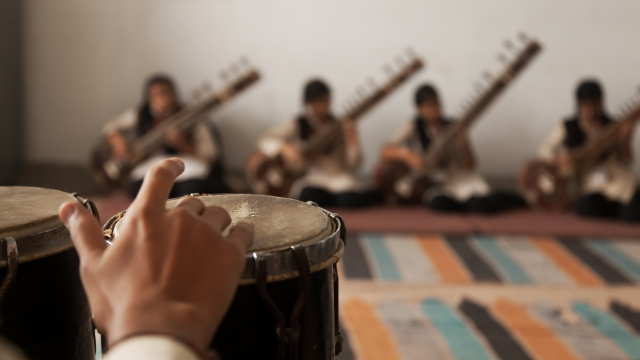 COVID-19 has brought about a massive transformation in our day-to-day lives. We are not only losing precious time, but also opportunities for exploration, creativity, and transformation, which are essential for a high standard of life.
Music – a healer
Amongst all the gloom, social distancing and isolation, it has once again proved that music is a healer. Communities around the world have turned to music during the ongoing crisis. Of course, the medium has changed but the appreciation and application of music to help us heal in our day-to-day lives has only increased.
One way for people to dive into the world of Indian music, despite the lockdown, is Harmoniverse, an online Indian classical music learning platform. We conceptualized it to address some of the genuine concerns of the South Asian learning community – to provide access to world's best Indian Classical Gurus (Hindustani/Classical) through a structured, yet creative, curriculum without compromising the effectiveness of formal music education.
It wasn't conceived in response to the pandemic, rather through well-thought and well-executed ideas and principles driven by the concept of a learner's 'Barhat'/Growth through a pedagogy tried and tested over time – the Guru Shishya Parampara. I can see how the Indian and the Asian communities are ingrained in this concept, that fosters the spirit of growth of the community, despite the oddities of current circumstances.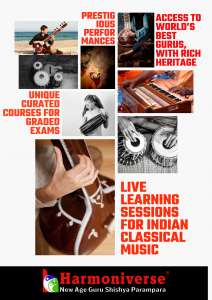 At Harmoniverse, we focus on individual learning journeys, rather than mere online learning. Our offerings encompass online learning together with real workshops, complemented by opportunities to perform, produce, experiment, and create music.
Despite our launch during the peak of COVID-19, the acceptance of Harmoniverse by the learning community has only provided more encouragement and motivation to take this journey further. Perhaps, this signified that we human beings have natural human tendencies towards Barhat.
A huge surge of registrations resulted in demo sessions by some of our most renowned Gurus. Our patrons, Padmashree Pandit Manilal Nag(Sitar), Pandit Amiya Ranjan Bandhopadhyay(Vocals), Pandit Rupak Kulkarni(Flute) and Vidushi Mita Nag(Sitar), have been whole-heartedly supporting us to help us comfort aspiring learners during these unprecedented times.
Perpetual growth
When it comes to Indian Classical Music, it is comforting and inspiring to see the prowess we've demonstrated for problem-solving during these unprecedented times. Despite cancellations of live events and concerts, artists are live streaming from social media accounts, virtual concerts, or for that matter creating their videos to demonstrate solidarity with the community at large.
Basically, music in India is perpetual. Ancient music has traveled and evolved through brutal wars during the Vedic period, Mughal invasions, Imperial colonialism, Hindu casteism, and several unaccounted episodes of destruction and reformation.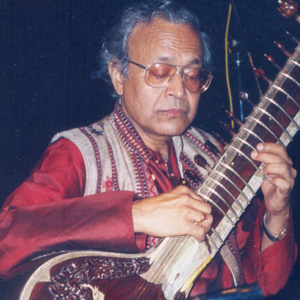 This perpetual nature of Indian Classical Music lies in its soul: a concept called 'Barhat' (meaning 'growth', musically, though also personally and spiritually). Essentially, it involves strict adherence to aesthetic frameworks such as raag and taal, but the structures themselves are designed to generate spontaneity; the framework only provides the 'seed' for the 'growth' of a composition.
We need to keep reminding ourselves that music is eternal and the joy of learning music is priceless. Harmoniverse helps aspiring learners to learn from the comfort of their homes, taught by the best Gurus, as part of our Guru Shishya Parampara. The age-old tradition may have changed with time, in terms of presentation but the core essence, as embodied by our patrons, Gurus and learners remains the same.
The virtual doors of new-age Guru Shishya Parampara opens on 16th May, 2020. For more information, please write to info@theharmoniverse.com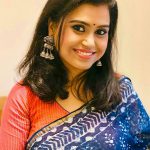 Anannya Sarkar is a product management consultant in the IOT world and an avid public speaker at several prestigious forums. Besides this, she is a performing arts enthusiast and a trained musician in Hawaiian Guitar from Prayag Sangeet Samiti, Allahabad. She is currently based in the UK and the founder and CEO of UK & Europe's first ever journey-driven music learning platform- Harmoniverse.