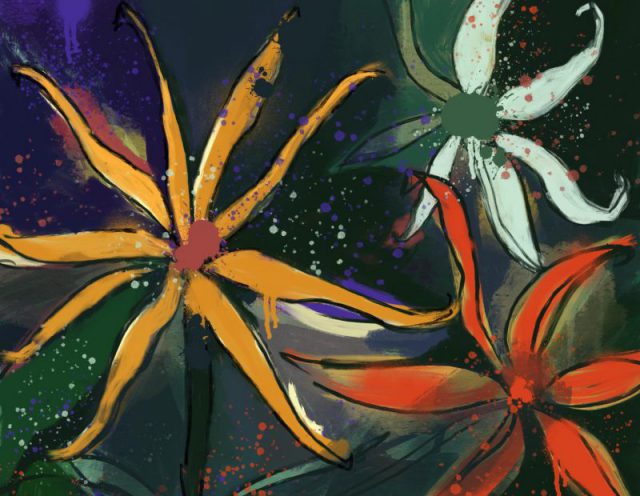 I haven't been able to make much music recently. Processing the news around us has been far from easy. So here's a different kind of offering, with words and paint, this one is called — Flowers.
It rained last night,
From a monsoon sky,
Soaked my soil,
Burrowed its way
Deep into my heart,
Until I was swollen…
Dark earth,
Bubbled bright,
And it hurt
To be brimming with such
Discomfort
But I am the Earth
And I cannot run,
My job is to receive
The anguish carried
In every drop,
To hold the weight of
Suffering.
"My dear clouds
Will you stop now?
I am almost full
Of sorrow,
My fields are flooded,
My mountains torn,
Stop now,
Come perhaps tomorrow?"
The sky does not answer,
The rain will not relent,
I am the Earth,
It is my job
To stand steady
And repent
For the sins of man,
My children,
Waging war,
For centuries,
Armies in the rain,
Tearing bonds,
Breaking ties,
They cannot hear
My cries
Over the deluge:
"You are the children
Of Earth and Sky
From where you came,
And where you die,
Stop this hate!
Stop destruction!
Don't you see?
You are all shades
Of Me!"
But the thunder is loud,
And my children blind,
They drown me in the
Colour of blood,
I see crimson,
Weaving it's way,
Deep into my heart,
From where I must begin again,
Tomorrow,
Or perhaps the day after,
When the pain ends,
And flowers can grow.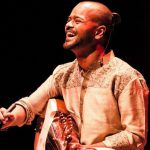 Soumik is a Bengali-born British Indian musician and composer, who specialises in the sarod. He was trained in the sarod by Pandit Buddhadev Das Gupta, and studied at the Trinity Laban Conservatoire of Music and Dance, graduating in 2009 with an MMus in Composition. In 2006 he was invited by Jay-Z to play at the Royal Albert Hall and performed on stage with Beyonce. Soumik has contributed to the musical scores of the films like Brick Lane, Life Goes On, Gangs of Tooting Broadway.