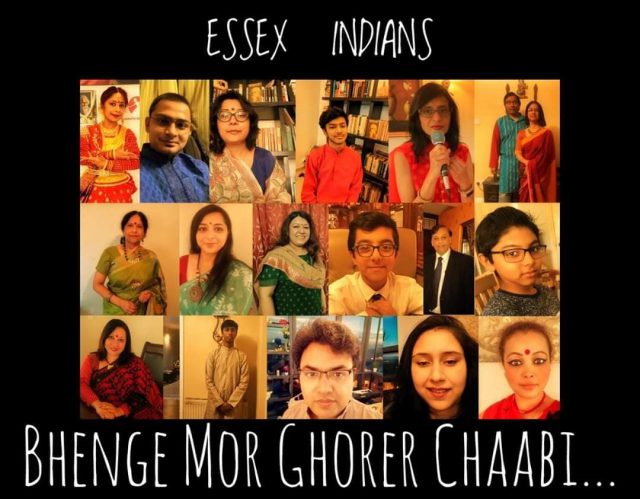 9 May, 2020. It was a usual day amidst the Covid 90 Pandemic prevailing around the world. However, for all Bengalis and Indians around the globe, it was a very special day. It was the weekend of Rabindra Jayanti. It was the 159th Birth Anniversary of Rabindranath Tagore, commonly known as "Tagore" to the world. Rabindranath Tagore, a poet, a writer, a playwright, a lyricist, a music composer, a singer, a dancer, an actor, a man of endless talents. Above all he was a philosopher. To pay tribute to his philosophy of life and positivity, Essex Indians celebrated his Birth Anniversary with their online Rabindra Jayanti "Bhenge Mor Ghorer Chabi."
As the name suggests, the programme broke all barriers of connectivity across the globe. It was a worldwide participation. And no, it was not just a bunch of friends going live and performing casually. It was a properly planned, 2 hours long virtual stage presentation with performances alongside enlightening talks about Tagore.
Essex Indians are well known for their cultural inclination and their constant efforts to recognise and spread the beauty of Indian Cultural across the globe through their well-planned and immensely enjoyable programs. "Bhenge Mor Ghorer Chabi" was no exception. Each of nearly 20 performers had their own assigned slot for performance. They had their specific dress code for their individual performances and they waited patiently at the back-stage of the virtual performance studio just like a live program. It was a proper live performance stage set-up in a virtual platform.
One day before the show, a teaser live was posted on the Essex Indians Facebook page as an announcement for the show. On the big day, there was a formal announcement, 15 minutes before the live Facebook Show along with a recitation of Tagore's Sonar Tori by Baishali  (Film-maker, Kolkata).
The entire program was hosted and conducted in a beautiful manner by Arpita (Gynaecologist, Essex, UK). The series of performances that followed next, turned out to be a beautifully woven virtual concert. Rijula (Teacher, Delhi) discussed and recited from Tagore's Nonsense Verse. Samyak (Student, Delhi) had a beautiful discussion with Arpita about Tagore and Teenager of Today.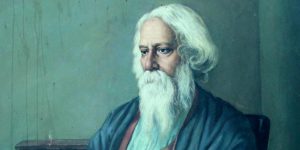 Ranjini, (HR, UK) gave a very enlightening talk on influence of Tagore's stories in the lives of common people. She ended up her performance reciting "Bojhapora" by Rabindranath Tagore. Manan (Teenager, UK) recited "Nirjhorer Swapnobango." Iman, (10 yrs old, UK) paid his tribute to Tagore through his song "Tomari Gehe Palichho  Snehe", Chinu Kishore, (Engineer, UK) performed a dance from Bhanusinher padabali.
Sutapa,(Teacher, UK) also performed a Tagore song. Molly Gupta, (Paediatrician) gave a very interesting performance. She sung Tagore's "Ekla Chalo Re" in Hindi. Though Bengali is not her language, yet she is so inspired by Tagore, that her respect towards Tagore broke all language barriers. Sanjib, (IT professional, UK) performed a beautiful instrumental of "Tumi robe nirobe"
Nest was a beautiful addition to this show as Sammridhha (Film Maker, Kolkata) beautifully sang "Majhe Majhe Tobo Dyakha Pai" to pay his tribute to Tagore. Shreyashi, (Digital marketing), being a classical singer herself, she also paid tribute to Tagore through her song. Anirban (Plastic surgeon , frontline worker from UK) added to the music in the evening through his song "Ami Chini Go Chini"  Then came the dance with the Tagore song. Anashmita, (Teacher and Dancer), danced on  "Mor Bina Othe Kon Shure Baje"  This was followed Dipa's (HR, USA) Tagore Song.
The next musical performance was Arya's song. (Student, UK) which concluded the musical part of the evening. Dipankar  Mukherjee, (Onco surgeon, frontline  worker, UK) concluded the program with a his enlightening talk on "Tagore's Vision  and aptness of it in current situations. He concluded the show with a vote of thanks to all performers and viewers. He also praised everyone for their efforts to put up a two hours long virtual show at par in quality with a live stage show.
The two hours long well-planned virtual stage show, had a tremendously effective reach to the audience. During these challenging times, such programs present a rainbow of colours and helps its viewers to smile and enjoy while watching the show. A Huge Thanks to Essex Indians for bringing back the smile in the faces of its performers and viewers and gifting such beautiful a ray of positivity during these dark times.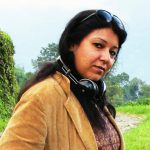 Baishali Bagchi is a Kolkata-based Writer, Director, Editor at Astral Studios