'My Waste, My Responsibility' is the mantra followed by Hyderabad-based social enterprise Bamboo House, India. Prashant Lingam, who co-founded the initiative along with his wife Aruna Kappagantula in 2006, moved from making eco-friendly bamboo homes to recycled eco-friendly plastic homes, plastic paver titles and kiosks for street vendors, using tonnes of used plastic garbage that would otherwise end up in landfills and oceans.
The beauty of the enterprise is that the founders, start-ups themselves and struggling during these months of lockdown, have continued to provide support to the rag pickers, their Safai Sathis (cleaning helpers) and daily wage earners. "We ensured that during the lockdown period also, our team members are provided for, and they do not face financial crisis like many daily wage earners in India are during this period," said Prashant. 
"For those who are not in permanent roles, we've raised funds through individual donor participation and ensured both our artisans and waste pickers,  faced no problem for their monthly food needs. We are a very small enterprise ourselves, and we have struggled to provide financial benefits to our Safai Sathis."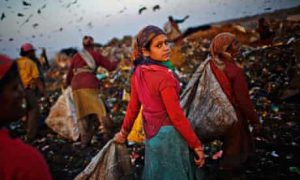 Ramanamma, Saidulu and a few other Safai Sathis, after taking proper precautions and maintaining social distancing ensured established recyclers made purchases for their plastic waste collection. That has ensured their income flow continued even during the lockdown. "But this crisis has again thrown open the debate on how vulnerable our communities are, especially those working for the betterment of the society by segregating the huge piles of rubbish. They do not have the basics like a bank account, ration card or provisions of receiving social benefits. Being economic migrants makes the situation more difficult for us to solve," he confirms.
The Model
"We generally try to make business models around environment issues which would create livelihoods at the base of the economic pyramid. Our focus at present is to popularise this concept more so that it comes to market-notice and a much bigger market is created to impact the livelihoods and use of eco-friendly and recycled material," said Prashant.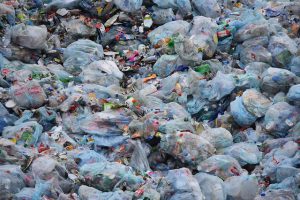 India generates 7 lakh tonnes of plastic waste annually and Prashant has been using plastic, LDPE shredded waste, paying rag pickers to separate the plastic waster, connecting them with street vendors and working on a model that is beneficial to the environment, targeting the menace of plastic waste, and providing livelihood to the marginalised and a plastic recycled roof over their heads. "Recycling of plastic is a wonderful business opportunity, said Prashant. "For every house of plastic we use around 1000 kgs on waste, with direct and indirect livelihoods to 50 safai saathis and for bamboo around 100 livelihoods are impacted in forest areas."
The plastic waste is collected by rag pickers from garbages, landfills and dumps and sold to street vendors who then transport these tonnes of plastic to the factories to get treated. The manpower in the worksites work on these materials to make plastic paver tiles, plastic kiosks for roadside vendors, plastic portable houses for the homeless.
The recycled house
Plastic waste is converted to flat panels of various thickness. The metal skeleton is prepared and panels are fixed, the walling, roofing flooring and false ceiling of the house is made of recycled plastic and are fire, water, heat, acid and emission proof.
They have bedroom, bathroom, kitchen like regular houses and lasts above 30 years. Each roof sheet of 8ft by 3.3 ft consumes nearly 20 kgs of plastic waste. Prashant has partnered with SHGs for execution of the projects.
These houses can be dismantled, the lack of use of concrete slabs mean that they do not require Municipality permissions and can be moved and reused again. They've also made a parking shelters, kiosks for vendors out of plastic. Each house is made up of about 1500 kilograms of plastic waste. Made mostly with urban waste coming out of milk packets, pet bottles, plastic caps and all plastic that can be recycled.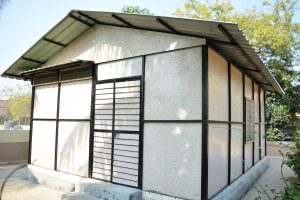 It provides a cheaper and cooler alternative to regular steel shelters. This does not require municipal permission to instal as it does not have a slab. It is completely removable. "You can remove the nut-bolt, take it off and re-erect it. All the materials used to build this is recyclable again. Nothing will go waste or harm the environment," said Prashant.
Governmental support
"The government of Telengana, India has supported us with this initiative and this kind of small support will encourage new start-ups who want to get into some kind of recycling activity and support the city of Hyderabad to free itself from garbage," said Prashant.
Bamboo House India has received government support, where stretches of pavements have used the plastic paver tiles. Each tile has been made from 600 recycled polybags. There are plans to make benches, bus stop sheds and waiting areas out of the recycled plastic in the next few years.

"Our future plan is to ensure we at least recycle 25000 Kgs on plastic waste within the next 4 years and push houses with plastic waste through our model and for bamboo build at least 150 more houses and create 15000 livelihoods in the next four years in rural and forest areas," concludes Prashant. 
55 street vendor kiosks of 8ft by 8ft (64sqft) have been constructed, and this has not only enhanced the earning opportunities of the street vendors, it has also cleared traffic congestion caused by them. 22,000 kgs of plastic waste is going to be used for building these kiosks, utilising 88 lakh discarded milk packets and other recyclables and ensuring fair price to waste pickers and a cleaner, greener and better society.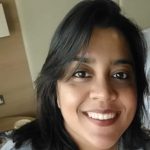 Smita is a multi-cultural freelance journalist, writer, and filmmaker based out of the US, London, Hong Kong, and India. Global Indian Stories is her brain-child. Created to chronicle diaspora stories written by Indians of all age groups, from different walks of life across the globe, Smita makes sure that the platform remains inclusive and positive.