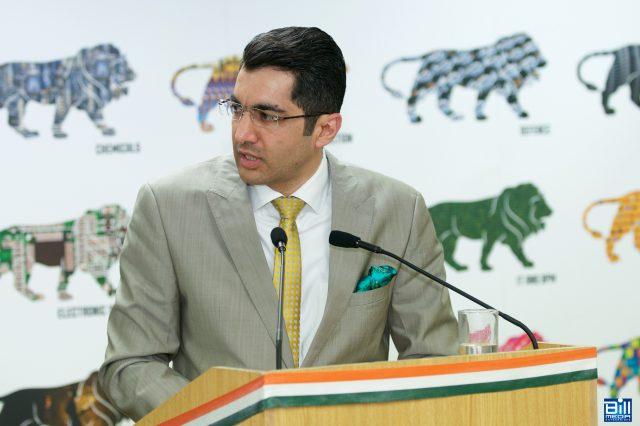 On the eve of his departure to Dubai, in a free -wheeling conversation Rahul Laud spoke with the outgoing Consul General Of India Dr Aman Puri located in Birmingham for Global Indian Stories . Dentist turned into foreign services officer, Diplomat Dr Aman Puri will join this month the UAE Consulate.  
How would reflect on your tenure here in UK?
I shall remember the UK for its warm hospitality and receptiveness to new ideas and initiatives. This tenure has been fulfilling for me and it offered an opportunity and privilege to organise several major events. Some of them,  were first of their kind here in the Midlands and North England.
CGI Birmingham office was able to hold several business initiatives such as Make-In-India Seminar, Access India Program and several other trade shows, some of which have become annual features. Several conferences were organised to aid and support SMEs enter Indian market for collaborations and partnerships. Very recently West Midlands India partnership was launched virtually to attract investment, jobs and visitors to region and to promote two- way trade and investment.
We saw during this period start of important trade missions from Midlands to India. The first ever such trade mission from this region was led by Mayor of West Midlands Combined Authority, Andy Street along with the Chair of Midlands Engine Sir John Peace and other delegates. The Mayor of Greater Manchester Andy Burnham, also led a 30 member strong delegation to India to celebrate and strengthen bilateral ties in trade, investment, tourism, culture and education between India and Manchester.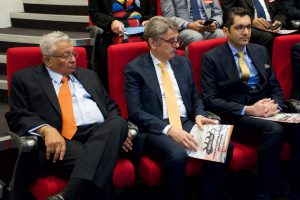 It would be appropriate to remember Late Lord Bhattacharyya who was the driving force behind forging institutional links between West Midlands and India, particularly through the acquisition of Jaguar Land Rover' by Tata Motors, which marked a 'paradigm shift' in India's footprint in the UK. It made Tatas, India's largest conglomerate, the single largest employer in the UK manufacturing sector. Tatas became the single largest contributor to the National Automotive Innovation Centre, now renamed as Prof. Lord Bhattacharya building. This is the largest facility of its kind in Europe and is expected to produce path breaking future mobility solutions for global needs. Dr. Ralf Speth, CEO Jaguar Land Rover contribution has been  immense and notable and has been credited with the turnover of JLR under the ownership of TATA's.
CGI office hosted the former President of Global Corporate Affairs Tata Sons and former Foreign Secretary of India Dr. Subrahmanyam Jaishankar, who is the current Hon'ble Minister of External Affairs, as the very first keynote speaker for the Distinguished Guest lecture series at the India Institute of the University of Birmingham. Dr. Jaishankar spoke on 'What India means to the West' and about the major social, cultural and policy issues facing India and the UK.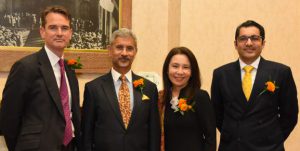 The 'Guru Nanak Dev Chair'  at the University of Birmingham was launched by the Union Minister, Shri Hardeep Singh Puri an event hosted by our office. It is the single largest Government of India funded project set up in the UK, and the first of its kind in the world.  As we are aware that in 2019, over 30,000 Indian students choose to study in the UK. And we hope to see it grow. We held Interactive networking sessions at the Chancery premises where the Indian students were welcomed & assured of all necessary assistance during their stay in UK.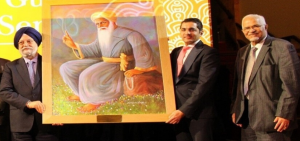 We were able to hold two consecutive annual India –UK healthcare conferences, which resulted in collaborations, partnerships and signing of MoU's between key stakeholders of India and UK in health sector. The contribution of Indian origin key frontline workers amidst is pandemic who battled very courageously risking their own lives midst this pandemic, the International Day of Yoga 2020 digital celebrations by the Consulate with the presence of Padma Bhushan, Shri Sadhguru Jaggi Vasudev and mega Yoga Event in  2018 with Swami Ramdev, at Ricoh Arena Coventry are events I shall always cherish.  
Few ongoing celebrations like Independence Day, Republic Day were held in prestigious venues like the iconic Town hall and Royal Birmingham Conservatoire which enabled us to include a much larger audience in these celebrations. Many religious and cultural events were also held time to time, including a new feature of Diwali on the Square along with the West Midlands Combined Authority, which has become an annual feature in the events calendar of Birmingham.
Driven by the thought of community cohesion . partnering with Andy Street for the first time in 2017, we saw 8,000 people. The spectacular Diwali celebrations at Victoria Square in 2019 witnessed over 20,000 visitors from across Midlands and North England, who thronged the square to enjoy the live music and dance, delectable food and various other activities. 'Diwali at the Square' is now an annual event. Above all, this is a testament to the fact that Britain welcomes diversity and this was a major step in promoting community cohesion and harmony. British and Indian organisations voluntarily supported the celebration. Also volunteers from the various faith organisations and community groups came together to prepare and pack 10,000 sweet boxes, which is a perfect example of community cohesion.
What is the significant contribution of Indian diaspora you found here?
Over 45% of British Indian diaspora live in the jurisdiction of this Consulate at Birmingham. The Indian diaspora is known to be one of the most prosperous and dynamic ethnic minority communities in the UK. In Political arena, a vast majority of those of Indian origin like Chancellor Rt. Hon'ble Rishi Sunak, Home Secretary Priti Patel, Secretary of State for Business, Energy and Industrial Strategy, Rt Hon Alok Sharma MP and many other who hold responsible positions are serving the community with great fervour.
There is an opportunity for the Indian diaspora to act as a 'living bridge' between India and the UK.  there are 654 Indian Diaspora owned businesses in the UK, with a turnover of over 100,000 Pounds per year. Their combined revenue is 36.84 billion Pounds, and they employ 174,000 people. Thus the India-UK economic relationship has been growing steadily and will no doubt reach its full potential in the near future.
During the current unprecedented Covid-19 pandemic, several Indian community associations voluntarily extended their support in all possible ways to their Indian brothers and sisters and also to the British-Indian community.
In terms of growth and development in the different counties that exist in your jurisdiction – what are the key requirements you think are pertinent for the Indian diaspora to follow for its growth?
Organisations like Manchester-India-Partnership, and the recently launched West Midlands-India-Partnership (WMIP) initiative offers both British and Indian companies a fantastic new platform to collaborate on a wide range of established and emerging technologies. For the SMEs it presents a real opportunity to develop more connected supply chains and scale through new commercial partnerships.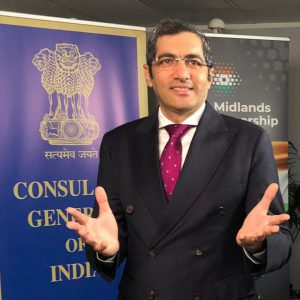 Enterprising businesses with ambitions to drive forward the industries of tomorrow, need to be encouraged to join this exciting programme and realise the innovative potential of the West Midlands, as well as India's growing ambitions in high-growth manufacturing and technology. Beyond trade and investment, the WMI Partnership aims to increase leisure visitors to the region, boost connectivity between the geographies, strengthen ties across universities and engage Indian diaspora in the West Midlands. It is important for the Indian diaspora to follow strong links by looking at complimentary projects. Medical professionals in UK already have link with institutions back in India.
Do you think to serve the wide spread diaspora there is a need for one more Consular services office in the region?
With the introduction of e-Visas in 2015, today upwards of 90% of visa seekers are obtaining it online. And this will subsequently grow with the upcoming digital tools. Our outsourced service provider, VFS already has its centres in Birmingham, Manchester, Leicester and Bradford. The applicants seeking OCI or passports need to visit the VFS centres only once for the submission of the applications. Requirements, if any, can be submitted via email.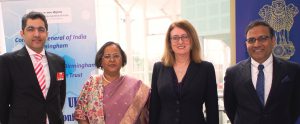 Among your other achievements here can you throw light elaborate on your  active role and participation in the following…
A. Guru Nanak 550 year's celebrations.  Hon. Chief Minister of Punjab, Capt. Amarinder Singh was received by our office at the grand concluding event for the 550th Birth Anniversary of the Guru Nanak Dev Ji. This event was special and significant since it was in the Town Hall in Birmingham a similar programme was held 50 years ago, in 1969, to commemorate the 500th Birth Anniversary of Sri Guru Nanak Dev ji.
B. India -UK Health conference in Birmingham: Healthcare is the sector that has immense potential and with Midlands being Healthcare centric, it was the perfect place to hold a conference of the magnitude. With the uninterrupted support from partners such as University hospitals Birmingham NHS Trust , Invest India, India Inc. and Universities within the UK and other major organisations our vision became reality and with the intrigued level interest generated by the first conference, the second year conference was even bigger and better and therefore with this momentum I am certain that in the coming years this conference will generate more partnerships and address bigger challenges in Healthcare delivery within both the countries.
C. MIP and WMIP – these two partnerships in your region: Being a special purpose vehicle whose entire objective is to support the businesses and organisations within both the countries to find their right counterparts that our effort to launch MIP and WMIP will reap fruits in the longer run and in near future. West Midlands Growth Company saw this as an opportunity and built upon it to create WMIP.
The Indian diaspora must use their resources and abilities, connections in both countries to catalyse partnerships and collaborations in all sectors of the economy. Covid-19 has had a devastating impact on the global economy and all efforts must be made to revive economies. Identifying, possibilities for mergers and acquisitions and leveraging complementary strengths of the Indian and British enterprises must be done to protect jobs and create employment.
My vision and passion for India-UK during my tenure in UK came to its fruition. I hope the Consulate will receive the continued support in the future and thereby help in strengthening the India-UK relations.
I would strongly recommend for the second and third generation of British Indians to keep abreast of the developments in India. Whenever possible, must visit India to see first-hand the progress and socio-economic transformation and remember that they have a unique advantage of having roots in India. They can play their part in enabling India, constituting one-sixth of humanity, make its rightful contribution in the 21st century.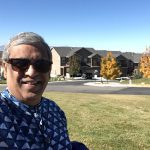 Rahul Laud wears many hats. He is a senior journalist, and works as the Associate Editor of Asian Lite, based out of Manchester, UK. He is the Curator and Facilitator of SAJDA Festival and is a regular volunteer for the Art of Living and the IAHV global charities. He is a musician himself and teaches the tabla to the younger generation of music enthusiasts.