When lockdown hit India it didn't hit the whole population equally, there were those who were in a much more tenuous situation than others. Although millions around the world were impacted by the COVID-19 pandemic, Indian migrant workers found themselves amongst the worst affected.
Due to the lockdown, hundreds of thousands of Indian workers were unable to leave their workplace. One of the most heart-rending images showed an 8-year-old child passing away from hunger and thirst as his parents migrated back to their hometown. It was upon seeing this picture that Dr. Sanya Sharma decided to do something to help and launched a special mission, known as Mission Shramik Sahyog, from the United Kingdom in order to help these workers.
Showing initiative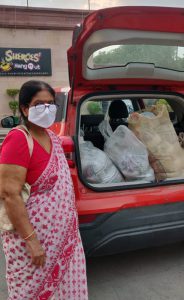 "The vision with which I started this mission was the initiative which I undertook in the UK during the COVID crisis by helping stranded Indians in UK. I then thought of expanding the same to India," explains Sanya. In order to put her plan into action, Sanya asked for help from Aadarsh Mishra who performed additional research for the mission by compiling an extensive review of the root-level condition of migrant workers, and also constructing a user-friendly website. However, it took many more people to carry out the plan on the scale that it needed.
"Our team comprised of like-minded social workers known as 'warriors'," says Sanya. "Our mission expanded from Karnataka to Bihar. Until now, we have fed and distributed food, water milk and other essential items to thousands of workers while on their way back to their hometown. This mission is unique as we have been able to manage the entire mission using a chain of warriors, who were common people, across India and received our funding from the common people."
Dr Sanya takes great pride to mention the names of her warriors Sulekha (Lucknow), Asiya (Patna), Shabnam Nag, Sheetal (Gurgaon), Jayeesh (Patna), Kundan Srivastava (Raxaul) among others. "Asiya, in her 60s at her age would wake up at 4am on Sundays to cook for 50 labourers, with the help of my sister Shabnam, said Dr Sanya.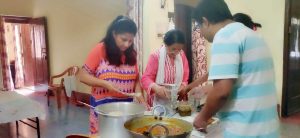 Some of the volunteers have emotional connections to the disaster which drove them to help out. For example, Jamelabi, from Belgaum, Karnataka, is the daughter of a migrant worker. Her father was stuck in Mumbai as a migrant worker, so she decided to be a part of this initiative, and has fed many workers. Another volunteer named Kusum lost her job to the COVID crisis, finding a passion to provide face masks to others who had lost their livelihood.
Another of Sanya's warriors, Naweli, was so dedicated that she arranged food items for the labourers despite being hospitalized for surgery during the mission. Others turned a bad situation into something positive, such as Pawan from Gorakhpur who was a student and was stuck in his hostel during lockdown so took the initiative to prepare food along with his friends, to distribute amongst hungry labourers. Businesses helped out too, for instance Sheros café, run by Channv Foundation, also provided their support to the cause by offering their café as a collection point in Lucknow during this crisis.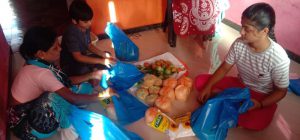 Passionate to help
Sanya's desire to help is driven by a life-long interest in aiding others. As a young girl she grew up in a family where her father was a civil servant, and so found herself fascinated with the way he helped society. Over the years she developed a passion for social work and was associated with the 'Campaign against plastic' and initiatives such as supporting rape survivors and acid attack survivors.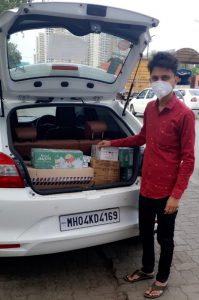 After pursuing her PhD, entitled "Rape cases in Delhi", she relocated to the UK where she actively campaigned for such worthy causes as raising financial support for a 5-year-old girl called Ayesha who suffered from food pipe damage. She was successful in raising the necessary money for Ayesha and she was operated successfully.
"With a doctorate in sociology, I have an in depth understanding of the social issues and am using the same in leading my social projects," says Sanya. "Due to my contribution in education, I was conferred with 'Excellence in Education Award' in 2019. Moreover, I have also won the title of Mrs. International (1st runner up) in 2018."
She is also a big advocate of female advancement, being the co-secretary for community support at IIW (Inspiring Indian Women, UK) and she has received the "She Inspires 2020 runner up award" presented at the British Parliament.
The next step
Since most of the migrant workers have now reached home, Sanya feels that the mission has been a great success. She now intends to expand the mission to 'Mission Sahyog' with the motto "Each one – feed one", using that tagline as the guiding principle which they intend to feed the underprivileged across India.
"We plan to enhance our chain of warriors and we feel that hunger is the reason for every crime," explains Sanya, "hence, if every household prepares an extra meal for the hungry or needy, we all can mitigate the hunger, if not eradicate it." With such dedication to feed the hungry and make the world a better place, we at Global Indian Stories wish Dr. Sanya Sharma all the best for her future projects and hope that one day no-one will need to go hungry.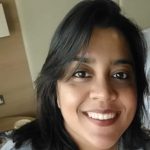 Smita is a multi-cultural freelance journalist, writer, and filmmaker based out of the US, London, Hong Kong, and India. Global Indian Stories is her brain-child. Created to chronicle diaspora stories written by Indians of all age groups, from different walks of life across the globe, Smita makes sure that the platform remains inclusive and positive.