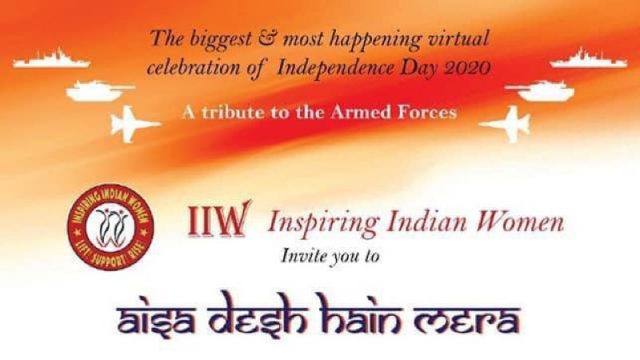 Inspiring Indian Women had a double whammy this year for the celebration of 74th Indian Independence Day for the Indian diaspora with two back to back events, Aisa Desh hain mera on the 15th August 2020 and IIW All Ladies Ambika Trophy Cricket Championship on the following day.
Aisa Desh hain mera
Ye Desh Hain Mera, a tribute to the Armed Forces, was hosted by none other than Brij Kumar, one of the best hosts in UK and a very strong entertainer. Raj Rawat joined and assisted, who is not only an IT specialist but an entertainer as well. They provided a huge amount of support to the Team Fankaar to bring the whole programme together.
The chief guests were the Honourable Mr Virendra Sharma MP (Southall Ealing and Minister) and Mr Manmeet Singh Narang (Minister of Coordination from the High Commission of India in UK), who graced the occasion and made this celebration even more joyous!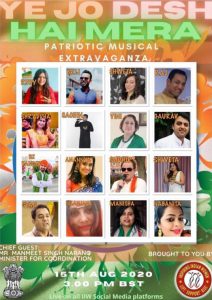 The programme started with Ananya Sarkaar from 'Harmoniverse' fame playing the guitar with the prayer 'Raghupati Raghav'. Team of Funkaars included Bittu Banger from Paris who sang 'Yeh Desh Hain Veer Jawaano ka', Nabanita Nandy Ghosh from Denmark who sang 'Bharat humko Jaan se ptaara hain', the classical duo, just made the whole place rock on their tunes.
Our very own, Nilanjana Paul kept the motivational spirit high with her joyful singing, 'Insaaf kid agar pe', the couple of Shweta Ghube and Sachin Ghube sang Bollywood Classics, 'Aye mere vatan ke logon' and 'Mere Desh ki dharti' making us hum to the tunes of Bollywood music. Also, Gaurav Chaturvedi, 'Sandese aate hain' and Sudhir Kumra's 'Mera Karma hain' melodious voice made the atmosphere exuberant.
Vini Kalia and Manisha Dwivedi Pathak's (US) added icing on the cake with their sweet voice. Shweta Dhall with her song 'Teri Mitti' and Shraddha Khare's, 'Mera Des Rangeela' mesmerised the audience further. Brij Kumar sang the emotional 'Kar Chale hum fida', while Mr Gyan Sharma sang the beautiful song, 'Hai Preet Jahan Ki Reet Sada'. It was a brilliant coordination and amazing performances by the entire team!
The inaugural address was by Dr Melissa Kapoor – of English Bahen in Twitter fame. The guests of honour were ex-Army personnel Mr Pravin Yadav, ex–Major Manish Bhatnagar, ex–Col Ajay Kotwal, and former Wing Commander Satyam Kushwaha.
Representing India
The event was graciously attended by representatives of most of the Indian Community organisations based in UK. IIW acknowledged and honoured each one of these organisations for their fantastic work towards Indian community, those who sacrifice their time and energy at the service of the nation 'INDIA'. Those who strive to keep their Motherland alive and empowered with their community work thus stifling the voices of the dissidents in this land. It was a symbolic effort that these people MATTER!
Cllr Dr. Shrobona Bhattacharya (District Councillor, Elected Member for South Cambridgeshire District & Cambourne ward)
Ms Lakshmi Kaul (Head & Representative – UK, Confederation of Indian Industry (CII))
Ms Krishna Pujara (CEO Enfield Saheli, President UK India Business Council of WICCI)
Ms Dalia Singh (Founder Indian Bengalis in UK)
Dr Arpita Ray (Trustee -Charity Essex Indians)
Ms Pavithra Veerappa (Executive Team member KannadigaruUK
Ms Sanam Arora (Founder and Chair, National Indian Students and Alumni Union UK
Mr Charan Kanwal S Sekhon (Founder Seva Trust UK)
Ms Manu Khajuria (Founder- Voice of Dogras, General Secretary FISI UK)
Mr Jayu Shah -Senior Member, Friends of India society International, Ex Publisher
Mr Shashikant Patel- Treasurer BJP for 30 years
Mr Ravi Sharma (Founder Member Haryana Association UK, Former Secretary VHP)
Mr Sukant Sahu (Odisha Society UK, Founder Trustee Jagannath Temple Trust UK)
Mr Paras Agravat (Insight UK)
Mr Sandeep Bisht, (Social and Voting Right Activist. Helped Delhi Election Commission to identify & delete 3 lacs fake voters, Tree of Life – NGO)
Dr Udeshwar Kumar Singh (Chairman Bihari connect Global)

Mr Ashwani Shrivastava (Joint General Secretary UPCA, UK)

 

Mr Nimit Shishodia,( Mangalam

 

)
Mr Ashish Popat (Founder British Indians Voice)
Dr Keyur Anilkant (MS Ortho Ahmedabad, Life Member BAPIO, FRCS Edinburgh)
Mr Anand Shukla (Former IPS Officer)
Mr Chandrakant (National Co Ordinator HSS)
Mr Mukesh Karelia (Hindu Kutir)

 

Mr Kiran Pansunari (Entreprenuer, Writer, Mentoring Charity UK Co Ordinator)
Mr Gaurav Mahna (Reach UK)

  

Mr Harendra Singh Jodha (Rajasthan Association UK)
Mr Gampa Venugopal (Founder Chairman Telangana NRI Forum)
Ms Anju Narang (Vice President Punjabi Society of British Isles)
Ms Laxmi Vyas (Hindu Forum of Europe)
Dr Janice Manisha Maganji (Founder International Network of Democratic Indians Abroad)
Mr Lalit Sharma, (Founder and Director International Dogra Society UK)
Mr Pravin Amin (President- National Association of Patidar Samaj)
Mr Satya Minhaas (Co-Chairperson Hindu Council UK and Harrow Voice for Hindus
Mr Kuldeep Ahlawat (President of Haryana in UK Association)
Mr Ravi Tiwari (Social Activist and Founder of Friends of India Society Netherlands)

Mr Pravin Patel (Founder Member Indian Ekta and Former Chairman Sardar Patel Memorial UK)
Ye Desh Hain Mera received amazing feedback and was well received by Indian diaspora across UK.
All Ladies Ambika Trophy Cricket Championship
The next day saw the very popular annual event the IIW All Ladies Ambika Trophy Cricket Tournament which was held at the Iconic Indian Gymkhana Club. It was full of fun, energy, laughter, passion, and some serious tough competition!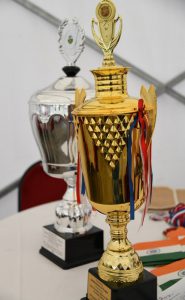 Ms Vishakha Yaduvanshi the first Secretary and personal Secretary to the High Commissioner of India (UK), inaugurated the Tournament by first batting and Mr Sutantar Soni, one of the respected Trustee of this prestigious and historic Indian Gymkhana did the first bowling. Cllr RenjitPendhar Gill and Cllr Bandna Chopra were the guests of honour, Special guests were Shri Satya Minhas (Co-Founder Hindu Council and President Harrow Voice for Hindus) and Ms Laxmi Vyas (President of Hindu Forum in Europe).
The atmosphere was palpating with excitement and energy. The desire to return with the trophy was deeply embedded in each player. Most of the players were home makers, who took time out to practice every day, bonded together over practice breaking the monotony of life involved with kids and kitchen.
The Teams
KENT KNOCKERS- Captain Namita Chikmaglur
BLEED BLUE- Captain Priyanka Bhargava
RISE AND SHINE – Captain Rekha D Cunha
LOCKDOWN LAGAAN – Captain Rashmi Razdan
WOMAN WARRIORS- Captain Seema Khandelwal
Woman of the Match – Priyanka Bhargava really pulled it through to get the Championship Gold Trophy for the Team Bleed Blue. Best Batswomen was awarded to Aparna Kapse from Team- Lockdown Lagaan. The Runners Up Trophy went to the underdogs, The Lockdown Lagaan Team, with Rashmi Razdan the Captain of the team taking the trophy with others. KentKnockers the last years champions, paved the way and played very well and supported others in a true game spirit.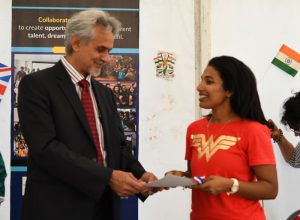 Mr Baljinder Singh Rathore and Mr Kunal Razdan were the commentators for the day keeping the audience entertained and engaged all through the tournament. Umpires, Vishal Sharma, Amit Vig, Sumit Dahiya, and Milind Deshmukh did a fantastic job managing the competitive teams. Vijay Kamdar and Diptiben were the attentive scorers for the tournament concentrating for the whole day to keep up with the scorecard.
Sponsors and supporters who have always stood behind IIW time and again, providing enduring support were, YG Travels, Luitporia Nasani, 11 plusTutorials, AnyTickets.co.uk.
---
Photography is courtesy of Bhumika Dalvi. Team IIW comprises of Heena Zala, Shital Kamdar, Deepa Vawani, and Sneh Sunny who worked hard to put together this fantastic show.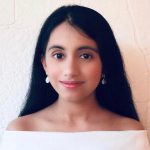 Pehrr Ram is a professionally trained pianist, actor, singer, writer, host, choreographer, various art form dancer - ballet, tap, Bharatanatyam, environment campaigner. Pehrr is also winner of Miss Teen Earth United Kingdom and Northern Ireland 2019 including Hair and Beauty Award. She is artistic director for 'Pehzart'.