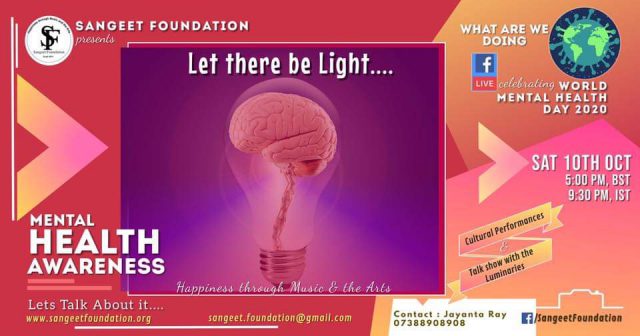 UK-based charity Sangeet Foundation aspires to provide "Happiness through Music", with the help of upcoming and renowned heroes of music, by addressing issues of mental well-being. For me, happiness is a state of mind. Peel a layer and it is about mental health. Over the past year, we have worked with other charities, special needs schools, universities, and organisations that address mental health issues, because being aware saves lives by providing early intervention. Sangeet Foundation commemorates World Mental Health Day today (10th October 2020) with the programme "Let there be light..". You can catchup the programme at https://www.youtube.com/watch?v=nkY5c_51V3s&t=2749s
We at the Sangeet Foundation have been working with various charities that address mental health issues such as Autism, ADHD, Clinical Anxiety, and Depression. The Sangeet Foundation tries to create awareness by showcasing upcoming and renowned heroes of music and the arts, conduct workshops by experienced experts, and share the outcomes with the wider community.
Founders Vision
At the Sangeet Foundation we wanted to create a safe zone for those impacted by mental health, by leveraging music and the arts as a medium of communication and possible alternative therapy. The objectives are to create mental health awareness, provide guidance and resources for early detection/intervention, improve the quality of life of those impacted by mental illness, improve the emotional wellbeing/mental health of children/young people and leveraging music and the arts as mechanisms for creating awareness and therapy.
These are not easy tasks and we had to work hard to come up with clever, well-thought-out strategies. We realised that by conducting regular events and workshops with mental health experts including psychiatrists, psychologists, counsellors, through a platform we created on the social media, we will be able to engage with the community for creating awareness and invite participation from members of the community, even while they were in the confines of their homes.
Celebrities, singers, dancers, artists, photographers and performers are brought to our platform to discuss experiences with mental health. We also partner with other charities to execute joint projects leveraging on strengths of each charity.
The academic aspects of mental health are equally important and to this end, we have also been working with universities and researchers to conduct research projects on Mental Health, Music, and the Arts.
Participating in workshops, engaging with other organisations across UK and India also forms an important aspect of the work we do. Eventually we aim to provide inputs to the government to guide the future formulation of strategy and policies around mental health. We aim to raise funds by organising events to create awareness about mental health, with requests for donations and sponsorships.
Thanks to our supporters
The Foundation would never have been able to achieve all that we have in the past year, without the help and support of some invaluable people, our patrons, trustees, advisors, and partner organisations.
Patrons: Padmashree Aparna Sen and Pandit Bickram Ghosh
Happiness Ambassador: Piloo Vidyarthi, Shahanshah Mirza, Dr. Ranu Sinha
Trustees: Manish Jamthe, Dr. Arghya Sarkhel, Tonmoy Kumar, Jayanta Ray
Head of Programmes: Indrani Bhattacharya
Story Teller, Director, Scriptwriter, Editor, Host: Dr. Sagarika Golder
Media Advisor: Sourav Dutta
Global Advisor: Sharad Kumar Jha
Partner Organisations: Dey IT (deyit.com), Living Mind (livingmind.co.uk), Global Indian Stories (globalindianstories.org)
Impactful Programmes
Over the past year, the Sangeet Foundation has had support and patronage of people from around the world. The membership of the Sangeet Foundation Facebook Group has grown from circa 300 to circa 3400 between March and September 2020. 
Some members have been posting songs, dances, artwork, photographs with messages about mental health awareness, helping members with the uncertainties of Covid 19 and lockdown. Other members have reported that they look forward to the postings on the facebook group which gives them something they could enjoy to keep the feelings of despair at bay. There have been postings in excess of 1500 in the group. A special mention for Radhika Iyer, NDTV local correspondent who prepared a report on the Indian Diaspora in the UK including the impact on their mental health during the lockdown.
The Sangeet Foundation Art and Photography Facebook group was formed to create a cohesive group of artistes who have come together to share their art which has helped them unleash their creativity and art. This has been ably led by Anindya Mitra.
The Foundation has also held online streaming shows for its members and beyond which could be categorised as follows:
Celebration of World Happiness Day on 28th March 2020 with Srikant Narayan, the finest Mohd Rafi singer in the world along with Dr. Arghya Sarkhel about mental health and music.

Discussions around mental health with our resident Consultant Psychiatrist, Dr. Arghya Sarkhel of Living Mind. These shows included topics:

Mental Health causes and alternative solutions (with Aadi Shakti)

Let it Go – Managing our minds: Covid 19 times Key workers and families (Hosted by Nabarupa Mukherjee, concept by Dr. Debashish Bhattacharya)

Mental Health and impact of Music (conducted by Jayeeta Ghosh, Founder of Geetanjali Gaofal Music School, UK)

Mental Health during Covid (organised by Lion Rhea Banerjee along with Lions Club of Kenton)

Mental Health – Myths and Facts (with Shubhangi Mitra, Cameron Grant Trust)

Mental Health and the Arts (Manav Utsav, De Montfort University, Leicester along with Dr. Indrani Lahiri and Indrani Bhattacharya)

Partnering with De Montfort University (DMU), Leicester to create two children's programmes for Manav Utsav

Colours of Rainbow (conceived and directed by Dr Sagarika Golder)

Yellow Submarine (conceived by Rahul Banerjee, directed by Dr Sagarika Golder)

Partnering with Creative Arts Academy (organised by Ramanjit Kaur, Founder) for talk shows and children's programme Yellow Submarine

Programmes with top artistes and patrons of Sangeet Foundation

Padmashree Aparna Sen, Patron, Sangeet Foundation

Pandit Bickram Ghosh, Patron, Sangeet Foundation along with South Asia Institute (Dr. Sanjukta Ghosh), SOAS, University of London

Padmashree Anup Jalota

Padmashree Usha Uthup

Piloo Vidyarthi, Happiness Ambassador, Sangeet Foundation

Programmes by top (including award winning) artistes from India

Samya Karpha (Arbitti exponent) and Sounak Chattopadhyay (classical champion – winner of Dover Lane Music Conference and Rabindra Sangeet exponent) in partnership with Baithak UK.

Sayam Paul, Sa Re Ga Ma Pa runners up, raising funds for Amphan impacted in partnership with Sanskriti, Reading, UK

Sayani Palit, ITC Sangeet Research Academy Scholar, Bollywood and Tollywood playback singer.

Sayan Chaudhuri, Sa Re Ga Ma Pa and Golden Key Winner

Kamran Khurshid, 1st Karaoke World Champion

Akhil Sachdev, Singer, Composer (Filmfare award winner & IIFA for best music director)

Ranajoy Bhattacharya, Popular Singer, Composer (Tollywood Movie: Sweater)

Programmes on Mental Health and the Arts

Shahanshah Mirza (Great great grandson of Wajid Ali Shah, last Nawab of Awadh) and Nandini Sinha (Kathak exponent, author and India's Cultural Ambassador to the world)

Ramanjit Kaur (movie actress and founder of Creative Arts, Ushoshi Sengupta (Miss India Universe 2010) in conversation with Shahanshah Mirza (Great great grandson of Wajid Ali Shah, last Nawab of Oudh)

Iain Cunningham, award winning film director of the docu-feature Irene's Ghost in conversation with acclaimed movie director Sanjeev Chatterjee,

Professor Cinematic Arts and Journalism, School of Communication, University of Miami

Future connect with the young entrepreneurs and achievers (Ruhani Singh, Theatre Actor & Film Student; Wasma Mirza, Social Entrepreneur; Aruna Chaudhuri, Singer; Yukta Shah, Athelete and Budding Entrepreneur)
Padmashree Anup Jalota and UP Ratna Alka Bhatnagar (Bay Area, USA)

Musical programmes (including local UK artistes) with awareness about mental health

Suma Mukherjee Saha, Rabindra Sangeet exponent

Shyamali Basu, Founder Director, Punascha School of Rabindra Sangeet

Ragasudha Vinjamuri, award winning dancer and founder, Sanskruti Centre, UK (Ancient Scriptures to Mental Health – Dance & Its context in scriptures and overall wellness)

Debashis Golder, ex head Air India, UK & Europe

Rahul Banerjee, Band Lead, Desibels

Paramita Goswami, classical exponent

Saikat RoyChoudhury, an excellent singer

Partnership with other organisations

Interview with Shonali Bose with BaithakUK

Friday evenings at 8:30 PM IST with Bhin Desi Cultural Organisation, Canada

AnuRagini with Harmoniverse, UK
Be a part of our journey
The legendary Billy Joel has said: I think music in itself is healing and an explosive expression of humanity. It's something we are all touched by. No matter what culture we are from, everyone loves music.
If you like what we do, we welcome you to be a part of our unique journey.
You can contact us at sangeet.foundation@gmail.com and follow us on Facebook (https://www.facebook.com/SangeetFoundation); Youtube Channel (https://youtube.com/channel/UCI48sQhJkX8E7qE7YfBIA9Q); Twitter (@SangeetFoundn); Instagram (Sangeetfoundation) and our Website (www.sangeetfoundation.org)
If you would want to contribute to the cause, you may donate to the following account:
Account Name: Sangeet Foundation
Sort Code: 40-26-05
Account Number: 42210517
Jayanta Ray is a senior IT professional and musician. He, along with his wife, Sutapa Ray have founded the Sangeet Foundation, that aspires to showcase the power music has as a therapy for people suffering from plain unhappiness to the more clinical mental health issues such as autism, ADHD, clinical anxiety and depression.