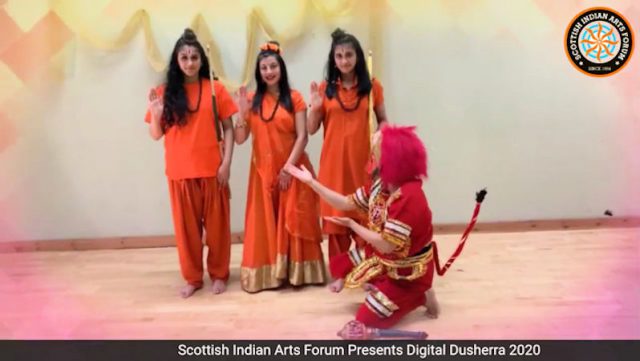 We are living in a "new normal". Social distancing, wearing masks, sanitizing hands, and along with that being "digital/online". Considering that large public gatherings are not permitted, keeping in mind the current prevailing COVID-19 situations, SABASH (Scottish Association of Bengali Arts and Sanskritik Heritage) and the Scottish Indian Arts Forum (SIAF) organised online Durga Puja and digital Dusherra celebrations respectively, completely digital/online using various audio/visual modes using our social media platforms.
Durga Puja is a key festival of Bengalis and one can't imagine not celebrating. The Durga Puja in Edinburgh is one of the biggest in Scotland with over 500 people visiting and enjoying the Puja celebrations each day. Puja has been traditionally performed referring the "Drik Panchang" and strict guidelines and traditions maintained. Free food and Prosad and multicultural programs are also a key highlight of Edinburgh's Durgotsav.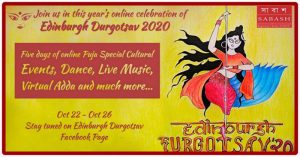 This year, it has been totally different. No gathering of people, the Durga Puja hall was empty, no decoration, no chaos. So was Calton Hill, all silent, no effigy burning, no fireworks, no stage or lights, no food stalls, no photo sessions, no gossiping, and no socialising.
But all these didn't dampen our spirits, our cultural enthusiasm was still alive. Edinburgh Durgotsav was celebrated digitally for five days from 22nd Oct to 26th Oct 2020. Cultural programs including songs and dance, drama, arts and crafts, poetry recitation, Antakshari, Quiz, Virtual Adda, interviews, Q&A sessions, Magic Show, you name it, all was part of the festivities.
On the Ashtami Day, we gave "Online" "Pushpa Anjali" connected directly to a Puja Pandal in Kolkata. During Sandha Aarti and Puja times, we were all glued to online celebrations from either Belur Math or via other Puja Pandals across India.
Food is an important ingredient – how could we miss that. Various Bengali delicacies were prepared by one of our volunteers which we all bought. The money collected was donated to MacMillan Cancer Society.
Although the true "Pujo Spirit" was missed during these days, but nonetheless we were able to enjoy our culture and heritage during these days. The online Durga Puja celebrations gave a different perspective and meaning to what we can do. It enabled us to see the world in a different way.
"Assche Bochor Aabar Hobe", "MA Aashben" and we all will be together celebrating this wonderful occasion of what we call "Durga Puja" JOY MA.
The culmination of Durga Puja led to celebrations of Digital Dusherra from the Scottish Indian Arts Forum (SIAF).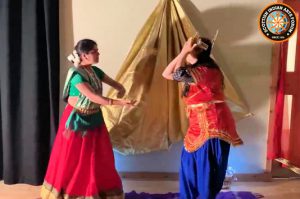 It is held every year in the iconic Calton Hill, Edinburgh, with over 4000 people from all walks of life attending the program-the local community, tourists, elderly, ethnic minority population, kids, everyone. The festivity has been a synonym since past 25 years.
The huge effigies made by the prisoners from the Edinburgh Prisons are an attraction along with the burning of the effigies and the fireworks that follow. The Ramleela is enacted as one of the finale programs, preceded by various kids' programs (songs and dance), Bollywood and classical songs and dances, local Scottish programs, and professionals performing on the stage. The kids' arts and crafts are a huge attraction. Food stalls caters to our taste buds with variety of Asian-Indian food and snacks being available.
The Digital Dusherra took place on 24th and 25th Oct 2020.
The event preceded with kids arts and crafts and a fancy dress competition. Children were asked to post their entries in social media, kids dressed in various characters posted their entries in social media with their parents help. More than 40+ entries were received, it was well appreciated by the parents.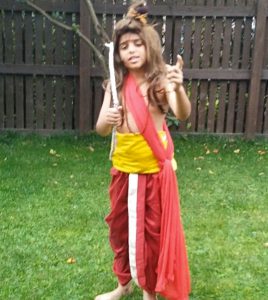 The programs comprised of kids dance numbers along with professional performances. All the programs were pre-recorded; however, the host was live. Pre-recorded messages from the Consul General of India (CGI- Edinburgh & Birmingham) message to SIAF and the community in Scotland, along with messages from Governor of Prisons, HMP Edinburgh, Member of Parliament, and also the CEO of BEMIS were telecasted.
Professional Artists from Bharatiya Ashram, Theiya Arts, Cosmic Dance and Dance Beatz performed online. Bharatiya Ashram enacted the RamLeela which was completely online with various characters performing, taking into account the social distancing rules. Winners of the arts and crafts and fancy-dress competitions were announced live along with the ceremonial vote of thanks. As a culmination, a video of last year's effigy burning and fireworks was shown.
What an end to the Durga Puja and Digital Dusherra celebrations! Rather than gathering at the Puja Hall or at Calton Hill, we were all at home, comfy in our couches, watching the programs. A lot of us who couldn't join the program online will be watching it later on Facebook and YouTube.
A massive round of applause and thanks goes to all the individual artists from both SABASH and SIAF and also the professional artists from Bharitya Ashram Arts Project, Theiya Arts, Cosmic Dance, and Dance Beatz.
As I said before, this is the "new normal", we will be online for some time to come. During these difficult times, let us all take care of ourselves, family and friends, take care of our elders and more importantly adhere to the prevailing COVID guidelines.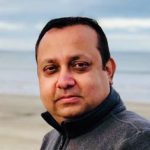 Abhijit Chakraborty is the President of Scottish Indian Arts Forum (SIAF, a registered charity in Scotland) and a Board Member of SABASH (Scottish Association of Bengali Arts and Sanskritik Heritage, a registered charity organisation in Scotland). He has been working with the community for several years now promoting Indian Arts and Culture and working for the community in Edinburgh. He is an IT professional working for a multinational bank in Edinburgh.