Popular food bloggers Radhika Howarth and Kripa Dewani came together and created mouth-watering Diwali recipes for ASDA's virtual cook-along event to get everyone feeling festive for a different kind of Diwali this year.
Diwali is a time of merriment, joy, sparkling lights, fun family traditions and of course festive food. While this year Diwali will be different, it can still be filled with just as much excitement as before, even if it takes a little thinking outside the box and looking for new inspiration. So, ASDA did something different this year to add some extra sparkle to this festival of lights, with a fun-filled virtual cook-along hosted by popular food bloggers, Radhika Howarth from @radikalkitchen and Kripa Dewani from @15min_mom to bring Diwali food inspiration to all.
The event took place on 29 October and was a packed session of festive fun starting with a 30-minute Chaat making session with Radhika followed by a 15-minute mocktail session with Kripa. From Indian street food to exotic cocktails, the two bloggers showcased the amazing range of ingredients available at ASDA in their flavoursome Diwali recipe creations. The event was attended by media and influencers from the culinary world, who were all sent hampers with everything they would need ahead of the event.
The aim was to highlight the Diwali range at ASDA while sharing some exciting recipes for the celebration. The hosts and attendees alike had a fabulous time cooking along virtually and engaging in the spirit of the festival.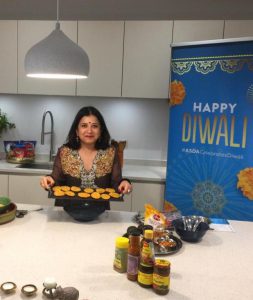 Radhika shared two recipes, both created by fusing traditional Indian flavours with the Mexican spiciness and zest. Her Mexican Bhel Puri was an absolute explosion of flavours and textures and the Avocado Papdi Chaat was a perfect blend of East meets West on a canape platter. Sharing her experience, Radhika stated, "It was a fantastic experience to host the Diwali cook-along for ASDA. Both my recipes were inspired from the wide range of spices and condiments available at ASDA. I was particularly impressed with the range of chutneys and sauces in the World Foods section which allowed me to fuse a variety of flavours in my recipes. From Maggi Tamarind to Fiesta Mesa Chimichurri, from a selection of Cofresh snacks to packs of Nachos – ASDA is the perfect destination for anyone who wants to have fun with flavours this Diwali."
Kripa was equally thrilled sharing her two exotic mocktail recipes with the attendees. Her Rosa Coconut Fizz combined the refreshing aroma of rose with the refreshing taste of the tropical and her Ginger Chai mocktail was a drink packed with the autumnal spices and delicate flavours of Earl Grey tea. Kripa kicked off the cook along and stated, "I was thrilled to discover everything I needed to create my unique recipes was available at ASDA. I found all the exotic flavours I needed for my Rosa Coconut Fizz in ASDA's aisles. Finding ingredients for my Ginger Chai Mocktail was equally convenient and I used ASDA's Chai Spice Black Tea, ASDA Ginger ale and fresh spices such as cardamom, nutmeg and cinnamon that were all readily available! There's nothing quite as satisfying as finding everything you need for your recipes under one roof. ASDA is always there to cater to my family's needs and their range of ingredients makes it easy to concoct refreshing festive drinks for kids and adults alike."
The event was a great success with most of the attendees cooking along and interacting with the hosts and sharing their creations. Many raved about the selection of mouth-watering recipes, and ASDA's range of vegan and vegetarian-friendly ingredients.
These scrumptious mouth-watering snacks and refreshing flavoursome mocktails can be enjoyed all day and will surely stand out at your virtual parties, so recreate them at home this Diwali. Visit Radhika's @radikalkitchen and Kripa's @15min_mom's Instagram pages for inspiration.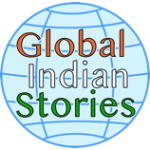 Global Indian Stories team
This story has been posted by the Global Indian Stories team, having been found or sent to one of us. It will have been sent via a channel where there is no specific author to attribute the story to.