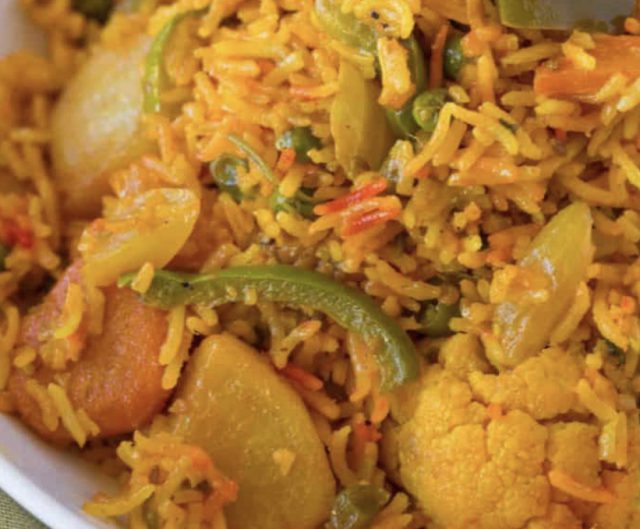 This Spice Delight simple, easy and tasty biryani recipe is in honour of my parents Premla and Deena Moodliar from RA Moodley's Mr Curry in Victoria Street Market. The recipe is just like a wedding biryani in five simple steps, layered in six.
Ingredients:
2 cups rice basmati or long grain
1/4 cup brown lentils, cleaned and washed
6 potatoes, peeled and cut into pieces or oven roast potatoes
1 tomato, grated
2-3 onion, finely sliced
Vegetables -in total 2-3 cups mix veg of choice or you can add as below
1 /2 cup yoghurt optional
4-5 tablespoons biryani masala or Durban mix masala or (combination of 1 tablespoon Rombo Rossi, 2 tablespoons biryani masala and 1 tablespoon Durban leaf masala) mild /medium or hot.
Add less if you don't want spicy but key is to add extra masala as the curry gets mixed in rice, potatoes and lentils so you want to spice it nicely
1 teaspoon turmeric
1 tablespoon Garam masala
2 teaspoons Kashmiri chilli powder
1 teaspoon cumin powder (jeera)
1 teaspoon coriander powder (dhania)
1 tablespoon Rice spice /Vagaar /Braising spice /Vadavo -optional
1 tablespoon ginger and garlic paste
2 sprigs curry leaf
1 sprig thyme
6 mint leaves
Coriander leaves handful
2-4 green chillies and and 1 red chillie
1 tablespoon clarified butter (ghee)
biryani mix herbs
2 bay leaf
3 cinnamon stick
2 aniseed
3 cardamom (elaichi)
Fennel seeds few
Few drops/pea size yellow food colouring in 1 tablespoon water
Saffron few sprigs soaked in 2 tablespoons milk and some few saffron strand for the top
50g butter for the top and 1 tablespoon ghee
1 tablespoon oil
Salt to taste
Method:
I prefer preparing everything in advance and then layering the biryani.
Boil lentils with salt to taste until soft or one boil, set aside
Boil rice with salt to taste until nearly cooked or one boil, add 1 cinnamon stick, and cardamom for flavour. You can add a little tumeric if you want
Potatoes

you can roast in oven with sprinkling olive oil, tumeric and jeera seeds
or boil and fry
either way once almost done, mix a little food colouring and colour half the potatoes

Fry onions in oil

Take out half the onions when cooked and set aside for your vegetables
Fry the rest of the onions until golden brown and crispy -set aside to add for the topping of the breyani
I usually add 1 cinnamon stick, bay leaf, somph seeds as well when frying onions for extra flavour

Preparing the vegetables

Night or 30 mins before making breyani you can marinate your vegetables with half the quantity of masala and yoghurt. My twin Sanusha Moodliar from a Thirupathi spices in Victoria street suggests adding a sprinkle of grated nutmeg to this mixture
Omit yoghurt if you don't want to add.
Making the vegetables for breyani:
Add oil and ghee to pot
Add in the onions set aside, curry leaves, and Breyani mix herbs -cinnamon stick, star aniseed, fennel, bay leaf
Add ginger and garlic
Add little water and then vegetables
Add saffron and milk mix
Add tomatoes and salt to taste, mint, coriander leaves and thyme all chopped up
Cook for 20 minutes until vegetable soft and add salt to taste
Once completed then you can layer your biryani
Layer one add rice to bottom of your pot
Layer two add cooked vegetables over the rice
Layer three add potatoes over this
Layer four add lentils 1/2 of it and some onion
Layer five add final layer of rice
Layer six add onions, blobs of butter
Food colouring mixed in water sprinkled over some of rice
Saffron strands you can fry before hand and add in the top
Cover with foil or lid and steam in oven for 30 mins or 45 mins if not everything was fully cooked. This can be steamed in oven, over stove or on an open fire
Once opened from pot add onto serving tray or bowl and garnish with coriander
Serve biryani hot with sambals, carrot salad. yoghurt or Maas salad and dal.
I'd like to thank Shireen Moodley and Jane Howes for requesting recipe. I hope you enjoy the feat.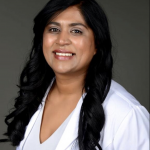 Dr Seshni Moodliar is a psychiatrist qualified in south Africa as a doctor and then in UK as a psychiatrist in learning disability. She has over 20 years experience in psychiatry and work in private, NHS, medico-legal and corporate wellbeing in companies and the UK government. Sheshni has completed 2 books 'Pass the CASC' and 'Core psychiatric interview skills' that are used worldwide by over 50 countries for the final clinical exams for psychiatrists and health care professionals like nurses, psychologists , occupational therapists, physiotherapists, health care assistants, teachers and carers.