Young talented Dubai based Menaka Ramakrishnan in her twenties who is an avid reader has embarked upon a journey as an author. Her debut making novel "In this life or the next" – a fantasy thriller set in Dubai, is already receiving global acclaim. In a tete a tete with her, Rahul Laud tells you more about her book and her journey.
Little Menka would lose herself in novels, paint imaginary worlds in her mind and express her stories through words. While writing English compositions during exams was a chore for some, Menaka relished those moments as she could let her creativity flow.
Perhaps this is what prompted her to write her own novel. What started as an idea took an immense amount of dedication to put on paper. Menaka realised that bringing an idea into fruition is no simple journey, as it takes more than just writing out your story. One has to rewrite, perfect and accept feedback and rewrite again. The whole process built a sense of discipline within her, and the result is the release of her debut novel.
Professionally, Menaka runs her own content writing business in Dubai. You might have come across her work on a variety of websites, social media pages, blogs and more. During her free time, she likes to explore lesser known corners of the world and cover songs on her ukulele.
This Life or the Next has elements of reincarnation, mystery, crime and spirituality. The protagonist, Tania, has the ability to see another person's past life through visions. One day on the metro, she gets the vision of a man whose face she cannot see. In the past life his lover was murdered. Fast forward to the current life, he seeks revenge.
What ensues is a race against time as Tania tries to find this man and stop him from committing an atrocious act – learning a lot about herself in the process.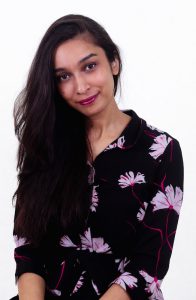 Reminiscing over her experience, Menaka recollects that she wrote the first draft of the book while she was still in college, after which she let it sit for a while. Then one day, she realised that if a story is written, it needs to be told – so she approached agents in India. Suhail Mathur from The Book Bakers picked up her work for representation and pitched it to publishers.
He has been ''a major source of guidance throughout'' her journey she states.  Finally, Vishwakarma publications took a liking to the story and gave Menaka a platform to showcase her work. Menaka expresses a deep sense of gratitude humbly to all especially to her parents C Raamakrishnan and Lalithaa Raamarkishnan who always encouraged her to follow her passion and dreams.
The book has been launched in India and is available across the country on popular online shopping portals such as Amazon and bookstores. It can also be ordered online through Amazon.com internationally as well as read on Kindle.com. She has copies in Dubai for anyone who might be interested to get it within the city.
"In this life or the next" is the amalgamation of several genres that Menaka likes. She has taken themes from thrillers, fantasy and spirituality and fused them into a story set in Dubai – the city she was raised in. Reflecting the true spirit of the city, the characters are multicultural, with each having a unique story of their own. Being a singer, she loves music, and that is pivotal part of the book. The main character gets past life visions when someone sings or hums their favourite song.
According to her, ''novels are a positive escape from the real world.''  ''A person can go on an emotional ride with a character, feel what they feel, agree or disagree with them and keep their worries for a few moments,' she explains . This is why she chose a novel form, she adds.
Thriller authors such as Sydney Sheldon, Harlen Coben, Keigo Higashino and  Fantasy authors such as George RR Martin and JK Rowling have inspired her. Inspirational authors such as Paulo Coelho, Japanese Manga or comics, she has read dozens of translated versions of such comics and ''the stories are truly awe-inspiring,'' she ponders .
Menaka really enjoys the process of creating something out of nothing. Whenever she sits in front of a computer to write, the words and characters just start building and flowing out. The whole process is so gratifying and fulfilling. She also discovers new parts of herself that she never knew existed, especially when she has to write particularly complex characters.
Elaborating her future plan, Menaka is penning a second novel as we speak – another fantasy-thriller tale with several twists and turns.
Menka is definitely here to stay in the world of books and writing.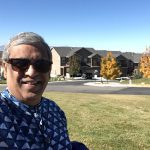 Rahul Laud wears many hats. He is a senior journalist, and works as the Associate Editor of Asian Lite, based out of Manchester, UK. He is the Curator and Facilitator of SAJDA Festival and is a regular volunteer for the Art of Living and the IAHV global charities. He is a musician himself and teaches the tabla to the younger generation of music enthusiasts.