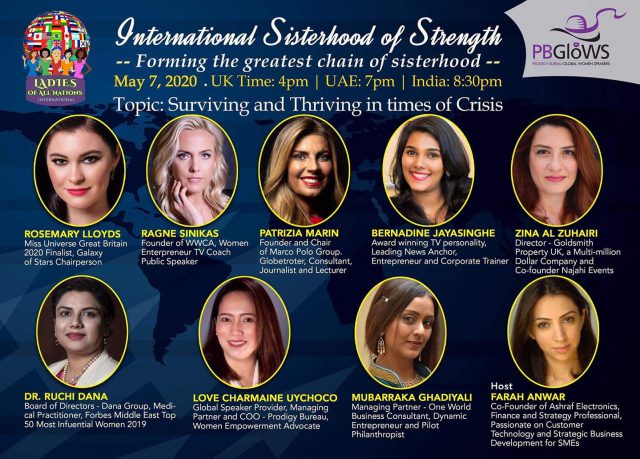 Coronavirus has taken the balance off the lives of millions of people. It is undoubtedly the greatest setback our generation has faced. The COVID-19 pandemic is responsible for affecting the lives of millions of people word wide in unimaginable ways. But not for Mumbai-based Mubarakka Lokhandwala Ghadiyali – an entrepreneur, pilot, and lawyer has been invited to the Prodigy Bureau's Global Women Speakers Online Webinar, scheduled for 7 May.
Mubarakka will be sharing the platform with a group of accomplished women entrepreneurs from across the world, talking about the COVID-19 crisis and the effects it has had on the global economy, and businesses. You can enrol to watch the webinar at 4pm UK time, 7pm UAE time, and 8:30pm India time.
This is only one of the projects on the anvil for the multi-talented Mubarakka. "The only saving grace is the ability of being able to work from home and not be completely isolated from our loved ones, friends, and family," says Mubarakka. For her, this is an opportunity to complete the "much needed time to focus on the tasks that had been piling on".
Mubarakka and her associates have managed to conduct various charitable activities since the start of the coronavirus outbreak. They have provided food grains to more than 2,000 people during the pandemic and continue to do so on a regular basis. "Feed a family, do good during Ramadan," says Mubarakka.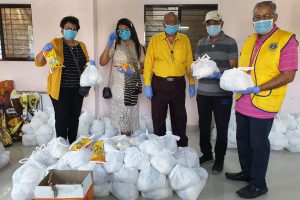 Mubarakka continues to mentor and finance small-scale cottage industries run by rural women entrepreneurs and runs a charity for the underprivileged. She is also the Chair of Trustees for "Blue Sky Village" in India which adopts rural villages in India, Sri Lanka, and Africa (blueskyvillages.com) and Vice President for the Lions Club of JJ Crescent which conducts various charity initiatives internationally, working for more than 25 years to uplift the poor and needy.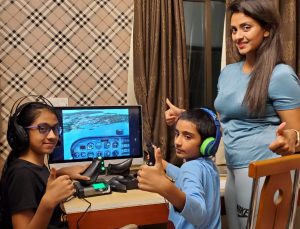 What Mubarakka loves doing the most during this time is spending quality time with her two children. "I'm helping them develop a scientific temperament, along with social and political awareness. Inculcating qualities such as hard work, patience, tolerance and perseverance are key to their personality development and I am taking out time to educate them in these trying times.
"The children are also learning foreign languages. I train them on the flight simulator, it's kept me really busy but we are having so much fun," says Mubarakka.
Women empowerment and initiatives aimed at educating women about health and hygiene are also close to her heart and has won her several accolades. She recently started a project that provides vocational education to underprivileged children, and has set up classrooms and courses in Mumbai, for the same. More power to women like you, Mubarakka, keep inspiring and sharing the positivity!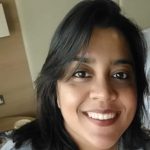 Smita is a multi-cultural freelance journalist, writer, and filmmaker based out of the US, London, Hong Kong, and India. Global Indian Stories is her brain-child. Created to chronicle diaspora stories written by Indians of all age groups, from different walks of life across the globe, Smita makes sure that the platform remains inclusive and positive.