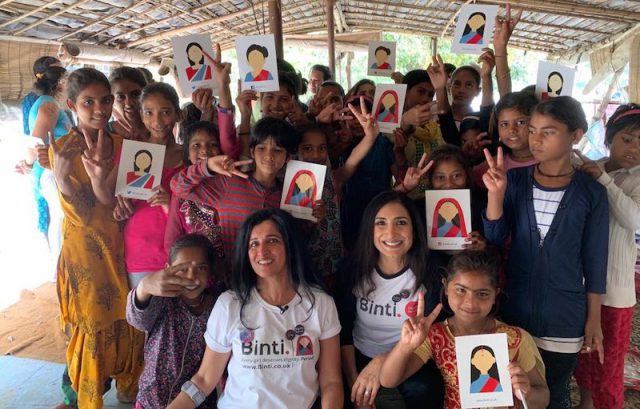 Binti International (BintiPeriod.org) is a UK-based charity with a vision to create a world where all women have menstrual dignity. Manjit Gill is the founder and CEO of Binti and is passionate about providing basic menstrual rights to women and girls globally.
Through media campaigns, workshops and the provision of menstrual pads, Binti is successfully reaching young people all over the globe, harnessing the power of community to ensure that every girl is free to discuss and seek support with menstruation, no matter where she lives.
Three pillars
The three pillars that Binti focuses on in every cultural context is access to menstrual products, education, and de-stigmatisation. Spreading the message of period dignity and the shocking truth that undercuts many societies that are still not allowing young girls to learn and talk about menstruation.
We know that 23 million girls drop out of school in India annually, due to lack of hygienic menstruation facilities, but the statistics here in the UK are just as alarming – with one in seven (14%) of girls in the UK admitting that they did not know what was happening when they started their period. Nearly half (48%) of girls aged 14-21 in the UK are embarrassed by their periods, and it is this stigma and taboo that is creating such an issue.
Binti's message is to #SMASHSHAME, and since the Hemraj Goyal Foundation collaborated with the charity in 2018, we have helped become a part of this campaign in a number of ways. Our fashion show in September 2018 created a catwalk and showcased Raishma's scarlet collection, to symbolise menstrual blood and raise awareness of the work of the charity.
Later that same year, we travelled to Birmingham to take part in a Binti 'Train the Trainer' day, joining sixth form students who were undertaking a day of menstrual training, that they were then set to deliver to young people in the Gambia. Part of this training day included a pad splash, where students were encouraged to stick menstrual pads and hang tampons from their clothing, to get people talking and break the stigma – an exercise that was met with a controversial yet ultimately positive response.
Educating India
In 2019 we took part in a car rally in northern India, raising awareness for the work of Binti, and delivering menstrual education in a total of 11 schools across 9 different cities and distributing 1300 reusable pads, reaching hundreds of young people in the process.
Anita Goyal, patron of Binti said of her experience in India, "it was enlightening to see how Manjit delivered the menstrual education to girls in schools from the school on the street right the way to the private international school. The challenges around periods for girls was so similar and the taboos and myths that have persisted through the generations still exist for controlling women and girls. The open forum in which discussions took placed laid the foundation to challenge these taboos, smash shame and empower girls to move forward in their lives".
The work of Binti is ongoing, and there is still a long journey ahead if we want to make menstrual shame something of the past. We are committed to joining Binti on that journey, and believe the menstrual dignity is something that every girl deserves, no matter where she calls home.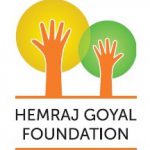 The Hemraj Goyal Foundation is committed to supporting positive change on a global scale for women and young people. Much of our work is achieved through partnering with NGO's across the world, to find solutions to big social problems.
Through funding, resource, support and guidance, the Foundation partners with both charities and projects to bring the injustice around the world to the forefront of our communities.