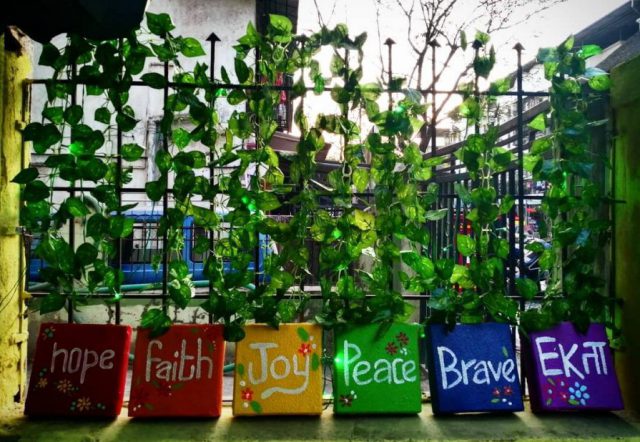 The adverse impact from months of lockdown following Covid 19 and the hardships faced by thousands in one of the worst-hit cities in India, Mumbai is now a growing concern. While many have lost their livelihood opportunities, start-ups and businesses are struggling to stay afloat, certain vulnerable communities like the transgender people, sex workers, daily wage earners and other marginalised queer individuals are barely getting the support of a square meal a day.
Cafe Guftagu,Mumbai's first LGBTQ+ inclusive cafe, while struggling to keep the business, is fundraising to feed the needy during the COVID-19 induced lockdown. They are coming up with plans to use their kitchen and the premises to make 5000 nutritious meals for distributing to the needy. So far, they have raised funds for 1054 meals, but are looking for to raise money for funding another 3946 meals. Here is a discussion with Sumit and Apruva, the team behind Cafe Guftagu about their initiative, and their appeal for support. 

How has the lockdown affected the cafe and queer community that you cater to? How is your team dealing with it? 
As the outbreak of COVID19 started spreading across the globe, to control its spread Indian Government imposed lockdown guidelines and we had to shut the cafe and stop all the operations. This closure is creating a huge challenge of surviving and sustaining this one of its kind queer friendly affordable café around Mumbai for the community which is still one of the most stigmatised and vulnerable in India as we have manage the rent of the space and salaries of our two employees.
We've not been able to generate any revenue for our survival, or to sustain the café from 24 March. The cafe's been shut for more than three months and considering the increasing number of cases in India especially in Maharashtra we fear that it will take a few more months for us to restart the business.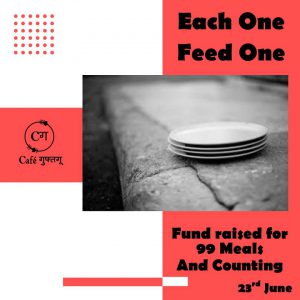 As we are constantly in touch with the LGBTQ+ community, and well aware of the adverse impact COVID 19 has had on the community members, the hardships they are going through, how transgender people, sex workers, daily wage earners and other marginalised queer individuals are not getting nutritious meals, we thought of starting a COVID19 Food Relief Programme under which we are running the Each One Feed One project. By starting a temporary community kitchen at the existing café's space and using the available infrastructure, we are aiming to prepare and distribute 5000 meals to the needy. The approximate amount for one meal is Rs.100/- which includes raw materials, human resource, transportation, etc.
To manage the cost of preparing and distributing these 5000 meals we started our fundraiser on Ketto https://www.ketto.org/fundraiser/food-relief-program-for-people-who-are-affected-by-covid19?payment=form&fbclid=IwAR0DDUGGftlaAUjasvGJPiX8zzVvzsrvkVvNfLFhhTk_aWjMiXdYhCzFTgg.
We believe that with the help of kind and generous people, we will be able to provide meals to those impacted, bring a ray of hope in their lives. The funds will also help us sustain the cafe for the time being.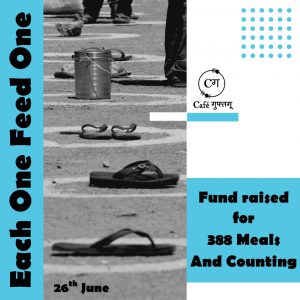 As far as the survival of the café in the longer run is concerned we are under tremendous pressure and worry as we are not able to generate any revenue to manage our basic expenses like rent of the space, salaries of our employees, electricity bills, etc. Looking at the current COVID19 condition in India we are finding it difficult to restart the café for regular operations at least till October 2020. These extreme conditions might force us to shut the café which we have started after overcoming many challenges while working with genuine passion towards creating a better and inclusive space for all. We would like to urge all the kind and generous souls out there who wish to support the cause of empowerment and upliftment of the LGBTQIA+ Community to be our saviours during this crisis and help us to retain our open and inclusive dialogue café to enable us to serve the community for many more years to come.
How did the idea of starting the cafe come about? 
Many Queer people in India often have to struggle to find safe spaces both at offline societal level and on the online platforms to be themselves and to voice out their issues. It is a common phenomenon where gay or effeminate men, masculine women, transgenders, intersex individuals get mocked by people due to their appearance or behaviour. This lack of acceptance affects both the mental as well as physical health of many queer individuals as they become victims of physical or mental abuse. Many queer people in India find it difficult to discover safe spaces or support system to help them to cope up with the constant rejection they receive from the larger cis-hetero society.
Being someone who is working closely with and for the queer community India I often heard from fellow community members that there is not a single affordable queer friendly café in and around Mumbai where they can go and be themselves and spend some quality leisure time without a fear of being judged.
Though there are few places in the city which are pretty open and inclusive but the amount they charge for their services is quite high for someone coming from average income background. This restricts many of them to access these spaces and at times forces them to live a life in duality by hiding their identity to go to other affordable spaces.
As we travelled to different cities across India to attend Pride Marches, we got an opportunity to visit some really amazing queer friendly cafes in different cities. After visiting these cafes we realised that how these cafes help in creating a safe space for queer individuals both to work as well as to hangout.
We were inspired as we strongly believe in creating safe and accessible spaces for all irrespective of any irrelevant grounds of discrimination. We shared our aspiration of starting an open and inclusive dialogue café where people can walk in and be themselves. Fortunately our friends liked this idea and we decided to start Café Guftagu in partnership with Bun Maska Chai Company.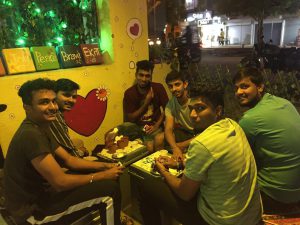 How was your idea received by the community? 
We are located close to Thane, on Mira Road where we got this really nice and affordable rental space to start the café. We managed to get all things in place to start the café with whatever minimal funding we had with us. The operations of café began from 5 February and we started getting a very warm response from both the members of queer community in the city and people living in nearby areas.
Our cafe served lip smacking snacks along with non-alcoholic beverages and we also had a corner for books, board games for people to spend time, bond while enjoying our snacks spread. We were planning to organise some interactive activities like community meet-ups, open mics, karaoke, book readings, art therapies, guided meditation, etc. in order to provide a platform to the LGBTQIA+ individuals to show their talent and interact with like-minded people in a safe environment.
The café also aimed to bridge the divide between queer community and heterosexual community by creating a space to initiate a conversation between the two. We have employed a queer person at the café and are looking to employ from the transgender community, and other distressed people from the social strata once we are able to open again.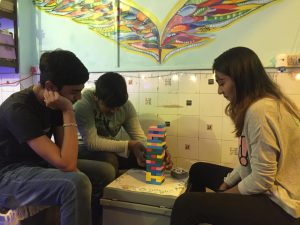 The Supreme Court of India decriminalised homosexuality on 6th September 2018. It has been almost two years since this historic verdict has come yet many members of LGBTQIA+ community continue to faces stigma, discrimination, hatred, bullying till date on daily basis. Though the verdict has given a legal recognition, the community is seeking to achieve social recognition from a widely heteronormative and patriarchal society in order to live a dignified life.
About the founders of Cafe Guftagu: 
Apurva (pronouns She/Her) https://twitter.com/ApurvaPaithane has completed her MA in Politics and Sociology from University of Mumbai and she is a strong supporter of various social, economic, religious and gender minority rights.
She is working as the Research Coordinator at The QKnit which is an LGBTQAI+ Collaborative. She has also received the Kutchina Krritika Fellowship for the year 2018-2019 by Kutchina Foundation, under which she is currently running QueerKala project as a part of The QKnit in order to create employment and livelihood opportunities for various minorities and the backward classes of the society. She is a co-owner of Café Guftagu which is an open and inclusive dialogue café. She is also a Vice President of Impulse Mumbai, an LGBTQIA+ support group, works on raising awareness around stigma related to HIV/STIs, sexual and mental health in queer community.
She is interested in educating the people regarding the issues of women, children, dalits and LGBTQ community as well as trying to find solutions for those issues. She also wants to work for the promotion of education and educational rights for all.
Sumit Pawar (pronouns he/Him)  https://twitter.com/sumit201991 is the founder of The QKnit, an LGBTQIA+ collective that seeks to mobilize India's queer community and the marginalized women through social media and events.
He is also the founder of Splash Events and Queerkala: spaces that aim at bringing together individuals across sexual and gender identities through creativity and art.  He is a co-owner of inclusive and open dialogue café called Café Guftagu. He is also The president of Impulse Mumbai, a volunteer based group working to raise awareness about stigma related to HIV/STIs, sexual and mental health in queer community. 
Sumit has tremendous grassroots expertise and experience in consultancy. Currently, he is working with various youth-focused and youth-led organizations through collaborative partnerships using technology and media.  His recent film Khwaaish screened at more then 23 film festivals and events. It also won the best silent film at Out And Loud Pune International Queer Film Festival  and 1st Prize at Blued Queer Flicks 2019.
Sumit completed his postgraduate studies in Commerce. His previous affiliations include working with reputed organisations like SCRUFF, SNEHA, Yaariyan, The Humsafar Trust, Swasthi, MDACS, UNICEF, United Way Mumbai, Amarae, Doctors without Borders, Safe Masti and The Delta App.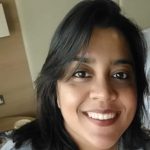 Smita is a multi-cultural freelance journalist, writer, and filmmaker based out of the US, London, Hong Kong, and India. Global Indian Stories is her brain-child. Created to chronicle diaspora stories written by Indians of all age groups, from different walks of life across the globe, Smita makes sure that the platform remains inclusive and positive.