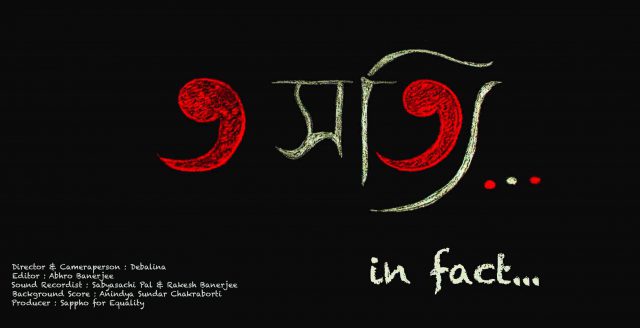 Film : 'In-Fact…' ('Tin Satyi…'), Documentary
Duration : 51 minutes 27 seconds
Language : Bengali (English subtitled)
Director : Debalina
KASHISH 2020 Virtual, the 11th edition of KASHISH Mumbai International Queer FilmFestival, South Asia's biggest LGBTQIA+ film festival ran from July 22nd – July 30th screening 157 films from 42 countries.
For Debalina, an independent filmmaker and cinematographer who engages actively with issues of gender, sexuality, social movements, the environment, and occasionally writes for newspapers and magazines, her film 'In-Fact…' ('Tin Satyi…') is a celebration of love and togetherness with a difference. The Bengali film offers us glimpses of lives that are lived on their own terms and in such living mark their resistance against stifling social norms that threaten to homogenise diversity into a logic of One.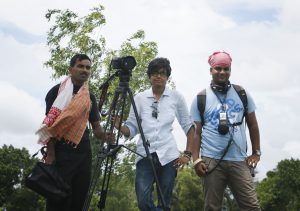 "This project began as an advocacy film, to create awareness in college students as well as to create a context in which conversations regarding different desires could be held. At the same time, the film evolved out of a discussion surrounding different marginalised and vulnerabilities in India," says Debalina.
"The narratives that this film features, of different sexualities, conjugalitiies and solidarities, locate contemporary LGBTIQ discourses in a socio economic and cultural context, and are as much about facing the discriminatory attitudes towards them, as they are about celebrating those desires."
Doing the festival circles and KASHISH 2020

   
Her films have been screened in many national and international film festivals including Mumbai International Film Festival, International Documentary and Short Film Festival of Kerala, IAWRT Asian Women's Film Festival, Vancouver Queer Film Festival, MIX Copenhagen Denmark, British Film Institute (BFI), but being one of the official selections for KASHISH 2020 has been a fantastic experience for the young filmmaker.
"Last year, I attended KASHISH for the first time though our films took part in this festival many times. This year things are different, as festivals are moving online worldwide. It's a completely different experience! Festivals are reaching out to a wider audience, but as a filmmaker, I will always miss being present physically in a theatre. I will miss the energy, the reactions, the laughing and crying of the audience during the screenings. But then, we have to accept the reality and wait for times to change," she says.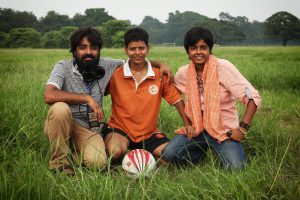 Take-back from the film

"I have experienced that after watching my films people have reconsidered and even come out of their homophobia. So, inclusivity and creating a space for different kinds of narratives to emerge are crucial for my film," says the young director. For her, even if a single viewer finds resonance with the narratives in the film, or finds their horizons broadened, she will consider her film successful in conveying its message of inclusion and diversity.
For Debalina, the stars of this film are the people who have generously shared their lives and experiences with the filmmaker and the audience.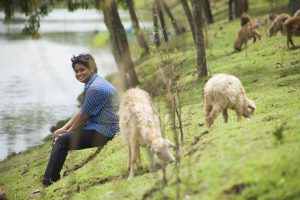 According to Debalina, more filmmakers entering the ambit of making films highlighting LGBTQ issues is a welcome move. This, she feels should've been done years before with partial decriminalisation. "As I take care to show in my films, questions of desire and sexuality are also influenced by class, caste, religion, ethnicity, so on. So we have to be careful in remembering the intersectionality of these desires, and the marginalising that they bring about. Our filmmaking needs to be inclusive in all senses of the term."
'In Fact…' is a celebration of love and togetherness with a difference; it is a celebration of the struggles to live those differences; it is an inspiration to create spreading webs of liveabilities for non-normative lives and loves. The three snippets depict three different life-stories that talk of their selves, their loves and their dreams of different lives and intimacies. These are ordinary lives lived ordinarily and yet carry within their familiarity a critique of the conventional, the normal.
"Are we ready to shed our skins, overthrow our rigidities and open ourselves to a revaluation of the 'normal', or are we going to, once again, label, judge and banish?," asks Debalina in this thought-provoking documentary film.    
---


The KASHISH Mumbai International Queer Film Festival has started its 11th edition. This year the festival has gone virtual, meaning now that viewers around the world can watch some of the 157 films from 42 countries which will be screened. It starts on 22nd July 2020 and finished on 30th July 2020.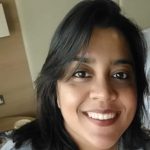 Smita is a multi-cultural freelance journalist, writer, and filmmaker based out of the US, London, Hong Kong, and India. Global Indian Stories is her brain-child. Created to chronicle diaspora stories written by Indians of all age groups, from different walks of life across the globe, Smita makes sure that the platform remains inclusive and positive.